Gandhi Jayanti | 'Those doing politics of falsehood...': Sonia leads Congress' attack on govt
Publish Date: Wed, 02 Oct 2019 03:25 PM IST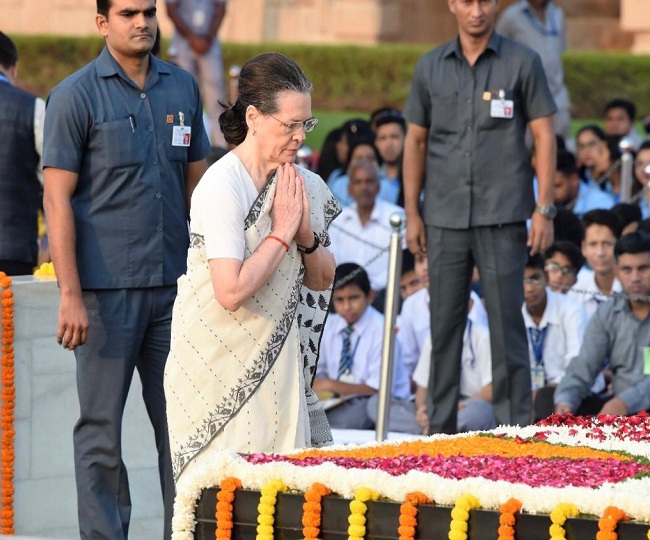 New Delhi | Jagran News Desk: The Gandhi family and the Congress used the occasion of 150th birth anniversary of Mahatma Gandhi to launch a series of sharp attacks on the BJP and RSS.
Congress president Sonia Gandhi said those who consider themselves supreme and indulge in the politics of falsehood will not understand Mahatma Gandhi's sacrifices and ideals.
In what appeared to be a swipe at the present BJP leadership, Sonia Gandhi told party workers and leaders at Rajghat that the Mahatma's soul would be pained by what has been happening in India in the last few years.
Also Read: PM Modi pens touching ode to Mahatma Gandhi in NYT column, proposes 'Einstein Challenge'
"How will those who consider themselves supreme understand the sacrifices of Mahatma Gandhi....Those doing politics of falsehood will not understand Gandhi's philosophy of non-violence," Sonia Gandhi said in her brief address on the occasion.
Addressing the gathering in Hindi, she said no matter what others might claim, only the Congress has followed the path of Gandhi and has provided jobs, education and facilities to farmers, accomplishments which are unparalleled.
"India and Gandhi are synonymous. Yet some people want RSS to be synonymous with India," she said, adding that India has arrived at its present state due to Mahatma Gandhi.
She further hit out at the Centre for economic slowdown and rampant unemployment. "We brought opportunities for employment, facilitated farmers with new technology, brought education for all. But in the last 5 years, India's condition has reached to such extent that even Gandhi's soul is hurt."
Also Read: On Gandhi Jayanti, PM Modi to declare India open defecation-free | Latest Updates
Congress general secretary Priyanka Gandhi said the BJP should first pursue the path of truth shown by Mahatma Gandhi and then talk about him.
"It was the order of Gandhiji to pursue the path of truth. First, the BJP should pursue the path of truth and then talk about Gandhiji," the Congress leader said.
She made the remarks before participating in a silent march organised in Lucknow by the Congress on 150th birth anniversary of Mahatma Gandhi.
In an informal chat with media persons just before embarking on the march, she said, "Atrocities are being committed on women and when they raise their voice to fight against them, they are being crushed. We will definitely struggle against it.
Earlier in the day, Congress leader Rahul Gandhi led a march of party workers to mark the occasion. The "Gandhi Sandesh Yatra" started from the Delhi Congress office at Deendayal Upadhyay Marg and culminated at Raj Ghat, around three km away.
Senior Congress leader Kapil Sibal wrote, "Bapu: Bharat badal chuka hai. Four pillars of Bapu's India: 1) Truth, 2) Tolerance, 3) Non-Violence, 4) Celebration of diversity. Now:1) Fake news, fake data, fake claims. 2) Intolerance in words and deed. 3) Violence extolled as virtue. 4) Targeting diversity," the former Union minister said in a tweet.
Posted By: Abhinav Gupta