'Cannot impose any language': Rajinikanth opposes Amit Shah's Hindi pitch
Publish Date: Wed, 18 Sep 2019 01:13 PM IST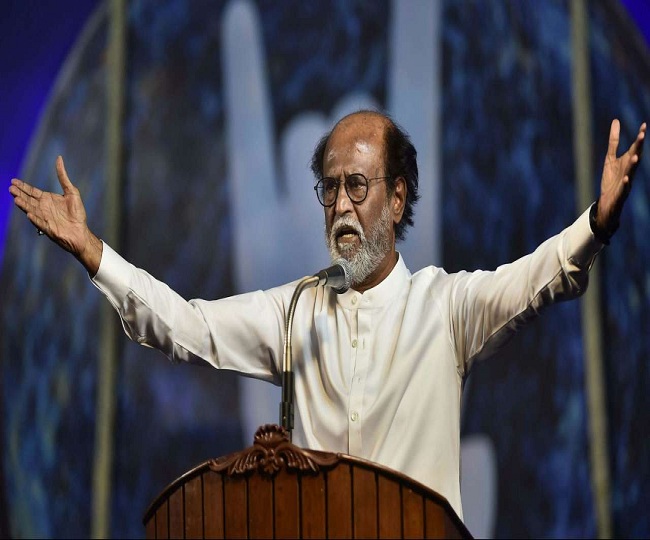 Joining the chorus of voices against Home Minister Amit Shah's recent pitch for Hindi as a common language, veteran actor Rajinikanth said the concept of a common language in India was not possible and asserted any attempts of Hindi imposition will not be only be resisted by southern states.
The 'Superstar' said Hindi should not be imposed as the concept of a common language was "unfortunately" not possible in the country.
"A common language not just for India but any country is good for its unity and progress. Unfortunately, (one cannot) bring a common language in our country. So you cannot impose any language," he told reporters at the airport here.
"Especially, if you impose Hindi, not just Tamil Nadu, no southern state will accept that. Many states in northern parts will also not accept that," he said.
On Tuesday, actor-turned-politician Kamal Haasan had said that imposition of Hindi on Tamil Nadu will lead to a battle that would be exponentially bigger than the 'Jallikattu' protest.
"Jallikattu was just a protest, the battle for our language will be exponentially bigger than that. India or Tamil Nadu does not need or deserve such a battle," he said.
In 2017 massive protest erupted in Tamil Nadu after Supreme Court's ordered to ban Jallikattu a traditional Tamil bull-taming sport which is held during Pongal.
He said that most of the nation happily sing the national anthem because Rabindranath Tagore has given due respect to all languages and culture in the anthem.
"Most of the people happily sing their national anthem with pride and will continue to do so and the reason is the poet who wrote it gave due respect to all languages and culture within the anthem and hence it became our anthem," he said.
"Do not make an inclusive India into an exclusive one, all will suffer due to such short-sighted folly," he added in the video. The actor posted two videos on the same in Tamil and English respectively.
On Saturday, Shah pitched for a common language for the country and said as Hindi is spoken the most, it can unite the whole country.
The home minister also asked everyone to use their native languages as much as possible, but said efforts will be made to expand Hindi's reach to different parts of the country.
"India has many languages and every language has its importance. But it is absolutely necessary that the entire country should have one language that becomes India's identity globally," he said in a series of tweets in Hindi.
Shah said that today, if any language which can unite the country, it is Hindi that is spoken the most.
"I want to appeal to people to promote their native languages but also use Hindi to make the dream of Bapu (Mahatma Gandhi) and Sardar (Vallabhbhai) Patel of one language come true," he tweeted.
Posted By: Abhinav Gupta