'Blinded by hatred': Rahul Gandhi slams Piyush Goyal for calling Abhijit Banerjee 'left-leaning'
Publish Date: Sun, 20 Oct 2019 01:27 PM IST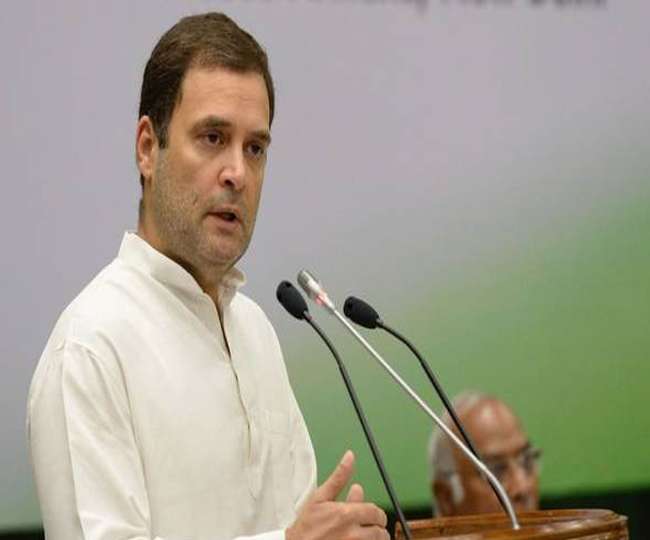 New Delhi | Jagran News Desk: Former Congress President Rahul Gandhi on Sunday defended Nobel laureate Abhijit Banerjee and slammed Union Minister Piyush Goyal who called him as 'left-leaning'.
"Dear Mr. Banerjee, These bigots are blinded by hatred and have no idea what a professional is. You cannot explain it to them, even if you tried for a decade," said Gandhi in a tweet tagging the media report on Banerjee's response to Goyal's comments on him.
"Please be certain that millions of Indians are proud of your work," he added.
This comes a day after his sister Priyanka Gandhi tweeted in favour of Banerjee, asking the BJP to focus on reviving the economy, instead of 'running a comedy circus.'
Banerjee, who along with his French-American economist wife Esther Duflo and American economist Michael Kremer won the Nobel Prize for Economics recently, was called 'left-leaning' by Union Minister Piyush Goyal.
"I congratulate Abhijit Banerjee for winning the Nobel prize. You all know that his thinking is totally Left-leaning," said Goyal in a press briefing.
"Banerjee supported 'Nyay' and people of India rejected his ideology," he added.
He added that it was a matter of pride that an Indian won the Nobel prize.
"But it is not necessary to agree with what he says and especially when the people of this country rejected his suggestion, there is no need to accept what he thinks," the Union minister said.
Asked whether he thought Banerjee's views on the state of Indian Economy were biased, Goyal said the reporter should pose this question to Banerjee himself.
Banerjee had recently said that the Indian economy was on shaky ground, adding the data currently available does not hold any assurance for economic revival anytime soon.
Asked about Reserve Bank's Rs 1.76 trillion surplus transfer to the Central government, Goyal said that it was not the government that took the money.
"It was a committee, presided by former RBI governor Bimal Jalan, and other members who took the decision on the surplus money with RBI. It is neither the government had to take it nor did the government take it," he said.
(With PTI inputs)
Posted By: Aalok Sensharma