By Aalok Sensharma
Updated: Sun, 01 Mar 2020 05:29 PM IST
Minute Read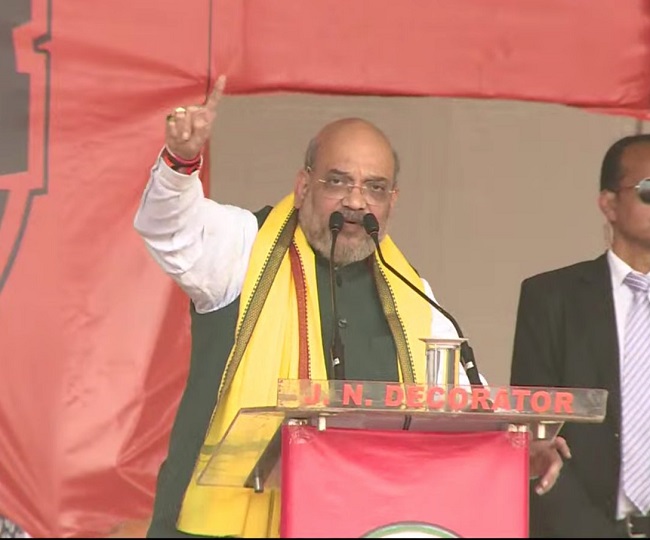 Kolkata | Jagran News Desk: Union Home Minister Amit Shah on Sunday made a scathing attack at West Bengal Chief Minister and Trinamool Congress (TMC) chief Mamata Banerjee, saying that minorities are being misled against the Citizenship (Amendment) Act.
Addressing a rally in Kolkata, Shah said that CAA is a law to give citizenship and not to take it away, adding that Mamata Banerjee cannot stop the Centre from giving citizenship.
"Mamata Di raised the issue of citizenship to refugees herself when she was in Opposition. When PM Modi brought the CAA, she is standing with the Congress and Communists in Opposition again," Shah said.
"They are filling the minorities with fear that they will lose their citizenship. I assure every person from the minority class that CAA only provides citizenship, and takes nothing away. It won't affect you in any way," he added.
Also Read | Surgical strike, Balakot air strike have put India on par with US and Israel: Amit Shah
With an eye on next year's assmebly elections in West Bengal, Shah also launched BJP's "Aar Noi Annay" campaign in the state, saying that the saffron party will win get two-third majority in the state.
"The BJP is starting a campaign today -- 'Aar Noi Annay'. This campaign is the fight to defeat autocratic forces in Bengal. I want to tell every Bengali today that we won't accept any injustice anymore," he said.
Continuing his attack at the TMC government, Shah said that Mamata Banerjee didn't give BJP permission to hold rallies and as many as 40 workers of the saffron party were killed.
Urging the people of West Bengal to vote BJP to power, Shah said that the saffron party will make West Bengal 'Sonar Bangal' and make the state, an atrocity free state.
"Mamata didi goes to every village and asks 'Didi Ke Bolo,' they wonder what to answer. Today I have come here to tell you that don't sit quiet. Whenever Didi asks 'Didi Ke Bolo,' you say, 'Aar Noi Anyay', meaning, we will not tolerate this injustice," Shah said.
Also Read | BJP workers raise 'goli maaro…' slogan en route to Amit Shah's rally in Kolkata
Shah also questioned the Mamata Banerjee-led government for not allowing the Centre to help the farmers in the state by providing them funds the government gave.
"There is a debt of Rs 3.75 lakh crore on Bengal. The Communist government had left at Rs 1.92 lakh crore, and Mamata Di has made it even bigger. Every kid of Bengal takes a debt of 40,000 as soon as he takes birth," the Home Minister said.