By Aalok Sensharma
Updated: Mon, 23 Mar 2020 09:58 PM IST
Minute Read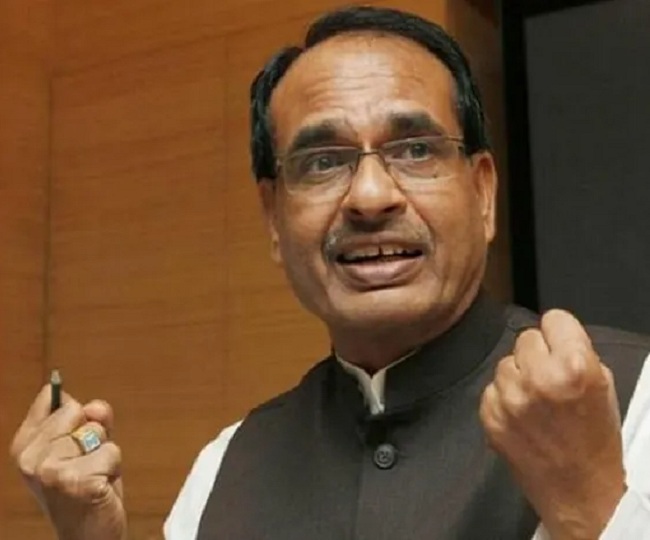 New Delhi | Amitabh Tiwari: Shivraj Singh Chouhan took oath today as the Chief Minister of Madhya Pradesh in the presence of Governor Lalji Tandon. This is his fourth term at the helm. Following the resignation of Kamal Nath last week, decks were cleared for the installation of a BJP led government in the state. BJP has 107 MLAs in a reduced house strength of 206.
Shivraj Singh Chouhan was born on March 5, 1959, into a middle-class farmer's family of Shri Prem Singh Chouhan and Smt. Sundar Bai Chouhan at village Jait in Sehore district. He fought for the rights of agricultural labourers of his village when he was just nine years old! He led a demonstration of daily wage workers and didn't rest until he managed to double their wages.
He joined Akhil Bhartiya Vidyarthi Parishad (ABVP) in the early 70s. In the year 1975, at the age of 16, he was elected as the President of Model Higher Secondary School Students' Union. His involvement in student politics never interfered with his studies, and he earned Gold Medal in Masters of Philosophy from Barkatulla University, Bhopal.
Shivraj Singh joined Rashtriya Swayamsevak Sangh (RSS) as a volunteer during the same time and since then has been an active social worker and a popular leader. He participated in the underground movement against Emergency and was imprisoned in 1976-77 for nine months along with senior RSS and Bharatiya Jan Sangh leaders.
He became the youngest person to be arrested under Maintenance of Internal Security Act (MISA). His interaction with senior leaders during his jail stay helped in shaping up his leadership and vision at an early age. He was deeply influenced by the 'Antyoday philosophy' of Pandit Deendayal Upadhyaya.
He was made 'Sangathan Mantri' of ABVP after his release from jail post emergency. Soon after lifting of the emergency, elections followed, and Shivraj Chouhan became the star campaigner for Bhartiya Jan Sangh.
In 1984 Chouhan became Pradesh Mantri of ABVP and then Mahamantri. In 1988 he became President of ABVP for Madhya Pradesh. He participated and led many movements in the state and build a reputation of a firebrand young leader with the mass appeal.
At the young age of 31, Shivraj was elected to the state legislative assembly from Budhni constituency in 1990. He defeated his nearest Congress rival by over 22,000 votes. He is probably the first leader in modern Indian history to ask funds from people to fight the election and coined the famous slogan 'One vote, one note' - urging people to donate one rupee while they vote for him.
However, he could remain MLA for only a year as the luck had something else in store for him.
In the year 1991, after Atal Bihari Vajpayee resigned from Vidisha parliamentary seat, Shivraj Singh Chouhan was made BJP candidate, and he won the seat becoming one of the youngest MPs. In the year 1992, he became the General Secretary of Bhartiya Janata Yuva Morcha (BJYM).
He was re-elected to the 11th Lok Sabha from Vidisha in 1996.
Shivraj Singh Chouhan scored a hat trick in the 12th Lok Sabha elections in 1998 and fourth consecutive victory into 13th Lok Sabha in 1999. In the year 2000 he became President of BJYM. He planned a seminar for youth on 'national security'. Party veterans Atal Bihari Vajpayee and Lal Krishna Advani, who addressed the gathering were very impressed by the huge turnout and successful organisation of the seminar.
Shivraj Singh Chouhan registered the 5th consecutive victory into the 14th Lok Sabha in 2004. Shivraj Singh was appointed President of Bharatiya Janata Party (BJP), Madhya Pradesh in 2005. On November 29, 2005, he was elected as the Chief Minister of the state. The following year he won the by-election to the Assembly from Budhni, from where he began his political journey in 1990.
In the year 2008, he led the party to its second consecutive victory in the state elections and assumed the office of the Chief Minister on December 12, 2008.
In the year 2013, Shivraj Singh led BJP to a third successive victory in the state and became Chief Minister for third straight time taking oath on December 14, 2013. He is the longest serving Chief Minister of the state.
In 2018 elections, in a close contest, MP threw a hung verdict. Congress emerged as the single largest party with 114 seats. BJP lost the elections by a whisker. People of the state couldn't believe the results. In his address to the voters of his home constituency Budhni, a week later, Chouhan thundered that despite being defeated in the elections people should not worry about their works as, "Tiger abhi zinda hai".
He brought in various schemes to revive the agriculture situation of the state – interest-free loans, improved irrigation through the restoration of canals, availability of power at subsidised rates, provision of certified seeds and adequate supply of fertilisers. The power situation has improved dramatically, from being a power deficit state when he took over, the state is now power surplus. State was ranked amongst the top five states in 'ease of doing business' due to its pro-investment policies.
In his first term as MLA in 1990, Chouhan had carried out 'kanyadan' for a poor man's daughter as he didn't have the means. When he assumed office, he flagged off the Chief Minister's Kanyadan Yojana under which financial assistance is provided to poor for meeting the expenses of marriage. Some of his other noteworthy initiatives are 'Beti Bachao Abhiyaan' and 'Ladli Laxmi Yojana', which was launched in 2006.
First-of-its-kind in the country, Madhya Pradesh Public Service Guarantee Act has received a special award in the United Nations Public Service Award for 2012 for excellence in public service. Acutely aware of the challenges facing rivers and their importance in our lives, Shivraj Singh started an ambitious 'Namami Devi Narmade' campaign to save the lifeline of Madhya Pradesh.
Fondly called as Mama, by one and all, he's back! #MamaIsBack is trending on twitter. In his 4th term as CM, Shivraj faces many challenges, the topmost being to control the outbreak of corona virus.
(The article is an opinion piece by Amitabh Tiwari. The views expressed in the article are of the author and not of Jagran English.)
Amitabh Tiwari is a political commentator, strategist and consultant advising political parties and leaders. He was a corporate and investment banker.