By Abhinav Gupta
Updated: Fri, 28 Feb 2020 02:22 PM IST
Minute Read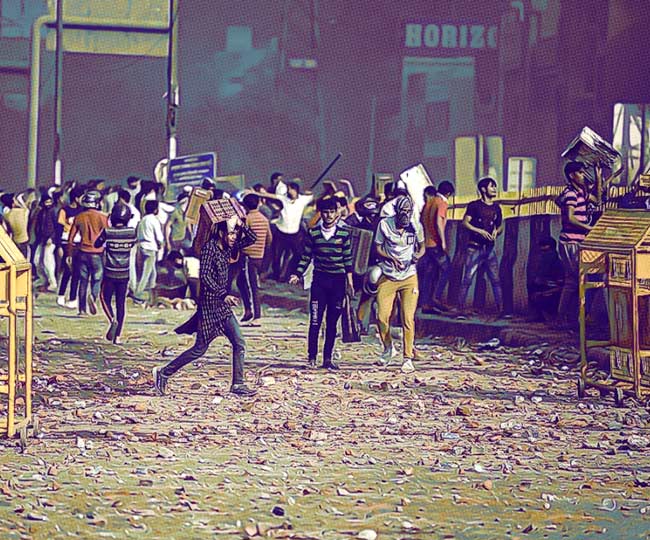 New Delhi | Abhinav Gupta: Deserted streets, debris on the ground, roads filled with pelted stones, vandalised shops and vehicles - the streets of Northeast Delhi narrate the heart-wrenching story of violence they have seen in the last few days. It started as a minor clash between pro- and anti-CAA protesters but later look an ugly turn with misled youth taking the law in their hands by unleashing rampage based on religious identity.
Turning into full-fledged riots within hours, the violence went on to claim as many as 42 lives and leaving more than 300 injured, with the judiciary forced to draw parallel with the 1984 anti-Sikh riots.
The city-state is home to people from across the country, from Kashmir to Kerala and Assam to Maharashtra, irrespective of caste, creed, religion and colour. It is known for its livelihood, hectic day and vibrant nightlife, state-of-the-art facilities and generous people (what we call Dil walon ki Dilli).
What happened in the three days of communal violence was no less than a nightmare for the trans-Yamuna area with 11 districts which saw rioters - what reports claim to be pro- and anti-CAA protesters - running amok on streets, burning and looting shops, pelting stones and thrashing people.
Starting off as a 'peaceful protest' in Shaheen Bagh against the citizenship law brought by the Centre two-and-a-half months back, it suddenly took a communal colour in the far-away areas of Northeast Delhi (Jafrabad, Chand Bagh, Bhajanpura, Gokulpuri and Maujpur).
The streets (in Northeast Delhi) which have witnessed development in the past several years resounded with communal chants - a symbol of one's faith in his/her religion - which were used to incite violence and promote bloodshed; something which no religion has taught in its scriptures.
Rioters vandalised houses, shops, businesses, damaged two fire tenders in Gokulpuri and crowds raised incendiary slogans, set on fire fruit carts, rickshaws and anything that came in their way in the epicentre of the troubled Maujpur and other places.
Police fired teargas shells to disperse the rioters -- armed with stones, rods and even swords and many wearing helmets to protect themselves -- and was assisted by paramilitary personnel.
Streets were littered with mangled remains of vehicles, bricks and burnt tyres, mute testimony to the violence and bloodshed that took on a communal taint on Monday.
On the evening of February 24 and morning of February 25 - when the communal clashes turned ugliest - the Northeastern Delhi looked no less than a ghost town with burnt houses and charred vehicles.
The situation worsened to such level that even temples and mosques could not escape the brunt of communal violence. The buildings charred in the flames of these riots also included a school.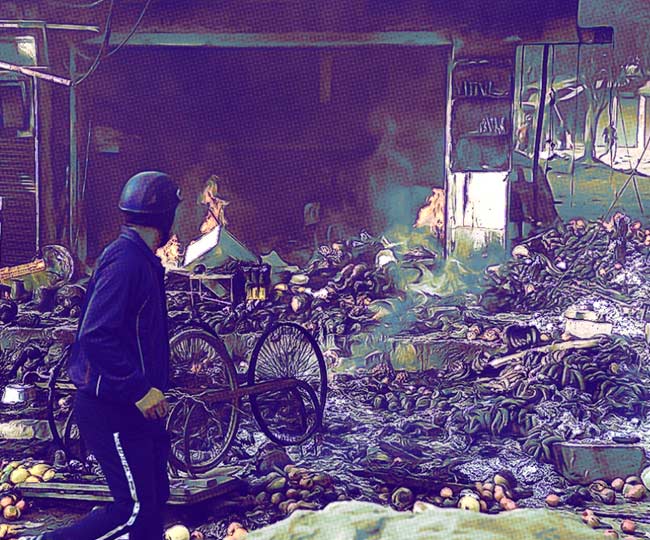 An 85-year-old woman, who was eagerly waiting for the birth of her great grandchild, was choked to death after a rampaging mob set her house at Gamri village near Delhi's Khajuri Khas on fire.
Reports also have it that people in the riot-hit areas of Northeast Delhi were asked to prove their religion (just to be sure that they attack the right person who doesn't belong to their religion).
Journalists from various media houses, who risked their lives in search of facts and truth, were attacked by agitators from both the sides - those supporting the CAA and those who were protesting against it. A JK24*7 news channel anchor was shot while reporting from Maujpur.
Several other reporters and camera persons were attacked by rioters who took their phones to delete the videos. A victim reporter from Times of India, recounting the terror he faced while covering the violence, told how he was asked to prove by raging mobs if he was a Hindu or Muslim.
Who is to be blamed?
The question is how and why did the situation worsen to such a horrible extent? Why no prompt action was taken to contain the escalating violence then and there? These questions are being asked by those who faced those masked and armed rioters while a blame game is going on between political parties and religious communities
Firstly, the response of the Delhi Police to the escalating violence has been questioned by the Supreme Court.
On February 26, the top court pulled up the Delhi Police over their handling of the ongoing clashes, with Justice KM Joseph highlighting "lack of professionalism" in the police force saying it was a malaise across the country that police waited for orders before acting on riot-like situation.
The same has been questioned in several other recent incidents at Tees Hazari court during lawyer-police clashes, violence at Jamia Millia Islamia University and at the Jawaharlal Nehru University.
The case is now being probed by two separate Special Investigation Teams (SITs) after the Delhi Police transferred the case to the crime branch.
Delhi Police is a professional force safeguarding the national capital of India and is adept at dealing with such situations. However, what is surprising is that how a 70,000-strong police force, along with paramilitary forces, failed to contain the violence.
Talking about the leadership, Home Minster Amit Shah held two high-level meetings - one on the night of February 23 and the other on February 24 - which included one with Delhi Chief Minister Arvind Kejriwal and other party leaders along with the top Delhi Police officials.
While the violence and killings have been condemned by leaders across party line, no prominent face, apart from Prime Minister Narendra Modi and Arvind Kejriwal, have come up to make a public appeal so far.
National Security Advisor Ajit Doval, however, visited the riot-hit areas twice in less than 24 hours to assess the situation on ground and said that "everything was under control."
Local lawmakers, too, have been conspicuously absent. As they have been voted to power by the locals of their stronghold, it goes without question that they should have tried to convince the protesters.
Instead, there are leaders like BJP's Kapil Mishra, who rather than asking people to maintain peace, chose to come up with hate-filled communal rants.
Kapil Mishra has been criticised by opposition leaders over comments that allegedly incited the horrific violence over the past three days. Hours before violence broke out across parts of northeast Delhi on Sunday, he led a pro-CAA rally in Maujpur. There he gave Delhi Police an ultimatum - "clear anti-CAA protesters from Jaffrabad and Chand Bagh or face the consequences."
What action has been taken so far?
With the situation getting out of hand and worse on February 24, the government finally woke up late. Heavy deployment of Delhi Police personnel and paramilitary forces like Rapid Action Force and CRPF were visible in violence-hit areas on Tuesday evening and continues till date.
Reprimanded by the judiciary over the alleged inaction, the Delhi Police has lodged 48 FIRs and detained over 500 people till February 27 in connection with the violence and arson.
Meanwhile, the Aam Aadmi Party (AAP) on February 27 suspended its councillor Tahir Hussain from the party's primary membership after he was booked by Delhi Police on charges of arson and murder of Intelligence Bureau official Ankit Sharma.
On Tuesday night, media reports claimed that curfew was imposed in four areas - Maujpur, Chand Bagh, Karawal Nagar and Jafrabad - and announcement of shoot-at-sight made at some places. However, there was no official word on the same. Prohibitory orders under Section 144 are already in place in about a dozen areas.
IPS officer S N Shrivastava, who was appointed as the Delhi Police Special Commissioner (Law and Order) earlier this week, has now been appointed as the Delhi Police Commissioner, who will be taking over the charge from Amulya Patnaik as he retires on February 28. He has been repatriated from the CRPF to take control of the situation in the wake of communal violence in the city.
Drawing parallel with Shaheen Bagh
Bracketing the communal clashes and killings as 'CAA violence' seems to be gross oversimplification. There is a need for us to understand the difference between Shaheen Bagh and Northeast Delhi - two extremely contrast scenarios.
Protest and sit-in at Shaheen Bagh has been on since December 15, four days after the passage of the Citizenship Act in both houses of Parliament. While the legitimacy of the blockade of the arterial roads, which has been causing inconvenience to commuters, is not debatable as the matter is sub judice, it did not witnessed anything even close to what has happened in Northeast Delhi.
Shaheen Bagh has been a symbol of anti-CAA resistance and has grabbed the attention of people across the country as well as globally. Despite the two-month long blockade, the protests have elicited only caution from the government and the court. While it witnessed speeches with mention of JNU, Rohith Vemula, lynching, triple talaq, Ram Temple and Kashmir, no arson or killing has been reported from the very site of sit-in.
On the other hand, the violence in Northeast Delhi doesn't seem to be self-motivated, and independent but organised, faceless and leaderless protests and riot-like situations handled by some individuals and organisations.
(The article is an opinion piece by Abhinav Gupta. The views expressed in the article are of the author and not of Jagran English.)