World Environment Day 2020 | Theme and History of 'Eco Day'
World Environment Day 2020: The world celebrated its first 'Environment Day' in 1973 with the theme "Only one Earth". And from 1974 onward, the celebration campaign of the World Environment Day started being hosted in different cities across the world. (pic credits: PTI)
Updated: Fri, 05 Jun 2020 07:31 AM IST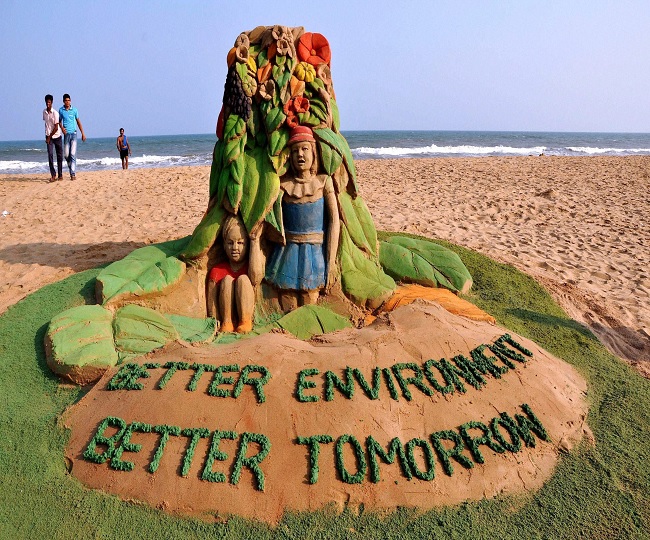 New Delhi | Jagran Lifestyle Desk: People across the globe will observe the World Environment Day on Friday to celebrate the sheer magnanimity of the way the planet's environment continues to sustain the lives and lifelines of all the species of organisms, human beings on top of all of course, given our cognitive superiority. On Friday, June 5th, the World Environment Day will dawn upon the global horizon to make way for the stimulation of walking the talk of sustaining environmental vigour for an all-round success of the essential elements of life, namely air, water, soil and subsequently linked resources like that.
History:
Forty-seven-years before, since 1973, World Environment Day has been started to be celebrated as an annual event on every June 5th to call for the importance of a healthy, clean and green environment in all our lives, while encouraging the efforts to solve the environmental issues by implementing some positive environmental actions by the governments globally, organisations such as WWF and Greenpeace and Individuals as a whole.
In 1972 in the conference held on Human Environment began from 5th to 16th June at the United Nations, World Environment Day was first established to be celebrated every year by running some effective campaigns by the United Nations General Assembly and United Nations Environment Programme (UNEP). Therefore, every year since then, World Environment Day is set upon a specific theme which touches the most pressing concerns related to environmental protection.
The world celebrated its first 'Environment Day' in 1973 with the theme "Only one Earth". And from 1974 onward, the celebration campaign of the World Environment Day started being hosted in different cities across the world.
Theme:
On this year's June 5, World Environment Day's theme is 'Time for Nature', with Colombia being the host country for the first time. The theme has conceptually come to existence in an attempt to accelerate nature-driven solutions for all-round human development.
Posted By: Aalok Sensharma