Solar Eclipse 2020 Images: Watch Live videos and latest photos of Surya Grahan from across the country
Solar Eclipse 2020 Images: In India, people living in Anupgarh, Suratgarh, Sirsa, Jakhal, Kurukshetra, Yamunanagar, Dehradun, Tapowan & Joshimath will be able to see the annular phase of the Solar Eclipse 2020, while people in rest of India can only witness a partial eclipse
Updated: Sun, 21 Jun 2020 11:53 AM IST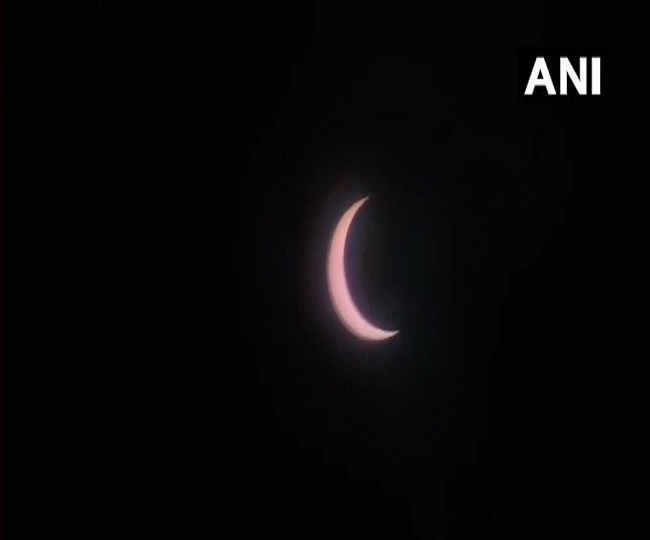 New Delhi | Jagran Lifestyle Desk: The world is witnessing the first Solar Eclipse of the year 2020. This is an Annular Solar Eclipse which will create a ring of fire when it will reach its maximum extent. The solar eclipse started taking place at 9:15 am IST and will reach its maximum extent at 12:10 pm. The Eclipse will end at around 3:05 pm IST.
The Solar Eclipse 2020 will be an Annular Solar Eclipse which will create a ring of fire around the Sun. The Annular Solar Eclipse occurs when the moon covers the sun's centre, leaving the sun's outer edges to form a "ring of fire", also referred to as annulus around the moon. At the same time, the Moon is as far from the earth as it could get, leaving a display of a visually-spectacular astrophysical formation.
In India, people living in Anupgarh, Suratgarh, Sirsa, Jakhal, Kurukshetra, Yamunanagar, Dehradun, Tapowan & Joshimath will be able to see the annular phase of the Solar Eclipse 2020, while people in rest of India can only witness a partial eclipse, according to the Ministry of Science and Technology.
In New Delhi, Bangalore, Mumbai. Hyderabad, Agra and Pune, the Solar Eclipse 2020 will only be visible as a Partial Solar Eclipse and people living in these cities will not be able to witness the ring of fire.
Here are the latest visuals of Solar Eclipse 2020 from across the country:
12:00 pm: Punjab
Punjab: #SolarEclipse2020 as seen in the skies of Amritsar today. pic.twitter.com/usRHFtjlgP

— ANI (@ANI) June 21, 2020
11:45 am: Karachi (Pakistan)
#SolarEclipse2020 as seen in Karachi of Pakistan.

As per Pakistan Meteorological Department, the solar eclipse, which began at 8:46 am local time, will end at 2:34 pm with the greatest eclipse occurring at 11:40 am. pic.twitter.com/ZW2SRDESSe

— ANI (@ANI) June 21, 2020
11:30 am: Uttarakhand
Uttarakhand: #SolarEclipse2020 as seen in the skies of Dehradun.

The solar eclipse will be visible until 1:50 PM with maximum visibility of the eclipse at 12:05 PM. It will be visible from Asia, Africa, the Pacific, the Indian Ocean, parts of Europe and Australia. pic.twitter.com/iugvgwFEYR

— ANI (@ANI) June 21, 2020
11:15 am: Dubai (United Arab Emirates)
United Arab Emirates: #SolarEclipse2020 as seen in the skies of Dubai.

The solar eclipse will be visible until 11:12 AM. It will also be visible from Asia, Africa, the Pacific, the Indian Ocean, parts of Europe and Australia. pic.twitter.com/EAGWuVIdBO

— ANI (@ANI) June 21, 2020
11:00: am: Haryana
Haryana: #SolarEclipse2020 as seen in the skies of Kurukshetra. pic.twitter.com/LCpg8ltvJk

— ANI (@ANI) June 21, 2020
10:35 am: Rajasthan
Rajasthan: #SolarEclipse2020 seen in the skies of Jaipur.

The solar eclipse will be visible until 1:44 PM with maximum visibility of the eclipse at 11:55 IST. It will be visible from Asia, Africa, the Pacific, the Indian Ocean, parts of Europe and Australia. pic.twitter.com/MnnFvua1St

— ANI (@ANI) June 21, 2020
10:20 am: Gujarat
Gujarat: #SolarEclipse2020 seen in the skies of Gandhinagar.

The solar eclipse will be visible until 1:32 PM with maximum visibility of the eclipse at 11:42 IST. It will be visible from Asia, Africa, the Pacific, the Indian Ocean, parts of Europe and Australia. pic.twitter.com/Lp0xs53JoF

— ANI (@ANI) June 21, 2020
10:00 am: Maharashtra
Maharashtra: #SolarEclipse2020 seen in the skies of Mumbai.

The solar eclipse will be visible until 3:04 PM. The maximum eclipse will take place at 12:10 IST. It will be visible from Asia, Africa, the Pacific, the Indian Ocean, parts of Europe and Australia. pic.twitter.com/n32nzIXYDR

— ANI (@ANI) June 21, 2020
9:45 am: Delhi
Delhi: #SolarEclipse2020 as seen in the skies of the national capital today.

The solar eclipse will be visible until 3:04 PM. The maximum eclipse will take place at 12:10 IST. It will be visible from Asia, Africa, the Pacific, the Indian Ocean, parts of Europe and Australia. pic.twitter.com/tJNM01YwGx

— ANI (@ANI) June 21, 2020
9:30 am: Jammu and Kashmir
#WATCH Jammu and Kashmir: Jammu witnesses #SolarEclipse2020

It will start at 9:15 AM and will be visible until 3:04 PM. The maximum eclipse will take place at 12:10 IST. It will be visible from Asia, Africa, the Pacific, the Indian Ocean, parts of Europe and Australia. pic.twitter.com/hewOopYiCY

— ANI (@ANI) June 21, 2020
9:15 am: Jammu and Kashmir
Jammu & Kashmir: Jammu witnesses #SolarEclipse2020

The solar eclipse will start at 9:15 AM and will be visible until 3:04 PM. The maximum eclipse will take place at 12:10 IST. It will be visible from Asia, Africa, the Pacific, the Indian Ocean, parts of Europe and Australia. pic.twitter.com/5tvnfr7O7G

— ANI (@ANI) June 21, 2020
Posted By: Talib Khan