By Talib Khan
Updated: Wed, 29 Jan 2020 10:12 AM IST
Minute Read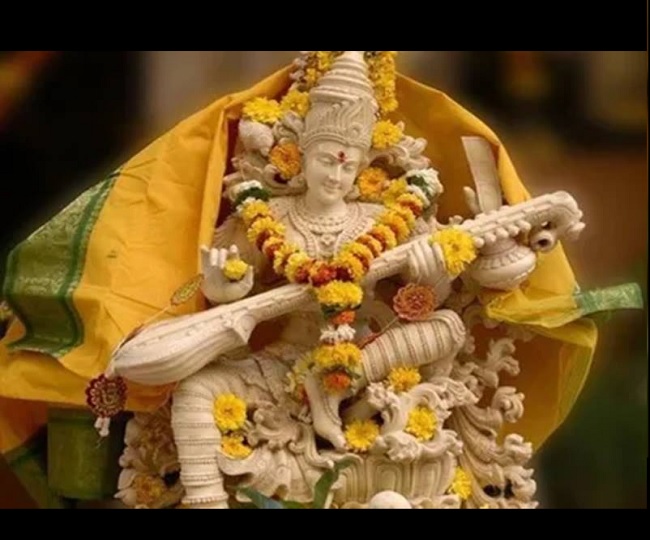 New Delhi | Jagran Lifestyle Desk: Today, the whole nation is celebrating the festival of Basant Panchami with full fervour and joy. The festival marks the end of winter season and arrival of the spring season. The festival also marks the birthday of Goddess Saraswati who symbolises knowledge, wisdom, purity and truth. Worshipping Goddess Saraswati on this day is considered very auspicious, especially to begin a child's education.
Also Read: Basant Panchami 2020: How to celebrate the arrival of spring
In Basant Panchami, there is a special method for worshipping Goddess Saraswati. Pleasing Goddess Saraswati on this day fulfils all the wishes of a person, but we need to know how to worship Saraswati and what materials to use.
Worshipping material
Coconut, Roli, Molly, Paan, Betel nut, Whole rice, Deepak, Cotton, Ghee, Water vessel, Kalash, Mother Saraswati and Lord Ganesha's picture, Sandalwood, Milk, Yogurt, Honey, Sugar, Sindoor, Flower, clothes, kumkum, camphor, cloves, cardamom etc.
Worshipping method
While worshipping Maa Saraswati, firstly the statue or picture of Saraswati should be kept in front. After this, the Kalash should be duly worshipped by placing the Kalash in front of the statue or picture.
While worshipping Saraswati Mata, first of all, give the statue of her a bath. After this, offer flower garlands to Mata, sindoor and other makeup items should also be offered to Saraswati Mata. Gulal is also offered at the feet of Saraswati Mata on Basant Panchami.
Worship Goddess Saraswati by following meditation mentioned below
1. Ganesh Dhyanam 2. Swasti Vachhan 3. Sanctification 4. Rakshavidhan 5. Sankalp 6. Saraswati Dhyanam 7. Aavahanam 8. Asanam 9. Padyam 10. Adhyam 11. Achmanam 12. Snanam 13. Vastram 14. Madhuparkarma 15. Ornament 16. White Chandanam 17. Rakta Chandanam 18. Sinduramam 19. Kunkumam 20. Perfumed Perfume 21. Akshatam 22. Pushpam 23. Pushp Mallyam 24. Durva 25. Abir-Gulal 26. Dhupam 27. Deepam 28. Naivedham 29. Ritu Falam 30. Achnamiyam 31. Tambulam 32. Dakshinam 33. Neerajanam 34. P Radakshina 35. Namaskaram 36. Pushpanjalim 37. Prayamam.
After the above worship, one should pray to Maa Saraswati and apologize.
Havan in Saraswati Puja
After worshipping Saraswati Mata, a havan should be performed in the name of Saraswati Mata. After this Mantra should be performed 108 times in the name of Goddess Saraswati with this mantra "Om Sri Saraswate Namah Swaha". After the Havan, perform the Aarti of Saraswati Mata and do the Havan.
Also Read: Basant Panchami 2020: Play these songs to appease Goddess Saraswati on this day
Immersion of Saraswati statue
After worshipping Saraswati on the day of Magh Shukla Panchami, the idol should be bowed and flown into the water in the evening.