Updated: Fri, 24 Apr 2020 07:48 PM IST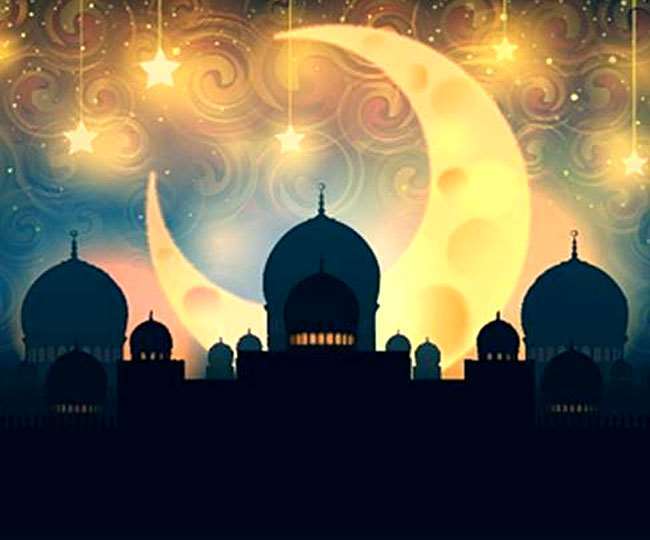 New Delhi | Jagran Lifestyle Desk: The holy month of the Ramzan began today after the sighting of the crescent Moon. Muslims around the country will now start the fasting for the month-long festival Ramadan -- which is the holiest month in Islam -- from tomorrow.
The states of Karnataka and Kerala sighted the moon on April 23 but no official announcement was made from any Muslim organisation for pan India observance as the moon was not sighted in major parts of the country. The moon sighting is likely to take place today evening.
During Ramzan, Muslims observe fast, offer prayers and refrain from smoking, sexual intercourse or sinful behaviour, and much more. They also donate alms and feed the poor. As per religious beliefs, the holy Quran was revealed to Prophet Muhammad during this month.
They also believe that during this time, the gate of hell is closed and heaven open. Usually, people wish each other by meeting and hugging each other. They offer prayers at the mosque and hold iftar parties to break the fast, but due to coronavirus lockdown, everyone will is forced to live in self-isolation with family members only.
Here are the LIVE updates of Moon sighting in India
April 24 Updates:
7:47 pm: I appeal to all, do not invite your neighbours to your house to offer prayers during Ramzan. Ensure, there are not more than 3 people in 1 room even while offering prayers with family. COVID-19 will end only when we'll unite: Shahi Imam of Delhi's Jama Masjid, Syed Ahmed Bukhari
7:31 pm: Fasting will begin from tomorrow.
7:27 pm: Moon sighted, holy month of Ramzan begins
7:20 pm: The annoucement will be made shortly on Moon sighting.
7:01 pm: Happy Ramadan 2020: Wishes, quotes, SMS, messages, Shayari, Facebook and WhatsApp status to share with family and friends
6:55 pm: Majlis Ulama-e-Deccan have also appealed the general public that if they spot the moon they should inform on the phone numbers 24521099, 24513246, 24576832, 9000008138 and 9866112393, 9391964951, 9885151354, so that if the moon has been sighted for sure an announcement can be made for the commencement of fasting in India.
6:50 pm: In India, the Markazi Ruet-e-Hilal Committee (Central Moon Sighting Committee) headed by Majlis Ulama-e-Deccan officially announce the commencement of Ramzaan and moon sighting
6:45 pm: Ramzan 2020: Keep away the thirst and stay fresh during fast by following these simple steps in Sehri
6:40 pm: The National Commission for Minorities Chairperson Syed Ghayorul Rizvi writes to Cheif Secretaries of States/UTs requesting to issue instructions to all District Magistrates to ensure availability of fruits and other essential items during Ramzaan.
6:30 pm: Syed Ahmed Bukhari, the shahi imam of Jama Masjid, in a video message on Thursday asked people not to venture outside unnecessarily and remain indoors during Ramzan for prayers.
"Two days later auspicious Ramzan is commencing. Namaz and Tarabi(ritual prayer) should be offered at home. Care should be taken that not more than three-four people read Tarabi because large numbers can be harmful for the families and the society in view of the pandemic," Bukhari said.
6:20 pm: Moon is likely to be seen in Agra at 6:35 pm. At the same time, the moon is expected to be seen at 6:37 pm in Delhi. The moon can be seen at 6:23 pm in the capital of Uttar Pradesh, Lucknow. There is hope of seeing the moon in Kanpur at 6:26 pm.
6:00 pm: Ramadan 2020: Here's the complete calendar and timetable for Ramzan
5:50 pm: Happy Ramzan 2020: Some Do's and Don'ts you must follow during observance of fast
5:40 pm: This Ramazan is not the same anywhere in the world, but we are trying to make it less difficult in Srinagar. 50,000 Ramazan food/essentials kits ready for dispatch: Shahid Choudhary, District Magistrate, Srinagar
5:25 pm: I would like to appeal everyone not to offer prayers at mosques as curfew begins from 7 PM and nobody is allowed to leave their homes during this time. I would also appeal everyone to maintain social distancing: Asaduddin Owaisi, AIMIM Chief
5:15 pm: I wish people on Ramzan & appeal to people to offers prayers & have 'sehri' (pre-dawn meal) at home during the holy month. Azaan should be offered as per guidelines of National Green Tribunal. Please do not venture out of your homes during lockdown: MS Randhawa, Delhi Police PRO
5:00 pm: Jharkhand: Due to nationwide Coronavirus lockdown, Mosques in Ranchi remain closed ahead of the commencement of the holy month of Ramzan. People living here say, "We will maintain social distancing while offering prayers at our homes. Will pray this COVID19 pandemic ends soon".
April 23 Updates:
9 pm: Malaysia and Egypt to observe fasts from April 24.
20:45 pm: CMO Punjab extends Ramadan wishes, urges to pray at home.
20:33 pm: Month of Ramzan to be observed from tomorrow in Karnataka. The moon was sighted at Dakshina Kannada and Udupi districts today.
20:07 pm: "Wishing Ramadhan al Mubarak to all my Muslim Friends!! Happy Fasting," Kareena Kapoor said in a post on Instagram.
20:05 pm: Meanwhile, Singapore Prime Minister Lee Hsien Loong has announced that Ramadan 2020 will begin on Friday 24 April, in the country.
"Tomorrow marks the start of the holy month of Ramadan, the fasting month for Muslims. May this Ramadan be a time of quiet reflection and prayer, together with your immediate families," he tweeted
7:51 pm: Month of Ramzan to be observed from tomorrow in Kerala. The moon was sighted at Kappad in Kozhikode
7:45 pm: Ramzan 2020 | Four recipe ideas for the post dusk meal of Ramadan, Iftar!
7:45 pm: The Kingdom of Saudi Arabia (KSA) will announce on the sighting of crescent today after the higher judiciary confirms the testimonies of crescent spotting.
7:35 pm: Happy Ramadan 2020: Wishes, quotes, SMS, messages, Shayari, Facebook and WhatsApp status to share with family and friends on Ramzan
7:32 pm: Sheikh Khalifa pardons 1,511 prisoners for the holy month. The UAE President and ruler of Abu Dhabi also cleared the debts of the inmates.
7:25 pm: Too poor to buy, too scared to meet: Palestinians face joyless Ramadan
7:10 pm: Four 'Suhur' recipe ideas to keep yourself going all day during this holy month of Ramzan
6:55 pm: Ramadan 2020| 15 unknown and interesting facts about this holy month of mercy
6:41 pm: Ramadan 2020 | Five ways to observe this holy month amid coronavirus lockdown
6:27 pm: Mike Pompeo, US Secretary of State, took to Twitter to wish Muslims around the world. In a tweet post, he wrote, "On this blessed occasion for Muslims around the world, may the holy month of Ramadan remind us all of the importance of shared compassion, service, and support for one another. I wish all who celebrate a #RamadanKareem.."
6:15 pm: The actual visibility of the crescent moon will depend on natural factors such as atmospheric conditions and cloud cover.
5:59 pm: According to an official document issued in UAE on Wednesday, gatherings of more than 10 people are not allowed. Physical contact such as handshakes and hugging is strictly prohibited during such gatherings.
5:45 pm: In the United States and Europe, Muslim communities rely on astronomical calculations
5:30 pm: The Mosques will remain closed and I request people to offer prayers at their homes. I would like to appeal to everyone to follow lockdown & maintain social distancing: Syed Mohammad Ahmad Kazmi, Muslim Cleric in Dehradun, Uttarakhand.
Posted By: James Kuanal