Navrati 2019 Day 3: Complete puja vidhi to worship Goddess Chandraghanta
Publish Date: Tue, 01 Oct 2019 06:50 AM IST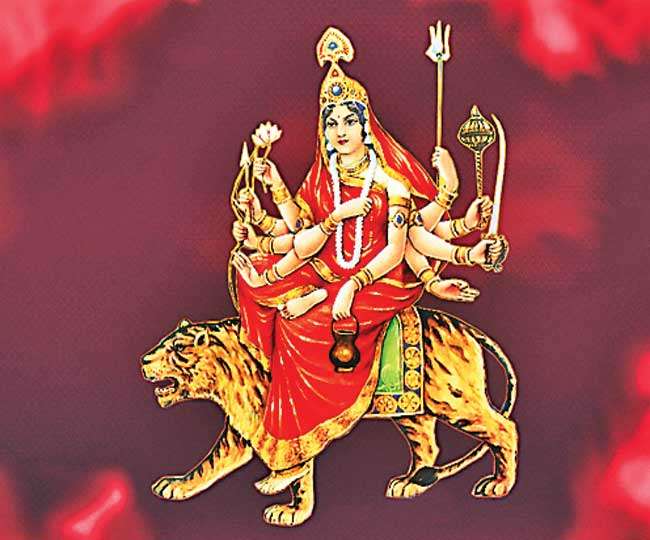 New Delhi | Jagran Lifestyle Desk: Navratri or Durga Puja has begun and the festival is being celebrated with joy and bliss across the country. Tuesday (October 1) is the day 3 of the auspicious festival and Maa Chandraghanta, the third form of Goddess Durga is worshipped on this day. She is the married avatar of Goddess Parvati. Those who worship Devi in this form get eternal power and strength.
Chandraghanta means supreme knowledge and bliss, showering peace and serenity. Sorrows are dispelled by her blessings and warrior within oneself is evoked.
Goddess Chandraghanta is one who establishes justice and discipline in the world. She has a golden body, rides on a lion, possesses ten hands, three eyes. Her eighth hands are filled with armoury: Trishul, gada, sword, kamandal, dhanush, arrow, japa mala, lotus flower and remaining two are in the mudras-- Varada and Abhaya for boon giving and stopping harm. She is posed as if she is ready for a war. Crescent moon on her forehead symbolises the removal of negativity and evil spirits.
Also Read: Navratri 2019 | Here's the significance of nine colours of Durga puja
Navratri Puja Vidhi (Chandraghanta Puja), Day 3:
Goddess Chandraghanta is worshipped on the third night of Navratri.
Devotees use a shallow pan made of clay.
Put some grains on the pan and sprinkle water for it get moist.
Place Kalasha (pot) filled with Akshat (rice+ turmeric), coins, supari, durva grass and Ganga jal on the base.
Place Mango tree leaves (5) on top of the holy pot and cover it by a coconut.
Start reciting the holy mantra.
Dhayan mantra for Chandraghanta Puja:
Pindaj Pravara Rudha Chand Kopastra Keyurta |
Prasadam Tanute Maham Chandra Ghanteti Vishruta ||
Beej Mantra:
|| Om Hreem Kleem Shreem Chandraghantai Namah ||
Yellow colour which symbolises positivity, enlightenment, clarity and energy is preferred on day 3 of Navratri. Goddess Chandraghanta, who is known to drive away all pains, is pleased by Kheer.
Posted By: James Kuanal