Navratri 2019 Day 4: How to worship Maa Kushmanda, puja vidhi and Bhog
Publish Date: Wed, 02 Oct 2019 09:00 AM IST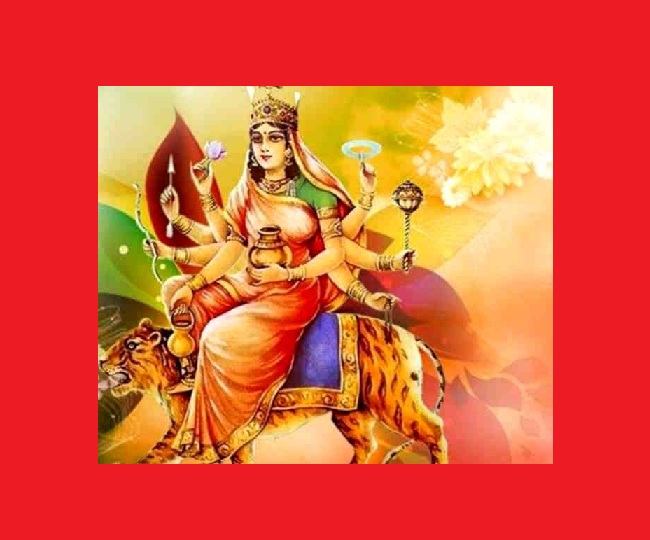 New Delhi | Jagran Lifestyle Desk: Navratri or Durga Puja is being celebrated across the country in full fledge. Today is the fourth day of the nine-night long festival. Maa Kushmanda, the fourth avatar of Lord Durga is worshipped on this day. She rules the heart chakra. Kushmanda is made up of three words-- Ku, Ushma and Amnda, which means little, warmth or energy and egg-- creator of the universe.
History
As per Hindu texts, Lord Vishnu created the universe after a smile from Maa Kushmanda. She smiled like a flower and blossomed with a bud. The goddess created the world when nothing prevailed in the world.
Also known as Ashtabhuja, Lord Kushmanda has eight hands in which she holds bow, arrow, kamndal, amrit, discus, lotus flower, mace and rosary to bless devotees. She has a radiant face and golden body complexion.
Also Read: Navratri 2019: Here's the significance of nine colours of Durga puja
Significance
The Goddess is known to have created Mahakali (black goddess) from her left eye and Mahasaraswati from right. The black goddess has ten faces, equal number of arms and feet, thirty eyes and fifty fingers and toes. She is seated on the funeral pyre with trident, cleaver, shield, arrow, among others.
Mahasaraswati, on the other hand, had eight arms and three placid eyes. She wore white clothes and had a divine crescent on her forehead and weapons such as Trishul, arrow, bow, ploughshare, shell, bell, pestle and discus.
Besides this, Maa Kushmanda also created a man with five heads and woman from Mahasaraswati. The latter had four arms, wore sari with rosary, goad, book and lotus and named her Saraswati. The man had lotus, rosary, divine books and a waterpot. She named her Brahma. In the same manner, she created Mahalakshmi-- Lakshmi and Vishnu.
Here's complete puja vidhi for Day 4 of Navratra:
Kushmanda Puja is performed on Day 4 of Durga Puja
Use a shallow pan made of clay as base
Put some grain seeds on the pan and sprinkle some water over it
Take a Kalasha (holy pot) filled with Ganga jal.
Place akshat, coins, supari, and durva grass on the base.
Place five mango tree leaves above pot and cover it with a coconut.
Dhyan Mantra:
Surasampurnakalasam Rudhiraplutameva Cha |
Dadhana Hastapadmabhyam Kushmanda Subhadastu Me ||
Beej Mantra:
|| Om Hreem Kushmandayai Jagatorasootyai Namah ||
Green colour which is the significator of life, nature and energy is preferred on day 4 of Durga Puja. Devotees offer Malpua to Maa Kushmanda on this day. Maa Kushmanda is known to fulfill our desires, brings light into darkness and establish harmony in our lives.
Posted By: James Kuanal