Navaratri 2019 Day 7: Here's puja vidhi to worship Maa Kalaratri during Durga Puja
Publish Date: Sat, 05 Oct 2019 08:20 AM IST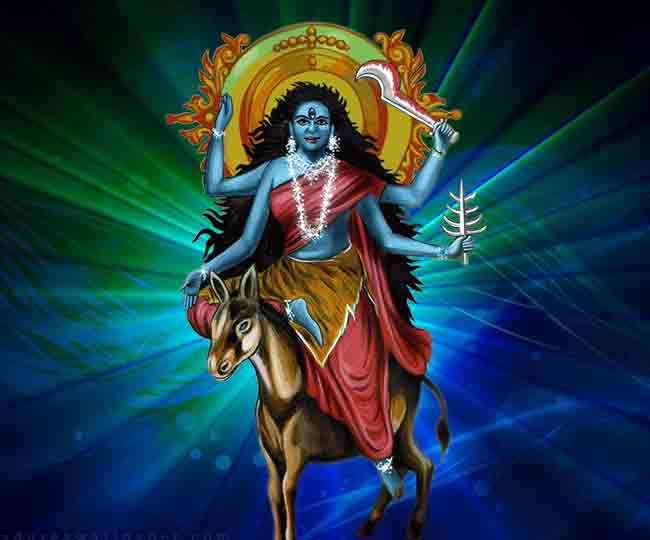 New Delhi | Jagran Lifestyle Desk: Navratri is a nine-night long festival which is celebrated with a lot of zeal and enthusiasm in India. During this festival, people worship goddess Durga and her nine forms. On Day 6, people worship Maa Kalaratri who is believed to be the destroyer of all demon entities, ghosts, spirits and negative energies.
Maa Kalaratri is also known as 'Shubankari'. In Sanskrit, Shubankari means 'auspicious'. It is also believed that Maa Kalaratri makes her devotees fearless.
The meaning of Kaal is time and death and kaalratri is the one who is 'the death of Kaal.' Maa Kalratri puts an end to ignorance, bringing light into the dark.
According to legends, Maa Kalaratri has a dark complexion and has tree eyes. She wears a thunder-like shining necklace. The legends further say that Maa Kalaratri rides on a donkey and has bountiful hair and four hands. On one hand, Maa Kalaratri carries a sword and a deadly hook in her left hands. She uses her other right hand to bless her devotees.
Here's complete puja vidhi to worship Maa Kalaratri:
According to Hindu scriptures, the devotees should worship Maa Kalaratri with flowers and kumkum (vermilion). The devotees should also recite the following mantra to impress her:
Vāma pādōlla sallōhalatā kaṇṭaka bhūṣaṇā |
vardhana mūrdha dhvajā kr̥ṣṇā kālarātri bharyaṅkarī ||
Markandeya Purana:
prakṛtistvaṃca sarvasya guṇatraya vibhāvinī
kāḷarātrirmahārātrirmoharātriśca dāruṇā
What is the auspicious colour of the day:
According to legends, the devotees should wear grey on the seventh day of Navratri as it symbolise the strength of transforming.
Posted By: Aalok Sensharma