Navaratri 2019 Day 5: Here's puja vidhi to worship Maa Skandmata during Durga Puja
Updated: Thu, 03 Oct 2019 04:17 PM IST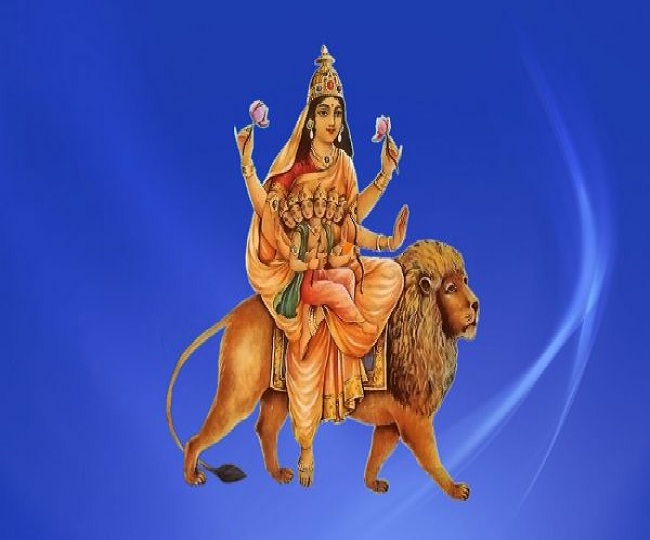 New Delhi | Jagran Lifestyle Desk: Navratri or Durga Puja, is being celebrated in various parts of the country. During this festival, we celebrate nine avatars of Goddess Durga across nine nights. On day 5, we worship Maa Skandmata who is known to drive all physical pain and suffering.
Skandmata is known after her son, Lord Skant Kumar Kartikeya. The Goddess has four hands: Two of them holds a lotus flower. She is holding son Kartikeya in one of her hands and showering blessings from the fourth. Her complexion is Shubhra, i.e., complete white. She is a true goddess of endurance and purity. Couples who face difficulty in having child worship Maa Skandmata. She solves all such problems, including distress at home.
When all deities, saints and mankind suffered from the torment of a colossal giant Tarakashur, her son Kartikeya was the only one to demolish the tyranny of the devil. Being her mother, her mother was glorified as Skandmata. Owing to battle skills and strength of Kartkeya, Lord Brahma had promoted him as the commander in chief of the Gods.
Here's complete puja vidhi to worship Goddess Skandmata:
Take a bath and wear clean clothes:
Use a shallow pan made of clay.
Put three layers of mud and grain seeds inside the pan
Sprinkle some water over it so that the seeds get enough moisture.
Take a holy pot (Kalash) and fill it with Ganga Jal.
Keep Akshat (rice and turmeric), coins and durva grass at the base.
Put five leaves of the mango tree in the pot and cover it with coconut.
Dhyan Mantra:
Sinhasan Gata Nitayam Padmashrit Kardvaya ||
Shubhdastu Sada Devi Skanda Mata Yashashvini ||
Beej Mantra:
|| Om Hreem Saha Skandmatryai Namah ||'
Blue colour, which is the significator serenity, clarity and vastness is preferred on day 5 of Navratri. Banana is offered during this day's worship to appease Goddess Skandmata.
Posted By: James Kuanal