Narsimha Jayanti 2020: Date, timing, puja vidhi and benefits of worshipping fourth avatar of Lord Vishnu
Narasimha Jayanti 2020: May the special occasion of Narasimha Jayanti inspire the angel in us to always stand for the right and follow the right path.
Updated: Wed, 06 May 2020 08:01 AM IST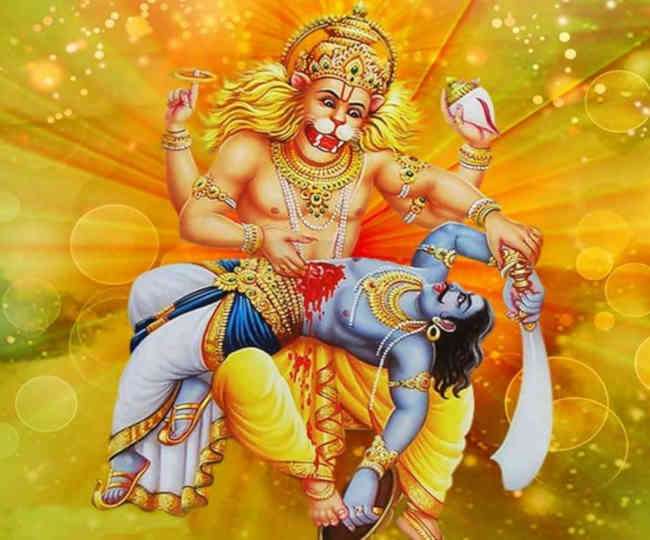 New Delhi | Jagran Lifestyle Desk: Narsimha Jayanti is an annual festival celebrated to mark the birth anniversary of Lord Narsimha-- fouth incarnation of Lord Vishnu, who had appeared during sunset on 14th day of Shukla Paksa. This day is considered highly auspicious among ardent devotees of Lord Vishnu.
As per scriptures, Lord Narsimha had appeared during sunset thus puja is performed during that time. The main purpose of Narsimha Jayanti is to remove adharma and follow the path of righteousness, which signifies path towards correct deeds and ahimsa (non-violence).
Muhurat
The Vaisakh Shukla Chaturdashi will start at 11.21 pm on May 5 and end at 7.44 pm on May 6.
Puja Vidhi:
Take sakalp during this Jayanti in the afternoon and perform puja before sunset.
Place the idol in east portion of the house facing the west.
Keep fruits, flowers, sandalwood, camphor, roli, incense, kumkum, saffron, panchmeva, coconut, Akshat, Gangajal, black sesame and Pitambar for worship.
Cover the idol with yellow clothes.
Place chandan, kapoor, roli and dhoop.
Listen to Lord Naramasimha tale.
Perform Pratyangira Devi Puja, Mantra Jaap and Yajna.
Donate sesame, cloth, etc. to the poor after worshiping.
One should also be part of Jagran and perform a visarjan puja during the next morning.
One should not eat anything of cereals and grains. The fast should be broken on the next day of Jayanti.
Mantra:
|| Ugram Viram Maha Vishnum Jvalantam Sarvato Mukham Nirisimham Bhishanam Bhadram Mrutyur Mrutyum Namamy Aham ||
Benefits of Puja:
Success in court cases and legal matters
Protection against diseases and ailments
Wealth and fulfillment of intentions
Overcome debts, financial difficulties, relationship issues.
It is believed that worshiping Lord Narasimha and fasting on this day of Lord Narsimha removes all sorrows and pain. Just like he always protected his devotee Prahlada, in the same way Lord Narasimha does not let anyone else suffer. At the same time, worshiping Goddess Lakshmi along with Narasimha ji eliminates any kind of financial problem in life.
Posted By: James Kuanal