Updated: Fri, 07 Feb 2020 07:12 AM IST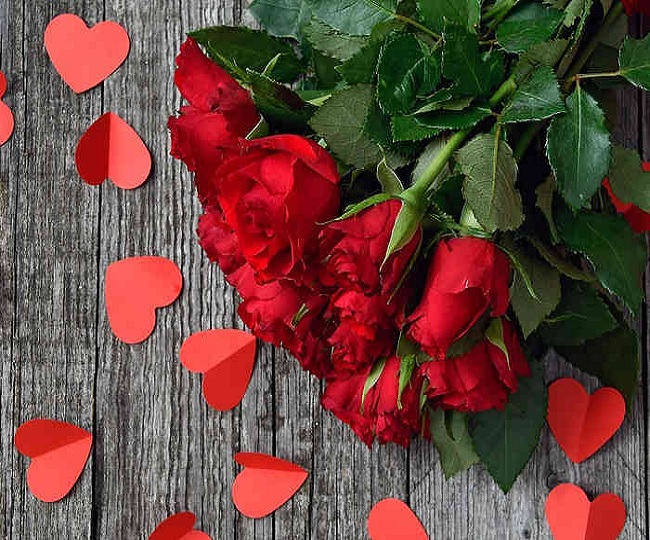 New Delhi | Jagran Lifestyle Desk: The month of February is the most love-filled month of the year. It is that time of the year when love is in the air. The second week of the month is known as Valentine's week or Love week and people, especially the millennials, celebrate this week with joy and enthusiasm, by presenting gifts to their partners and showering love on them.
The first day of Valentine's week is known as Rose Day, which marks the beginning of the love week. It is celebrated every year on February 7 and is followed by propose day, chocolate day, teddy day, promise day, hug day and kiss day. The final day is Valentine's Day, which falls on February 14.
On Rose Day, if you want to convey your feelings to someone special, a message along with a beautiful bunch can add some extra jazz to it. So here are some wishes, messages and quotes to share with your partner.
I want to gift you a present which is as precious as you are. So I am gifting you a bunch of lovely roses. Happy Rose Day.
There is only one gift that I want from you and that is your smile. May you always keep smiling. Happy Rose Day!
When I am in your company, I forget my sorrows and pains. May we never part. Happy Rose Day!
I cannot be with you, so I am sending this bunch of roses for my princess to fill your life with the fragrance of my love. Happy Rose Day sweetheart!
On Rose Day, I pray that God fills your way with beautiful red roses and removes all the thorns from your life.
If I have a bunch of roses, I will insert a plastic rose in it and give it to you & say "Our Friendship continues till the last rose dried".
Every bird cannot dance, but peacocks do it. Every friend cannot reach my heart, but you did it. Every flower cannot express love, but rose does it. Happy Rose Day!
A rose doesn't mean just proposing love. It also means
R- Rare
O- Ones
S- Supporting
E- Entire life
I love you a lot my little rose and would forever, You just hold my hand and give me a chance to lead you on the way of our life. Happy rose day.
Sweet as a rosebud bright as a star cute as a kitten that's what u are. bundles of joy sunshine and fun you are everything I Love all rolled into 1
Roses exclusively for a nice person… 'YOU' From a simple person… 'ME' Keep roses until they dry… Keep my relation until I die… Happy Rose Day.
Love can be expressed in many ways. But I think a rose is a rose. So here am I, sending you a bunch today. Happy Rose Day!
Happy Rose Day 2020 quotes:
Roses Are Lovely Flowers And They Always Brighten A Room And Bring Joy To The Heart. You Have Done The Same For Me, Brightened My Life And Brought Joy Into It. Happy Rose Day And Lots of Love.
I wish, you always bloom like a red rose, You always smile like a red rose, And you always spread your fragrance like a rose in someone's special life. Happy rose day….
I looked at a sweet, beautiful rose, And then I looked at you, And I kept looking at you, For the rose isn't as beautiful as you.
Red is for love, Yellow is for friendship, White is for peace, Pink is for gratitude, Orange is for fascination…..the whole bunch of these roses is for You. You are the love of my life. Happy Rose Day!
Sending this rose to you today. It is as unique and charming as our love story. Happy Rose Day!
I asked God for roses And God gave me garden of roses, I asked him a drop of water And God gave me an ocean, I asked him for an angel and God gave me you! Happy Rose Day.
I wish my smiles be yours forever, I wish my happiness be yours, As I wish to get only you and nothing else in this world. Happy rose day.
In the Flower, My Rose is U. In the Diamond, My Kohinoor is U. In the Sky, My Moon is U. I'm only Body, My Heart is U. That's why I always Miss You !!
I want to gift you a present which is as precious as you are. So I am gifting you a bunch of lovely roses. Happy Rose Day.
Posted By: Talib Khan