Publish Date: Tue, 08 Oct 2019 08:39 AM IST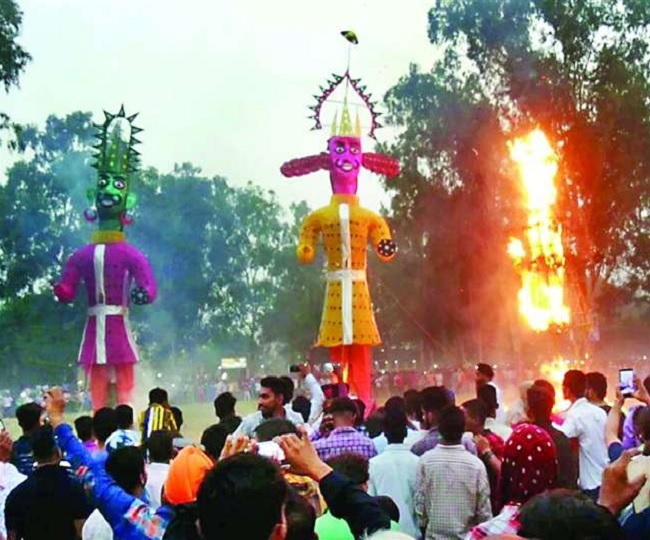 New Delhi | Jagran Lifestyle Desk: The whole nation is celebrating the festival of Dussehra today. This festival is celebrated on the tenth day of the Ashvin month according to the Hindu calendar. The festival of Dussehra is celebrated to mark the victory of 'good over evil'.
The term Dussehra is made up of two words, Dasha means ten, and Hara means defeat. This festival is also known as Vijaydashmi. Different parts of the country celebrate this festival in different styles, to mark Lord Ram's win over Ravana. It also marks the onset preparations of the festival of lights Diwali which comes 20 days after Dussehra.
Huge effigies of Ravana were installed and then burnt in open grounds across the country. Ramlila a re-enactment of the life of Lord Ram was performed in which he saved Goddess Sita from Ravana, who abducted her and took her to his kingdom in Lanka.
Here are some of the messages, quotes you can send to your loved ones and family members on the day when 'good defeated the bad'.
Happy Dussehra Greetings:
Let's celebrate the victory of the forces of Good over Evil. Wishing you a very joyous Happy Dussehra!
Like the effigies of Ravana, may your problems also burn away. Wish you a victorious Dussehra!
May the true Spirit of Dussehra inspire you to work hard towards your dreams. Wishing you lots of Happiness on this Dussehra
Defeat the Ravana in you by overcoming vices like envy, sin, and rage. Stand tall like RAMA in every phase of life. Wish you a very righteous and prosperous Dussehra!
Like Shri Ram kills Ravana, And restores the faith of his people, May his victory Inspire you towards your own victories and greatness. Have an auspicious, inspiring and prosperous pooja this year. Happy Dussehra!
With devotion, determination, and dedication Ram won his people. Jay Shree Ram! Happy Dussehra!
May Lord Rama guide you and your family towards righteousness and shower blessings upon you. Happy Dussehra to you and your family.
Burn away all the stress and tension in your life this Dussehra. I wish you a prosperous Dussehra.
Dussehra quotes:
"Dussehra is a festival of victory of good over evil"
"Let us create a new life by conquering five eternal evils- Kaam, Lobh, Krodh, Moh, Ahankar.."
"Every Dussehra we learn a message that light always prevails. Let us follow this rule and enjoy the festival of Dussehra."
"Let's welcome Lord Rama's blessings. Let's conquer every battle with truth."
"Let this Dussehra end all your problems"
"Essence of Dussehra lies in the value of goodness"
"Drive away all the hurdles in your life and start a new beginning"
"Follow the path of Dharma to win all the battles against evil"
"May this Dussehra spread goodness around you"
Posted By: Talib Khan