Ganesh Chaturthi 2019: Here are some instant modak recipes to try in this festival
Publish Date: Mon, 02 Sep 2019 10:55 AM IST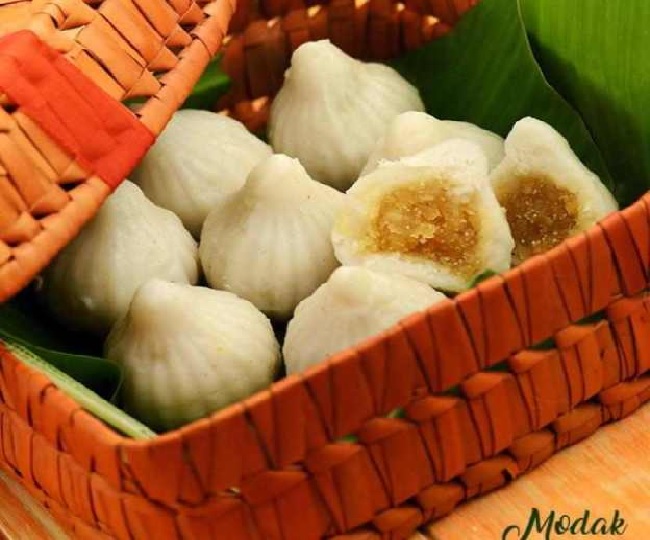 Delhi | Jagran Lifestyle Desk: Ganesh Chaturthi has arrived and the whole surroundings have become pious and prosperous with Bappa's divine footsteps. So are you prepared for his dish 'Modak'?
Modak is an important part of the ten-day long festival. It is considered Lord Ganesha's favourite. Due to a hectic lifestyle we do not make it at home and end up buying Modak from the shop. But, it lacks essence from the ones that are made at home. So here are some instant recipe to make the mouth-watering sweet.
Mawa Modak:
It is made from khoya, sugar, figs and nuts. Fry khoya with powdered sugar in a pan. Turn the flame off and add chopped nuts, figs and coconut powder to it. Let it cool and give it the shape of modak.
Malai Modak:
It is prepared from paneer, condensed milk and saffron. They are rich in taste. Crush paneer into a pan and heat. Add condensed milk and mash it properly. Flavour it with saffron and turn off the flame. Let it cool and then mold it into the shape of modak.
Chocolate Modak:
A modern recipe loved by children. All you need is chocolate chips, condensed milk, regular milk, biscuits and nuts. Put the mixture (except biscuits and nuts) in a pan and supply heat. Let it boil until thick takes the shape of thick cream. Add nuts and cookies and shape it into modak.
Also Read: These Bollywood songs will get you into the spirit of Ganesh Chaturthi!
Dry Fruits Modak:
One of the healthiest form of modak is dry fruit modak. For this, you need to soak figs and dates in water and blend them together into a powder. Grind cashews, almonds, pistachios and peanuts and roast them dry. Add sesame seeds, chironji seeds and desiccated coconut. Mix all the above with ghee and give it the required shape.
Chana Dal Modak:
Chana dal is added to rice and wheat flour in this recipe. Make a jaggery syrup, this is done by melting jaggery in water in a pan. Mash cooked chana dal and add it to the syrup with grated coconut. Add rice flour to boiling water. Once it gets dough, add the rest of the ingredients to it. Mix it well and shape it in the form of modak and then steam them in a pan. Add rose petals to garnish it.
Posted By: James Kuanal