Coronavirus Cure: Baba Ramdev's Patanjali launches Ayurvedic medicine Coronil for COVID-19 treatment | All you need to know
Patanjali has claimed that the new Ayurvedic medicine can cure COVID-19 patients within 5 to 14 days.
Updated: Tue, 23 Jun 2020 01:10 PM IST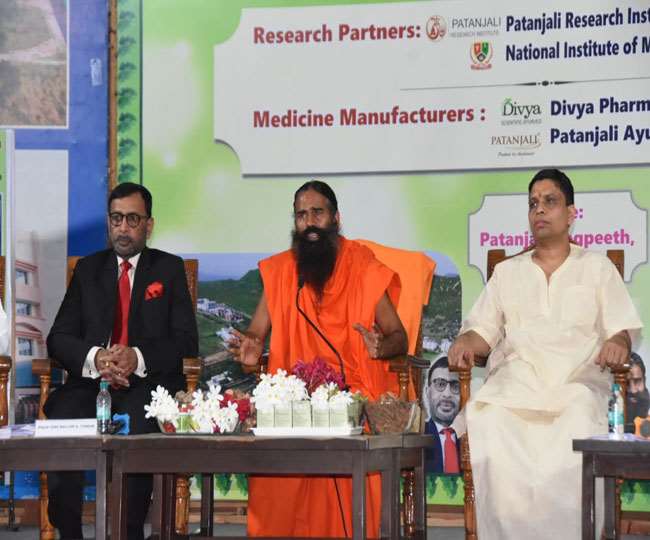 New Delhi | Jagran Lifestyle Desk: Yoga Guru Baba Ramdev's Patanjali Ayurved on Tuesday launched its Ayurvedic medicine Coronil, to treat COVID-19 patients. Patanjali has claimed that the new evidence-based Ayurvedic medicine can cure COVID-19 patients within 5 to 14 days.
"We've prepared the first Ayurvedic-clinically controlled, research, evidence and trial-based medicine for Covid-19. We conducted a clinical case study and clinical controlled trial. We found that 69% patients recovered in 3 days and 100% patients recovered in 7 days," said Baba Ramdev.
Patanjali CEO Acharya Balkrishna had announced on Monday that the medicine, Coronil, will be launched on June 23. "Proud launch of first and foremost evidence-based ayurvedic medicine for #corona contagion, #SWASARI_VATI, #CORONIL, is scheduled for tomorrow at 12 noon from #Patanjali Yogpeeth Haridwar," he had tweeted.
The medicine has been manufactured by Haridwar's Divya Pharmacy and Patanjali Ayurved Limited in Haridwar, based on a joint research by Patanjali Research Institute in Haridwar and the National Institute of Medical Science, Jaipur.
Earlier this month, Balkrishna had said that the trial of the medicine was conducted on hundreds of patients and it has produced "100 per cent favourable results".
Explaining the process behind the cure, Balkrishna had said that Patanjali roped in a team of scientists as soon as the deadly coronavirus started spreading outside China.
"We appointed a team of scientists after COVID-19 outbreak. Firstly, the simulation was done and compounds were identified which can fight the virus and stop its spread in the body. Then, we conducted a clinical case study on hundreds of positive patients and we have got 100 per cent favourable results," he had said.
"After taking our medicine, COVID patients recovered in 5-14 days and then tested negative. So, we can say the cure for COVID is possible through Ayurveda. We are performing controlled clinical trials only. In the next 4-5 days, evidence and data will be released by us," Balkrishna added.
Balkrishna explained that Coronil comprises of Ashwagandha, Giloy (Tinospora Cordifolia), Tulsi and Shvasari juice.
He said that Ashwagandha does not allow COVID-19's RBD to mix with the ACE of the human body which prevents it from entering the healthy cells of the patient. He added that Giloy also works as Ashwagandha.
He said that Tulsi has also been used in the medicine which constrains the rate of coronavirus' increase in the infected body by attacking the RNA-polymerases of attacking the RNA of the infection.
Speaking about the Shvasari juice, the Patanjali CEO said that it prevents the formation of thick mucus and reduces inflammation of the lungs by eliminating saliva.
The launch of Coronil comes at a time when anti-viral drugs Remdesivir and Favipiravir have been approved for limited use for treating COVID-19 patients in India.
After Glenmark Pharmaceuticals launched favipiravir under the brand name FabiFlu for treatment of mild to moderate cases of COVID-19, the Drug Controller General of India (DGCI) has now allowed Cipla and Hetero Labs to launch generic versions of Remdesivir under the brand names Cipremi and Covifor respectively.
Posted By: Abhinav Gupta