Chaitra Navratri 2020: Complete puja vidhi to worship Maa Shailputri on day 1 of the nine-day festival
Goddess Shailputri is worshipped on Day 1 of Chaitra Navratri
Publish Date: Wed, 25 Mar 2020 09:13 AM IST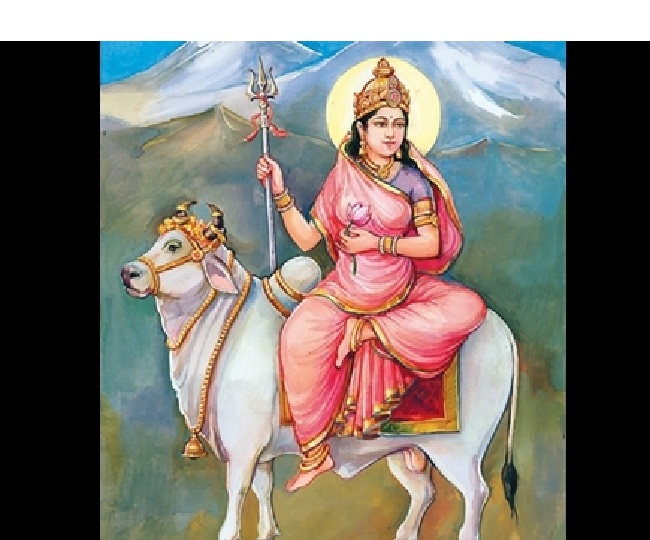 New Delhi | Jagran Lifestyle Desk: Chaitra Navratri is celebrated to worship the nine forms of goddess Durga. The festival commemorates with Kalasthapan and ends with Mahanavami or Ram Navami (the birth of Lord Ram). On the first day of Chaitra Navratri, Maa Shailputri is worshipped by the devotees.
Another form of Parvati, Shailputri is depicted as a goddess who sits on a cow (nandi) and holds a lotus in the left hand and Trishul (armoury) in her right and moon on her head. She is also known from other names such as Sati, Parvati, Hemavati and Bhawani. The goddess is an absolute form of Mother Nature.
The word Shailputri emanates from two Sanskrit words-- 'Shail' which means mountains and 'Putri' means daughter. It is believed that moon-- considered to be the owner of fortunes-- is governed by Maa Shailputri. Worshipping the Goddess brings wealth, success, luck and prosperity.
Also Read: Happy Chaitra Navratri 2020| Wishes, messages, SMS, Facebook and WhatsApp status to share with loved ones
Story of Maa Shailputri
It is believed that Goddess Sati entered into a fire and sacrificed her life. She then took birth as Maa Parvati or daughter of Mountain King. The goddess performed a deep meditation to reach Lord Shiva. Her severe penance shook heaven, hell and the earth. Finally, Lord Brahma appeared in front of her and assured that Lord Shiva would marry her.
Puja Vidhi:
Take bath and clean your house
Place the idol/ picture of Maa Shailputru in the puja room
Put some mango twigs and coconut over Kalash
Light candles/ diya in front of the idol
Chant the mantra dedicated to Maa Shailputri.
Offer garland made of white flowers to the goddess.
Prepare kheer made of arwa rice or sabudana to appease the goddess.
Note: The favourite flower of Maa Shailputri is Jasmine. Thus is advised to use Jasmine flowers.
Mantra:
|| Om Devi Shailputryai Namah ||
Stuti:
|| Ya Devi Sarvabhutesu Maa Shailaputri Rupena Samsthita |
Namastasyai Namastasyai Namastasyai Namo Namah ||
On Kalasthapan, it is a common practice to do Ganasthapan. The seed of up to nine crops are sown in soil and watered to see the sprout come out of the soil over the nine days.
Posted By: James Kuanal