Chaitra Navratri 2020: Complete puja vidhi to worship Maa Chandraghanta on Day 3 of the nine day festival
Publish Date: Thu, 26 Mar 2020 06:03 PM IST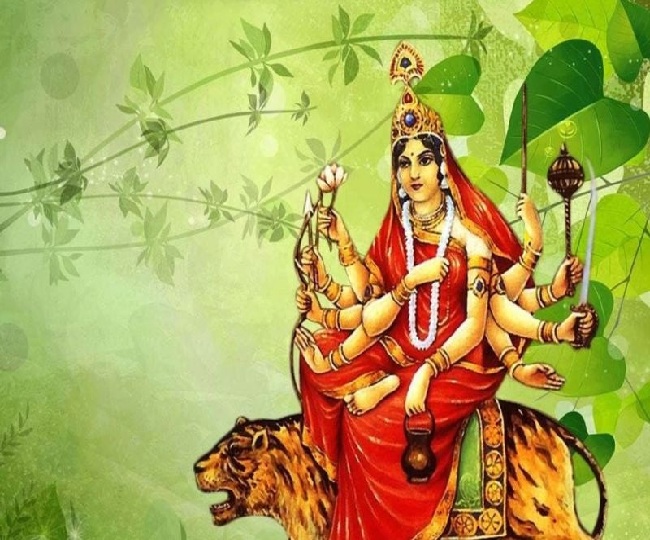 New Delhi | Jagran Lifestyle Desk: One of the vibrant festivals of the country, Chaitra Navratri is celebrated to worship nine avatars of Goddess Durga. On Day 3, Devotees worship Maa Chandraghanta -- the married form of Goddess Parvati. It is believed that worshipping Maa Chandraghanta removes sorrows from our and lives and gives birth to warriors within ourselves.
The word Chandraghanta is derived from moon and bell. It means one who has supreme knowledge and bliss and showers peace and serenity. Those who worship this form of Goddess Durga get rewarded with grace, bravery and courage.
Maa Chandraghanta is someone who brings justice and discipline in the world. She is depicted as someone who possesses ten hands. Her eight hands are filled with armoury: Gada, sword, dhanush, Kamandal, trishul, arrow, jap mala. One has lotus flower in her hands while two are in mudras-- Varada and Abhaya for stopping harm and boon giving. The goddess looks as if she is ready for a war against all the demons. The moon on her forehead symbolises removal of evil spirits and negativity.
Puja Vidhi
Wake up early in the morning and take bath.
Place Maa Chandraghanta in the puja room.
Take a shallow pan made up of clay
Put some grains on the pan and sprinkle droplets of water to add some moisture.
Place Kalasha filled with Akshat, coins, dhurva grass, ganga jal, supari and coins.
Place mango leaves on the Kalash and cover it with a coconut.
Recite Maa Chandraghanta Mantra:
Dhayan mantra for Chandraghanta Puja:
Pindaj Pravara Rudha Chand Kopastra Keyurta |
Prasadam Tanute Maham Chandra Ghanteti Vishruta ||
Beej Mantra:
|| Om Hreem Kleem Shreem Chandraghantai Namah ||
The above procedure is followed with aarti.
Share prasad with everyone.
The colour for day 3 during Chaitra Navratri is yellow which symbolises enlightenment, positivity, clarity, energy. Maa Chandraghanta is known to drive away all pains, she is pleased by Kheer.
Posted By: James Kuanal