Ashtami 2019: Significance of Pushpanjali puja and how it's performed
Publish Date: Sun, 06 Oct 2019 11:00 AM IST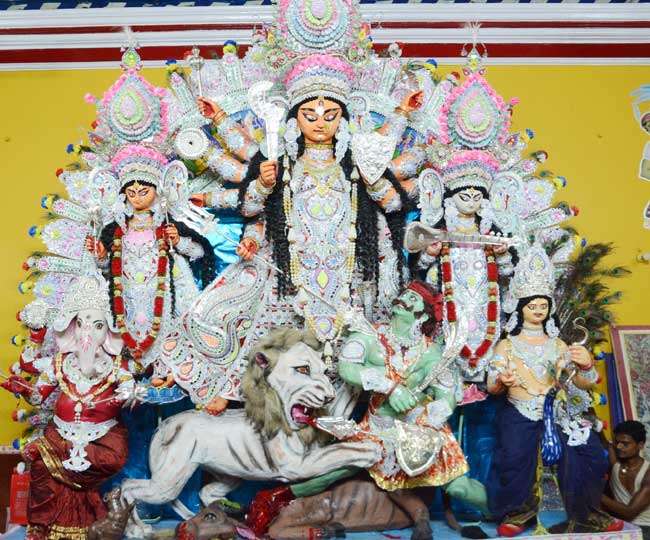 New Delhi | Jagran Lifestyle Desk: Today is the eighth day of Durga Puja and it is one of the most important day of the festival. Today is 'Durga Ashtami', commonly known as 'Maha Ashtami'.
MaaDurga's eight forms, Brahmani, Maheswari, Kaumari, Vaishnavi, Varahi, Narasinghi, Indrani and Chamunda, are worshipped on this day.
On this day, the devotees also perform Pushpanjali Puja or Sandhi Puja which has a special significance. As the name suggests, Pushpanjalipujais performed with Pushpa (by offering flowers to the goddess). People also finish their fasts on this day.
According to legends, on this day, the goddess appears to slay demons -- Chanda and Munda. The legends also say that Maa Durga opens her third eye and shower blessings on her devotees.
What is done on this day?
On this day, the devotees lit 108 earthen lamps and offer 108 lotus andbilwaleaves to Maa Durga. Thepujais meant as an ode to Goddess Kali, who appeared out of Goddess Durga's third eye on her forehead when she saw Mahishasura breaching the rules of the battle.
Mantra for Durga Ashtami:
1. Om Sarva Mangala Mangalye Shive Sarvartha Sadhike।
Sharanye Tryambake Gauri Narayani Namostu Te॥1॥
Srishti Sthiti Vinashanam, Shaktibhute, Sanatani।
Gunashraye, Gunamaye, Narayani, Namostu Te॥2॥
Sharanagata Dinarta Paritrana Parayane।
Sarvasyartihare Devi! Narayani!Namostu Te॥3॥
2. Om Jayanti, Mangala, Kali, Bhadrakali, Kapalini।
Durga, Shiva, Kshama, Dhatri, Svaha, Svadha Namostu Te॥
Esha Sachandana Gandha Pushpa Bilva Patranjali Om Hreem Durgayai Namah॥
3. Om Mahishaghni Mahamaye Chamunde Mundamalini।
Ayurarogyavijayam Dehi Devi Namostu Te॥
Esha Sachandana Gandha Pushpa Bilva Patranjali Om Hreem Durgayai Namah॥
Posted By: Aalok Sensharma