#NayaBharat: 'The new India will be much more stronger than the old one': Shivam Ranjan
In today's episode of Jagran New Media's #NayaBharat series, Jagran HiTech's editor Siddhartha Sharma talked to Shivam Ranjan, Marketing Head, Motorola India to discuss the impact of COVID-19 on the smartphone industry and the plans for the post-COVID period.
Publish Date: Wed, 17 Jun 2020 07:30 PM IST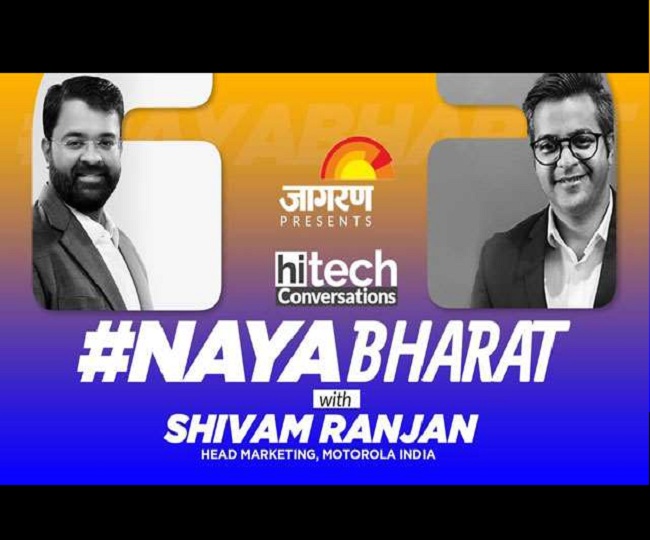 New Delhi | Jagran Technology Desk: In today's episode of Jagran New Media's #NayaBharat series, Jagran HiTech's editor Siddhartha Sharma talked to Shivam Ranjan, Marketing Head, Motorola India to discuss the impact of COVID-19 on the smartphone industry and the plans for the post-COVID period.
Siddhartha Sharma- The smartphone market was hit badly by the COVID-19, how much of its total impact has Motorola had or it has had on the smartphone industry?
Shivam Ranjan - If you look at the impact, COVID-19 is an unwanted disaster, I would say that it has impacted not only the mobile industry but all industries, then we are also one of them. We have also had it, but I would like to say that this is an unforeseen disaster and it has affected everyone. The economy of the country is lying. It was necessary here that we support the country in their initiative where they wanted to stop the spread of COVID-19. As far as business is concerned, I think it has been a short term impact, which was necessary for the health of the country. As far as the long term impact is concerned, the demand for technology-driven products remains because as you will see in this new normal, connectivity, productivity, engagements are very important. See, consumers are able to do all this through technology products. As far as the question of whether to stay connected from home or through content to stay engaged, or to stay productive, technology-driven products like smartphones is very important for consumers to do all this. I think its demand is and will remain intact. As soon as our channels become available for consumers, they will be able to purchase.
Siddhartha Sharma - The government has announced Unlock-1 and people are coming out, then what kind of business strategy will you adopt to revive your business?
Shivam Ranjan - You will see that it is a supply and demand factor. So there is a way in which you maintain the supply because it is very important that you have manufacturing up, distribution up, your supply channel logistic up, so that products are available to consumers in the sales channel. So from this supply side, all companies have to do the same and we are doing the same. As far as the demand side is concerned, I had said earlier that the demand will always remain for the right products because they are technology driven products and they enable the core things that consumers need. The thing to note here is that here companies will have to give a focus to Indian consumers. It is very important that the products that we are making should be such that the innovation is available to the Indian consumers. If we can do that and address their demand, then we can provide the right kind of products, then I think that the demand will remain intact and there will be no shortage of any kind. If they get the right products, then they will demand. I will tell you a live example of this. We have recently launched Motorola G8 Power Lite which is a Make in India product. It had its first sale on May 29 and we got to see that this product sold out in just 20 seconds. What is the reason for this, this is the reason that we have made it keeping in mind the Indian users. So I think all businesses have to upgrade their own supply infrastructure or demand infrastructure to be robust. It is very important that we make and deliver the product according to the Indian users.
Siddhartha Sharma- Tell me how your online channels were helping you during this whole process?
Shivam Ranjan - Both our channels (online and offline) have been badly affected due to the lockdown. If we talk about some phase before lockdown, then both channels are equally affected at that time. As we are seeing now that the government has started giving relocation, it has led to a faster recovery in online channels, while online contacts are less. Yes, offline channels are important because they are required for consumers and are equally required for us, as consumers here can see and understand products. Many things happen in technology that are not understood without seeing or experiencing them.
Siddhartha Sharma - The government has introduced many policies for MSME's for SME's and there are many small companies that also work with you. What's your personal views for these policies?
Shivam Ranjan - If we look at a larger scale, the business are in confusion whether they would be able to revive economy or not? In such a situation, it is necessary for the government to come and show the intent for them and with this package of 20 lakh crores which is 10 percent of the GDP, the government has shown its intent to save businesses. This insight came from one side to the consumers and also to the business that the government is standing with us. As far as the actual package is concerned, the government has made very smartly, in which smart combination of reform and actual benefit is seen. Because of which liquidity is coming in the hands of SME's MSME's and consumers and this liquidity is very important, because it can promote consumption and as you know, consumption is the lever of the economy. What I feel is that the decision taken by the government will increase consumption, which is helpful in the recovery of the economy.
Siddhartha Sharma - What message would you give to the industries and the government, which will help in becoming the New India?
Shivam Ranjan - It seems to me that what will happen in New India will be stronger than before. Why do I think that one of the things we will see is that the productivity of our people and business will increase and this is increasing really and why it is happening because within every human being there is a desire that we have to bring our businesses and economy back in track, due to which productivity is increasing which is a good thing. Now consumers and businesses will challenge the existing norms. Because what used to happen earlier was that, people did not challenge the Existing Business Models. Because they are working for them, why do they have to challenge them? But in today's date, when the whole situation has changed, there is a new India, then we will see that every human being, every business will look at the products or the business model in a new innovative way, which will make the working business model change. We will bring very relevant, innovative and technology driven products and services that will help in creating a new India for this country which will be a better India for a business for every human being.
Posted By: Talib Khan