#NayaBharat: 'Rebate in interest rates and GST to MSMEs would've been a better move than Rs 20 lakh crore package': Vivek Bindra
During the conversation, Jagran HiTech's Editor Sidhhartha Sharma and Vivek Bindra discussed the ongoing challenges faced by the businesses across the country and their plans to revive the slowing down.
Publish Date: Thu, 11 Jun 2020 10:35 AM IST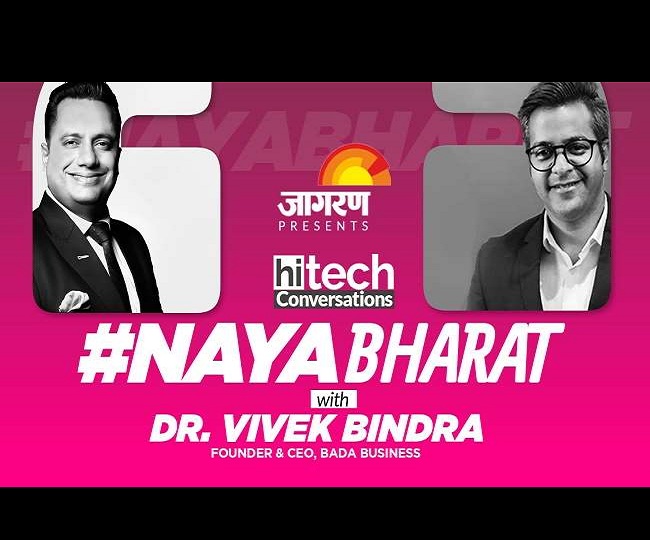 New Delhi | Jagran Business Desk: With relaxations in lockdown restrictions, businesses in India have started resuming operations which were closed due to the coronavirus-mandated lockdown from the past two months. In view of this, Jagran New Media's #NayaBharat series today associated with Vivek Bindra, Founder Bada Business. During the conversation, Jagran HiTech's Editor Sidhhartha Sharma and Vivek Bindra discussed the ongoing challenges in the businesses across the country and their plans to revive the slowing down.
Siddhartha Sharma - The lockdown continued in the country for a long time because of Covid-19. What impact has this had on businesses?
Vivek Bindra - If you talk about the lockdown and subsequent business, then some business will come on the V curve. Meaning there has been a complete decline in it. But the faster the decline, the faster the recovery. However, some businesses will remain in U shape. This means that after a fall in business, it will take time to recover, while some businesses will move to the L curve curve. L-shaped businesses will suffer the most. The recovery rate will be negligible. In simple words, streaming, gaming, e-commerce and entertainment industries are going to be quite good. At the same time, pharmaceutical will also be fine. But the business of airlines, construction, mining, gifts, retail, hospitality investment banking, cinematography, mining, hair dresser and vehicle dealers is going to be very sluggish. Banking, healthcare, education and constructions businesses will also face problems. Drug and pharmaceutical recovery rates will be very good. Production will expand, price and demand will increase. Recovery of banking, gems and jewellery will take time. People will buy less jewelry at weddings. Tourism will be affected for about four quarters, which will be quite long. The domestic and international tourist movement will end. MSME, called the lifeline of the country, is exporting 28 percent, in such a situation it is necessary to save MSME.
Siddhartha Sharma - What should be the strategy to save MSME?
Vivek Bindra - The first is to focus on the customers who are your old buyers. Also, there will be more emphasis on saving by stopping cash flow in the business. This means that the sales person should continue to have better communication with the customer even after Covid-19. Also, the company will have to emphasize on the strategy to improve the experience of its product. Companies will focus on attention and retention. Businessmen will get testimonials from a good customer. At the same time, in this era, you should emphasize on business partnership, especially those who will be able to bring new investment. Apart from this, emphasis will be on strengthening the content marketing team, branding and networking under the new strategy. Digital mode and outsourcing will try to control expenses. Also, this is an opportunity to shift to technology. The CEO and CTO could not bring technology at such a rapid pace, As fast as the arrival of Covid-19. During this era, make your family professional and make profession your family. Add your team again, if possible, give them shares of the company. Despite this, if you want more people, then only focused people should be hired.
Siddhartha Sharma - Many relief packages have been announced by the government for MSME and SME. What would you say about that?
Vivek Bindra - The government should focus on ease of doing as well as ease of starting. India is ranked 136th in ease of starting while it is ranked 63rd in the ease of doing business. Currently there are 6 crore registered MSME traders, while 7 crore merchants are not registered. In such a situation, government should register all MSME traders, otherwise 20 lakh crore rupees will be distributed. But the government will not get tax. The government should have increased its cash outflow as well. The government has announced a loan from the bank. This will have the effect that if the bank loan is not recovered later, the banks will sink. It was better that the government would have waived the interest, exempted GST or got a tax exemption, it would have been better. There was a conversation with the MSME minister, at that time it was said that we are giving huge amount of loan to MSME. At that time we said that loan is approved. But disburses do not occur. MSME has a low NPA. But even then they do not get a loan. Actually, MSME is a part of corporate and labor. In such a situation, if MSME has got help, then everything will be fine and the economy will gain momentum.
Siddhartha Sharma - In business, crisis is always considered opportunity. So what about the opportunity after Covid-19?
Vivek Bindra - In the era of Covid-19, we webinared the world's largest online business training program and set a world record. Earlier this record was in the name of America and Russia. With this, we put the world's largest training program in sales.
Siddhartha Sharma - What would you like to say about New India?
Vivek Bindra - Corruption is still a big issue in India. To overcome this, the American model has to be adopted, in the case of corruption in America, a decision comes in 6 years. In India, after 1983, in 2014 it was said that the case could go on. The 84 riots case was delayed. In such a situation, the number of judges will have to be increased to speed up the cases. There is a need to judge 50 for every 10 lakh. Police will have to give more power. The police should be centralised. Also, there is a need to improve India's education system. Government should not do business, it will have to insist on policy making. Railways, Airlines and Oil & Gas Everything should become private. The bureaucrats never brought revolution in the country. According to me the bureaucrat should get freehand. Watchdogs should be removed from them. Also, they should be given incentives on good work from the bureaucrats. Also, startups should be funded. Today, CEOs of India are called worldwide. In such a situation, along with encouraging them, investment should be made available in the country itself. At the same time, our leaders in the last should be intelligent. In the last, old India will make us new India.
Posted By: Talib Khan