#NayaBharat | Maruti Suzuki showrooms have reopened to massive sales after ease in lockdown curbs: Shashank Srivastava
Publish Date: Sat, 23 May 2020 09:51 AM IST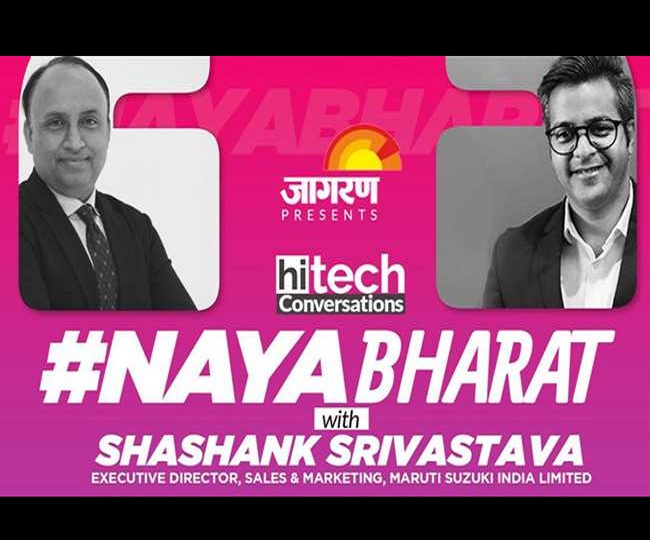 New Delhi | Jagran Auto Desk: As we all know that we are currently going through a bad phase due to the coronavirus pandemic, but in this era there is also a need to adopt a positive attitude. During this difficult period many questions are arising in the minds of people about the sagging economy of the country. Keeping this concern in mind, Jagran HiTech has brought this new series #NayaBharat, where we talk to the people of the auto industry and know about the techniques they are focusing to revive the sector.
In today's episode of #NayaBharat we are joined by Shashank Srivastava, Executive Director (Marketing & Sales), Maruti Suzuki, with whom Jagran HiTech editor Siddhartha Sharma, talked about the plans of Maruti Suzuki for post coronavirus pandemic and lockdown.
Siddhartha Sharma - How Covid-19 epidemic has hit the Indian automotive industry?
Shashank Srivastava - Auto sales have been almost zero in April this year. In such a situation, the company has been under a lot of pressure regarding the sales point of view. Before the pandemic, Maruti Suzuki had a month sale of 1 lakh 30 thousand units. Usually the last week of March sees good sales. Also the time around Navratri in November is considered to be the best time in terms of auto sales. From then until March, dealers have a lot of stock. But our dealers have suffered a lot due to the sudden lockdown. Cash flow was the biggest problem faced by the dealers. Despite this, the Maruti Suzuki balance sheet is quite strong. It is also a debt free company. As you know, there is zero sale in April, but it should also be known that zero also has its own strength. The company is also moving forward in this phase of lockdown with positive energy. In such a situation, the company got an opportunity to stop and think about how to carry on the business after the lockdown. The company also saw its benefit, as soon as the showroom opened, we started to get a large number of sales.
Siddhartha Sharma - Will digitization be the new way of business in the auto sector after the lockdown?
Shashank Srivastava - This is a very important question. The time ahead is going to be quite digital, but I believe that the business of buying a car will not be completely digital nor offline. In buying a vehicle, the customer goes through 28 points, such as visiting the showroom, test drive, going to the bank for a loan. Of this, about 17 to 21 points are digitized out of 28. The rest of the points will also be digitized faster after Covid-19.
Siddhartha Sharma - PM Modi has announced a package of Rs 20 lakh crore for Small and Medium Class Business (MSME). As such, we know that the entire automotive industry including Maruti Suzuki deals with MSME. In such a situation, what will you say about this relief package?
Shashank Srivastava - Maruti Suzuki and its dealers have suffered the most due to cash flow during this period. The same applies in the case of vendors. Despite this, PM Modi's announcement of a relief package for small businessmen is quite a right step. After this announcement, people will be able to take cash at a lower rate. This loan will be guaranteed by the government. The interest rate of such loan is very low. In such a situation, Maruti is confident that after the lockdown, the company will get a large amount of sales.
Siddhartha Sharma - Maruti Suzuki is the most employable company in the automotive industry. In such a situation, how is Maruti Suzuki helping its employees during the lockdown? Also, what steps has the company taken for its customer during this period?
Shashank Srivastava - The company is very active in protecting its employees. The company is taking care of employees not only physically but mentally. We are also taking other steps including social distancing, thermal screening of employees. Apart from this, the company has also created the Mintra app, where employees will be provided with many fun loving things besides staying healthy.
Siddhartha Sharma - What do you think, will there be an increase in car sales after the lockdown?
Shashank Srivastava - Buying a car is different from shopping for food and other items. To some extent, car buying also depends on the customer's sentiment. The car is definitely bought in terms of function, but this aspect is quite low. In such a situation, it is necessary for the customer's sentiment to be positive during this lockdown. Many customers give feedback that they prefer to travel by personal vehicle rather than public transport. This is a positive aspect of car shopping. It is being said that there will be transfer demand in the market. Meaning high demand will come at mid. Mid demand will go to lower and lower demand will go to pre-owned car. This whole process looks very positive to me.
Siddhartha Sharma - What would you like to say to the government, auto industry and customers and readers how to move forward in the new India?
Shashank Srivastava - Right steps are being taken by the government. But my message is for the general public. I would like to say that the demography of our country is quite good. I think the time ahead will be very good for Young India. We will be the fastest growing economy in the world. In such a situation, we should move forward with a positive attitude. I am sure that India will prove itself better this time after a difficult period.
Posted By: Talib Khan