#NayaBharat | 'Smartphone industry will recover once markets open post lockdown': Vivo India Brand Strategy Director Nipun Marya
Updated: Thu, 21 May 2020 01:33 PM IST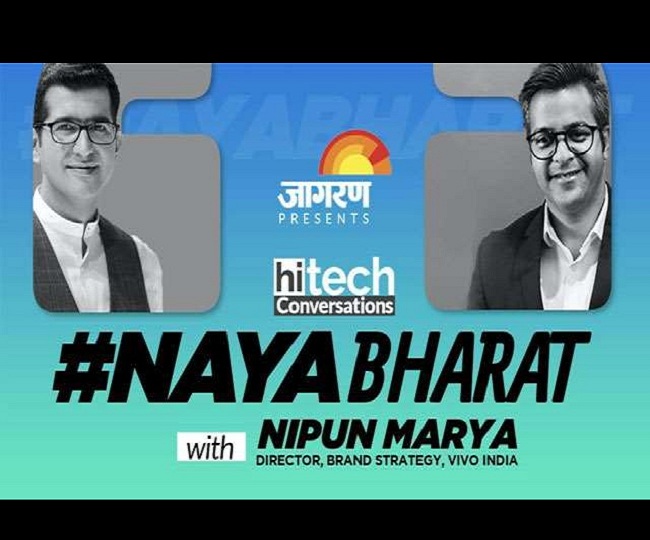 New Delhi | Jagran Technology Desk: Jagran HiTech is starting the Naya Bharat series from today where Jagran HiTech editor Siddhartha Sharma will talk to leaders and experts from technology and automobile industry. During these testing times of coronavirus, we, as a citizen has a responsibility to be patient and follow the rules and guidelines and also has a challenge to do something better for the society.
In the time of this pandemic, Jagran HiTech spoke to Vivo India Director (Brand Strategy) Nipun Marya through video conferencing to get all the information related to the tech industry and the impact of coronavirus on India.
Siddhartha Sharma - What kind of loss has Vivo and the smartphone industry suffered in the last two to three months due to lockdown and COVID-19?
Nipun Marya - Not only the smartphone industry, but all types of industries are facing losses due to the COVID-19. Its just some are facing less and some are facing more losses, but overall, every industry has been at a loss. April proved to be very bad in terms of business, as the month of April went into complete lockdown. There were no sales during this time, but now as the lockdown restrictions are getting relaxed in May, the sales are slowly showing improvement. So we are expecting that sales will improve in the coming weeks and months.
Siddhartha Sharma - Coronavirus has completely changed the business environment. People are now following social distancing. Users are shopping online rather than offline. Contact less deliveries have started. In such a situation, what is Vivo doing as a business innovation in this changed business scenario to maintain the security of the customer?
Nipun Marya - Around 60 per cent of people in India prefer to buy smartphones offline. But, in today's times, customers are avoiding it. In such a situation, Vivo has launched Vivo Smart Solution, keeping in kind the trust of the customer's safety. Under this, the customer can tell Vivo his smartphone choice via Facebook or through a message on Vivo e-store. For this, the customer has to provide his PIN code and state name. As soon as the request is received, the company will call the customer to understand which phone he/she wants to buy. After this, Vivo will send a message to the nearest retailer of the customer and he will deliver the phone to the customer's home.
Siddhartha Sharma - A relief package of Rs 20 lakh crore has been released by the Central Government. This relief package was specifically for MSME. But Vivo has been working with many small suppliers. In such a situation, how is Vivo looking at this relief package of the government?
Nipun Marya - I believe that the relief package given by the government to small and middle class businesses in the first phase was very important, as India's MSME and SME sector prove to be very helpful for the economy. It generates employment on a large scale. Also, India's exports come in a big way from this sector.
Siddhartha Sharma- What is your suggestion for the government to increase demand again in the smartphone industry?
Nipun Marya - I believe that as the markets will open, demand will eventually come again. But the first priority is to fight COVID-19. Only then the industry and markets should be opened. So far we have controlled the situation to a great extent and I would like the government to open the lockdown in a phased manner.
Siddhartha Sharma - Vivo's Make in India campaign logo has come in the lockdown phase. Explain the reason for bringing it.
Nipun Marya - The selection of this logo has been very challenging. A lot of detailing has been done in this logo. There are many gears in the logo. It incorporates our national emblem. Also, Young India is represented through symbol.
Siddhartha Sharma - Vivo has launched many initiatives in lockdown. Tell our readers about it?
Nipun Marya - Vivo has started many initiatives under CSR activity. But as a company it was our responsibility. In such a situation, I would not like to talk too much about it. But in a nutshell, Vivo has distributed 50,000 liters of sanitizer, including sharing of PPE kits and masks with the central and state governments in lockdown.
Siddhartha Sharma - What message would you like to give regarding the lockdown and exit of COVID-19?
Nipun Marya - COVID-19 and lockdown have been a challenging time. But I hope we get out of this situation soon. We are all very strong and India is a great country. In such a situation, we will win this epidemic.
Posted By: Talib Khan