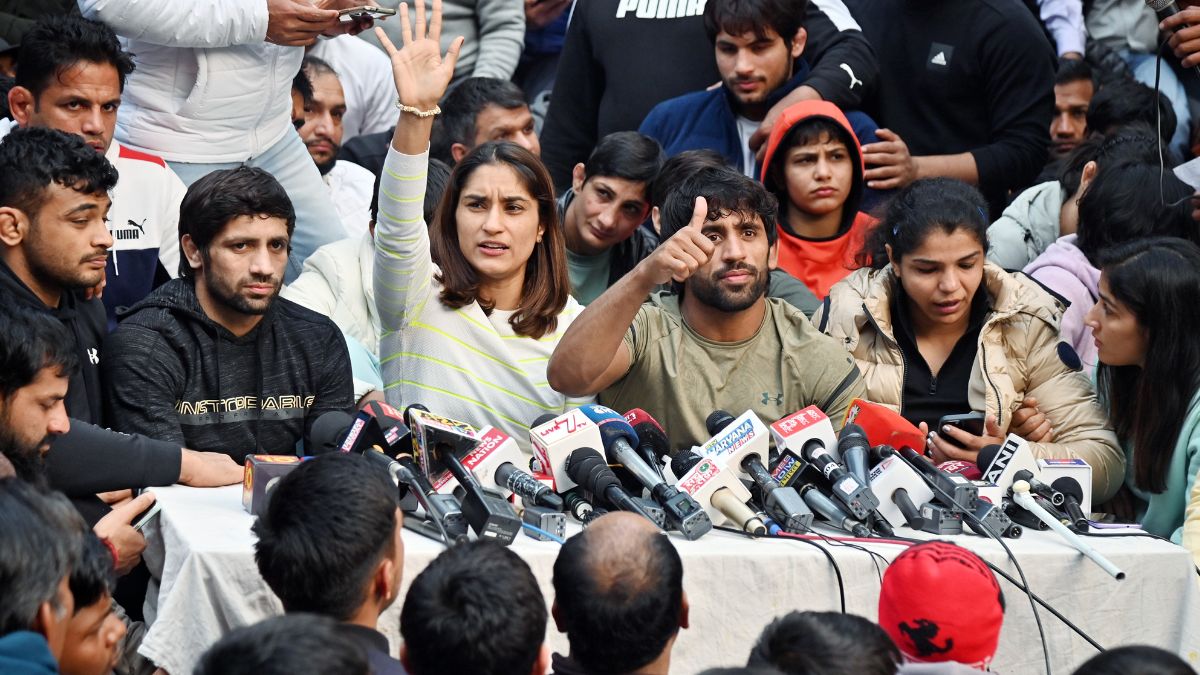 UNDER pressure to resign from his position over allegations of sexual exploitation of women wrestlers, Wrestling Federation of India (WFI) chairman Brij Bhushan Sharan Singh has said he will "expose" the "political conspiracy" on Friday afternoon in a press conference. Singh, who is also a BJP Lok Sabha MP from Kaiserganj in Uttar Pradesh said that he will hold a press conference at 4 pm today.
The development comes hours after some wrestlers had a late-night meeting with Union Sports Minister Anurag Thakur on Thursday. Thakur who arrived at his Delhi residence late last evening from Chandigarh met with the wrestlers and the meeting stretched into the early hours of today. According to sources it ended on an undecisive note.
Grapplers Sakshee Malikkh, Bajrang Punia, Vinesh Phogat, and Ravi Dahiya among others were seen leaving Thakur's residence at around 3 am today. According to sources, Thakur is likely to meet with wrestlers in the national capital again this morning.
Here are the Latest Updates from the BIG story:
- We're not formally authorized to speak about anything on this issue. He (Brij Bhushan Sharan Singh) will address the media on Jan 22nd at the Annual General Meet of WFI. We've given our official statement to the Sports Ministry: Pratik Bhushan Singh, son of WFI chief Brij Bhushan Sharan Singh
- Wrestlers protesting against WFI arrive at the residence of Union Sports Minister Anurag Thakur in Delhi.
- We presented our issues before the Union Sports Minister. He has given us time to meet once again at 6 pm. There were some issues on which we were dissatisfied: Wrestler Vinesh Phogat
- We're presenting all issues. Had it been only about wrestling, the matter would've been resolved in an hour-long meeting. But it's a big issue. It's not about just one but several girls. We can't disclose openly, we would be threatening their lives and families that way: Wrestler Vinesh Phogat
- Urgent Executive Council Meeting of the IOA to be held at 5.45 pm today to discuss and decide on the letter received from wrestlers Vinesh Phogat, Bajrang Punia, Sakshee Malikkh, Ravi Dahiya and Deepak Punia.
- We're sad that the athletes have to sit here in protest leaving their practice. Our fight is only against the Wrestling Federation of India. We appeal to PM, HM & Union Sports min to hear our demands. WFI President has given this fight a political turn: Bajrang Punia, Olympian Wrestler
- "I am not sitting here because of anyone's mercy, but after being elected by the public. Stay arrangements are made by organizers and each country's team is kept at a separate place. The (woman) wrestler who alleged that the door was open was not in that tournament," says BrijBhushan Singh.
- "I want justice to be served to those wrestlers, there must be a thorough probe into the allegations raised by wrestlers and there must be a CBI probe against those who're involved in this," Vijender Singh, Olympian Boxer and Congress leader
- "There must be a live recording of the interaction between the Union Sports minister or any official with the wrestlers so that we will get to know exactly what they've discussed & will understand who is wrong & who is right," Vijender Singh added.
- Wrestlers Vinesh Phogat, Bajrang Punia, Sakshee Malikkh, Ravi Dahiya and Deepak Punia write to PT Usha, President of the Indian Olympic Association on alleged sexual harassment complaints against Brijbhushan Saran Singh, President of Wrestling Federation of India
- "I have not had a talk with anyone yet. I will address a press conference later today. 300 athletes from Haryana have reached here," said BrijBhushan Singh. The WFI chief will today address a press briefing today where, he said, he will expose the political conspiracy against him.
- Olympic Bronze medallist boxer Vijender Singh, who is also a Congress leader, on Friday joined the wrestlers' protest at Jantar Mantar. However, media reports stated that the protesting wrestlers asked him to step down from the stage as they don't want to make the protests political. Earlier on Thursday, the wrestlers had asked CPIM leader Brinda Karat to step down from the stage citing a similar reason.
- Meanwhile, Congress leader Priyanka Gandhi Vadra also came out in support of the wrestlers and called for a probe and appropriate action over their allegations against the WFI chief. "Our players are the pride of the country. They bring laurels to the country through their performance at the world level. The players have made serious allegations of exploitation against the Wrestling Federation and its president. The voices of these players should be heard. Allegations should be investigated and appropriate action is taken," Priyanka tweeted.
- The protesting wrestlers on Thursday also met Sports Minister Anurag Thakur. However, the meeting, which lasted till around 3 am, ended in a stalemate with no concrete solution. The Sports Minister, however, has assured that the issue will be resolved soon. The wrestlers are expected to meet Anurag Thakur today also.