By JE News Desk
Updated: Wed, 18 Jan 2023 07:35 PM IST
Minute Read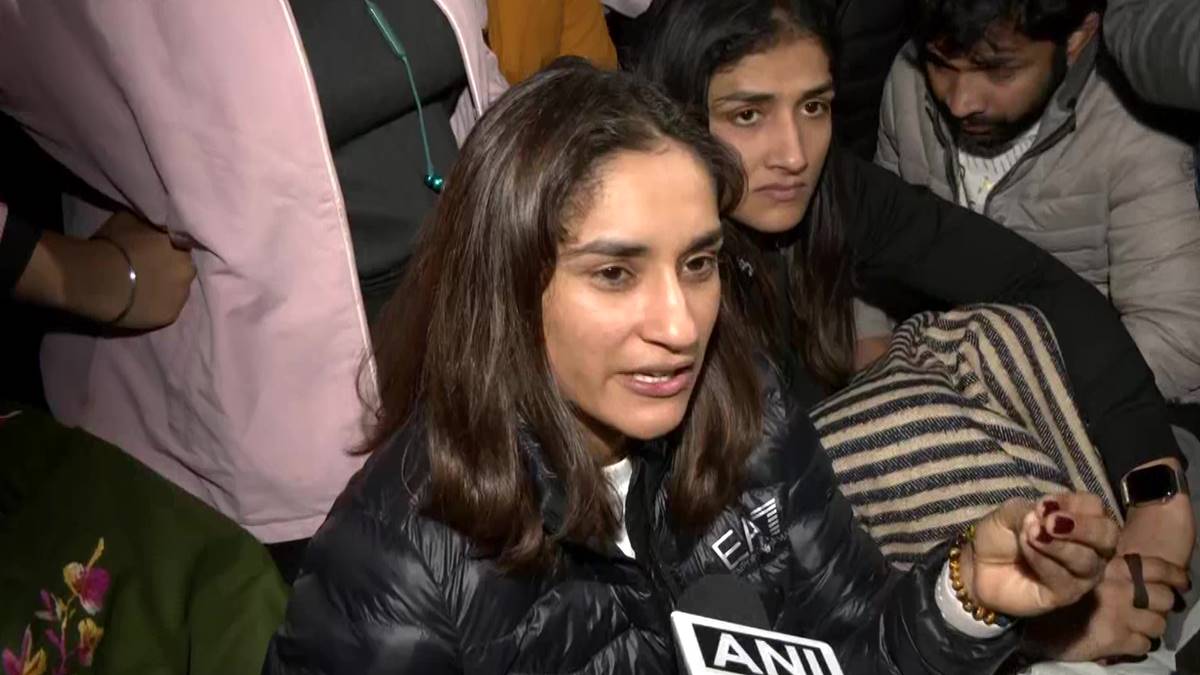 Indian wrestler Vinesh Phogat on Wednesday alleged that coaches have been sexually harassing women athletes, as well as, women coaches. Ace Indian wrestlers staged a protest at Delhi's Jantar Mantar against what they allege was the "high-handedness" of the Wrestling Federation of India (WFI). Sakshi Malik, Sangeeta Phogat, Bajrang Punia, and Sonam Malik were some of the well-known wrestlers who joined the protest today.
#Jantar mantar pic.twitter.com/ZKsDkq9ork

— Sangeeta Phogat (@sangeeta_phogat) January 18, 2023
"Coaches are harassing women, and some coaches who are favourite of the federation misbehave with women coaches as well. They sexually harass girls. The WFI president has sexually harassed so many girls," Vinesh Phogat was quoted as saying by ANI.
"I know about 10-20 accounts of sexual harassment faced by women wrestlers. Many coaches and referees have been involved. We will sit on protest until those guilty are not punished. No athlete will participate in any event," she added.
Meanwhile, WFI chief Brij Bhushan Sharan Singh denied the charges, saying, "There is no truth in wrestlers' allegations against me, I am ready to be hanged even if one sexual harassment case is proved."
"I will not quit as WFI President but I am ready for investigation by CBI or police," he said.
Also Watch:
The Federation required all wrestlers, regardless of their position, to appear in trials, which is the likely reason for the protest, ANI reported.
"Sportspersons work hard to win medals for the country, but the Federation has done nothing but let us down. Players are being harassed by imposing arbitrary laws," Bajrang Punia, Olympic medalist, took to micro-blogging site Twitter to express his greivances against the wrestling federation.
The wrestlers have also alleged that the federation interferes in their personal lives, bothers them, and exploits them.
"When we went to olympics, we didn't have physio or a coach. Since we've raised our voices, we are being threatened, say wrestlers at Jantar Mantar," wrestlers were quoted as saying.
Punia also said that the wrestlers are protesting the lack of any decision making powers with them, the Indian Express reported. He also claimed that wrestlers will not participate in national or international meets unless their demands are met. Among the demands of the wrestler is the boycott of WFI's president Brijbhushan Sharan Singh.
Earlier today, another Olympic medal winning wrestler Sakshi Malik echoed Punia in a tweet. She also demanded the boycott of Brijbhushan Sharan Singh.
Renowned wrestler Vinesh Phogat alleged that with no support from the federation, the morale of sportspersons breaks down.
"But now we will not bow down. Will fight for our rights," he said.
Meanwhile, reacting to the development, WFI commented that they are not aware of the reason behind this protest by the wrestlers. Assistant Secretary of the federation - Vinod Kumar assured that if the atheles approach them, all of their issues will get resolved.
"Don't know what this is all about. However, we came to know from the letter to the WFI president that some wrestlers are sitting in protest. I have come to ask them about their problem," Tomar said.
"I have been trying to talk to the federation and make them understand my issues and those of other wrestlers for nearly 10 years. But nobody is even ready to listen," Vinesh Phogat alleged, according to the Indian Express report.
(With agency inputs)