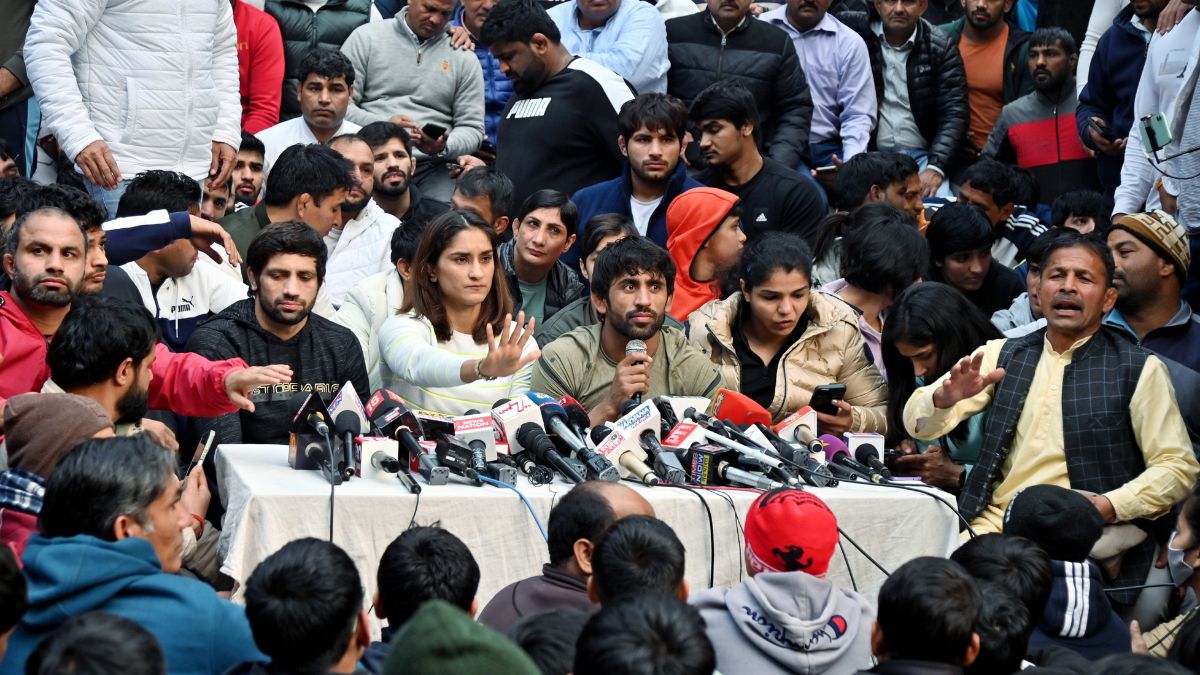 AMID the ongoing protests by the wrestlers demanding action against the Wrestling Federation of India (WFI) chief Brij Bhushan Sharan Singh and other officials for the alleged sexual exploitation of several athletes, the Union Sports Minister Anurag Singh Thakur met with them, including Nanita Phogat, Sakchi Malik, and Bajrang Punia, among others, reports NDTV.
Here's all you need to know:
1. Union Sports Minister Anurag Thakur said that the Government of India has sent a notice and has sought a reply from WFI in 72 hours.
"Allegations levelled by wrestlers are serious in nature. Taking swift action, Govt of India sent a notice to WFI and sought a reply within 72 hours. I will try to meet the wrestlers after I reach Delhi. We will talk & listen to them," Thakur said, as quoted by news agency ANI.
2. He also said the upcoming camp has been postponed with immediate effect, and the Sports Ministry has taken cognisance.
3. Braj Bhushan, the president of WFI, is at the centre of the alleged sexual harassment allegation.
4. Vinesh Phogat, the Indian wrestler, has alleged that Bhushan has been involved for many years in sexually exploiting women wrestlers and also claimed that several other coaches at the national camp in Lucknow have also exploited women wrestlers. Bhushan has been labelled a dictator by Bajrang Punia, who has demanded his resignation.
5. Bhushan, meanwhile, has come out in his defence and has stated that all the allegations levelled against him are false.
6. "All the sexual harassment allegations are false, and I will commit suicide if they are found to be true," the 66-year-old was quoted as saying by news agency ANI.
7. The National Commission for Women said on Thursday that wrestlers can approach it with their complaints.
8. The Delhi Commission for Women has issued a notice to the sports ministry and asked the city police to file a case. Swati Maliwal, the DCW Chief, also met with the protesting wrestlers at the Jantar Mantar.
9. Many opposition leaders also joined the protest and have demanded action. Communist Party of India (Marxist) leader Brinda Karat joined the protets but was asked to leave the stage by Olympian Bajrang Punia.
10. Among the wrestlers staging protests are Sakshi Malik, Sarita Mor, Sangeeta Phogat, Anshu Malik, Sonam Malik, Satyawart Malik, Jitendra Kinha, Amit Dhankar, and Sumit Malik.