With over 81,000 new COVID-19 cases, India reports biggest one-day spike in 6 months; active cases breach 6 lakh-mark
India Coronavirus News: Maharashtra, Chhattisgarh, Karnataka, Punjab, Kerala, Tamil Nadu, Gujarat and Madhya Pradesh continue to show a massive spike in new COVID-19 cases, accounting for 84.61 per cent of the fresh infections
Updated: Fri, 02 Apr 2021 10:42 AM IST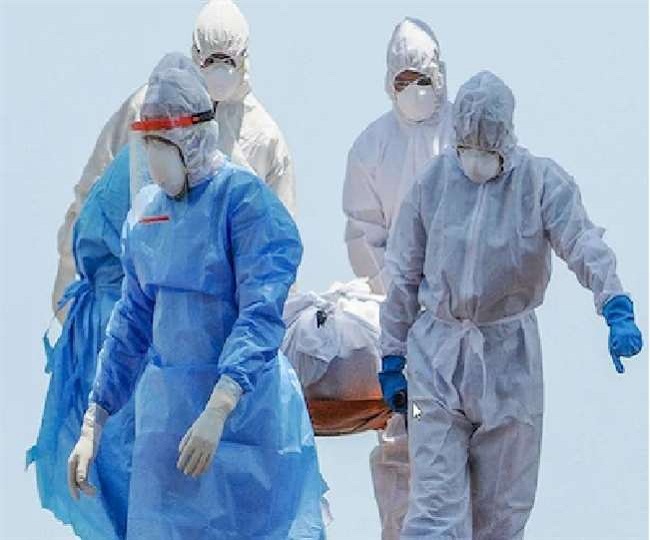 New Delhi | Jagran News Desk: Amid the concerns over rising COVID-19 cases in the country that has prompted the authorities to impose several restrictions, India, during the last 24 hours recorded over 81,000 fresh infections taking the overall caseload in the country to over 1.23 crore. The death toll in the country due to the deadly pathogen also reached above 1.63 lakh-mark after 469 new fatalities were reported from across the country during the day.
The single-day rise in cases is the highest recorded since October 2, 2020, while the death toll increased to 1,63,396 with 469 daily new fatalities, the highest since December 6. As many as 81,484 new infections were recorded in a span of 24 hours on October 2 while 482 daily deaths were registered on December 6.
According to the Union Health Ministry, Maharashtra, Chhattisgarh, Karnataka, Punjab, Kerala, Tamil Nadu, Gujarat and Madhya Pradesh continue to show a massive spike in new COVID-19 cases, accounting for 84.61 per cent of the fresh infections reported in a span of 24 hours.
Registering a steady increase for the 23rd day in a row, the active cases have increased to 6,14,696 comprising 5 per cent of the total infections, while the recovery rate has further dropped to 93.67 per cent. The number of people who have recuperated from the disease surged to 11525039. The case fatality rate stood at 1.33 per cent.
India's COVID-19 tally had crossed the 20-lakh mark on August 7, 30 lakh on August 23, 40 lakh on September 5 and 50 lakh on September 16. It went past 60 lakh on September 28, 70 lakh on October 11, crossed 80 lakh on October 29, 90 lakh on November 20 and surpassed the one-crore mark on December 19.
This comes at a time when India expanded its inoculation drive from April 1 in which all people of 45 years of age or above can get the COVID-19 vaccine shot at various vaccination centres across the country. More than 36 lakh people were vaccinated on Thursday, taking the total number of beneficiaries in the countrywide vaccination drive to over six crore.
Meanwhile, the government had on Thursday also decided to operationalise both public and private sector vaccination centres throughout the month of April, including on gazetted holidays.
Check state-wise list here
Name of State / UT
Active Cases*
Cured/Discharged/Migrated*
Deaths**
Total
Change since yesterday
Cumulative
Change since yesterday
Cumulative
Change since yesterday
Andaman and Nicobar Islands
42
3
4980
4
62
Andhra Pradesh
8142
804
887898
464
7220
3
Arunachal Pradesh
4
16785
56
Assam
1884
22
215479
34
1107
2
Bihar
1908
328
262529
158
1578
2
Chandigarh
2951
33
23925
223
380
1
Chhattisgarh
28987
3458
320613
1125
4204
34
Dadra and Nagar Haveli and Daman and Diu
191
14
3490
8
2
Delhi
10498
1660
643686
1121
11036
9
Goa
1716
160
55757
104
831
1
Gujarat
12996
386
292584
2015
4528
9
Haryana
10362
636
278883
964
3164
9
Himachal Pradesh
3221
248
59741
157
1052
4
Jammu and Kashmir
2874
343
126549
114
1998
4
Jharkhand
3352
527
120425
162
1114
1
Karnataka
30884
2617
957769
1599
12585
18
Kerala
26511
952
1096239
1835
4632
11
Ladakh
267
11
9778
7
130
Lakshadweep
37
5
688
8
1
Madhya Pradesh
18057
961
276002
1573
3998
12
Maharashtra
367897
10293
2433368
32641
54898
249
Manipur
64
6
28963
7
374
Meghalaya
50
1
13867
1
150
Mizoram
37
6
4436
2
11
Nagaland
115
3
12138
2
92
Odisha
2178
273
337212
121
1921
Puducherry
1290
216
39755
43
683
1
Punjab
24644
812
211325
2291
6926
58
Rajasthan
9563
900
322114
446
2822
4
Sikkim
46
1
6060
7
135
Tamil Nadu
17043
1164
859709
1634
12738
19
Telengana
6159
648
301876
312
1706
5
Tripura
59
1
33070
5
392
Uttarakhand
2236
373
96956
125
1719
2
Uttar Pradesh
11918
2070
599045
510
8820
9
West Bengal
6513
738
571345
534
10331
2
Total#
614696
30641
11525039
50356
163396
469
Posted By: Talibuddin Khan