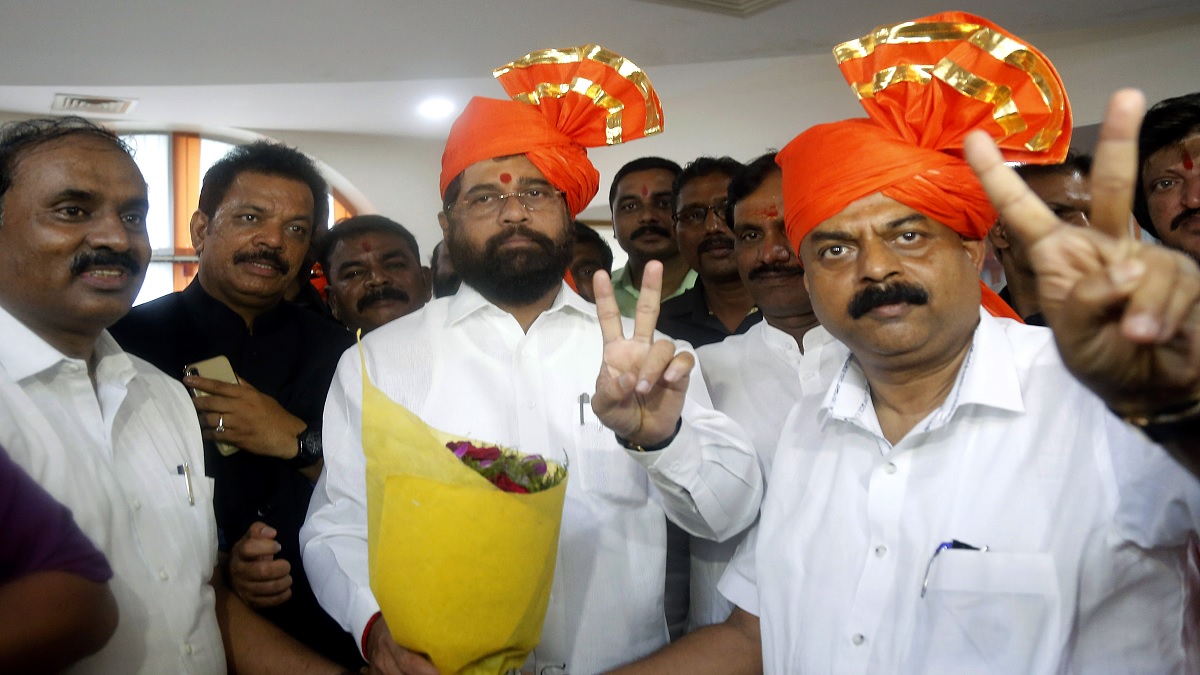 Mumbai | Jagran News Desk: Rebel Shiv Sena leader Eknath Shinde, who is at the centre of a political crisis in Maharashtra, on Tuesday shared a cryptic tweet soon after his revolt shocked the MVA government in the state leaving it on the verge of collapse. Shinde in his tweet said that he is a staunch Shiv Sainik and will never cheat for power on Balasaheb's thoughts and Anand Dighe's teachings.
"We are Balasaheb's staunch Shiv Sainiks. Balasaheb has taught us Hindutva. We have never and will never cheat for power on Balasaheb's thoughts and Anand Dighe Saheb's teachings," Eknath Shinde tweeted in Marathi.
आम्ही बाळासाहेबांचे कट्टर शिवसैनिक आहोत... बाळासाहेबांनी आम्हाला हिंदुत्वाची शिकवण दिली आहे.. बाळासाहेबांचे विचार आणि धर्मवीर आनंद दिघे साहेबांची शिकवण यांच्याबाबत आम्ही सत्तेसाठी कधीही प्रतारणा केली नाही आणि करणार नाही
— Eknath Shinde - एकनाथ शिंदे (@mieknathshinde) June 21, 2022
Shinde and a few MLAs of the ruling Shiv Sena have gone incommunicado and are camping in Surat, a move putting a question mark on the stability of the Uddhav Thackeray-led Maha Vikas Aghadi (MVA) dispensation also comprising NCP and Congress.
The Shiv Sena, fumed over Shinde's revolt, removed him from the post of party's legislative leader and announced that Sewri MLA Ajay Chaudhary will be appointed as the new Shiv Sena Legislative party leader.
According to sources, a day after suspected cross-voting in Maharashtra MLC polls, prominent Shiv Sena leader and state cabinet minister Eknath Shinde has reportedly become inaccessible with several party MLAs. The MLAs, as per media reports, moved to a hotel in Surat in Gujarat.
Shiv Sena leader Sanjay Raut also confirmed the developments and said, "Some MLAs of Shiv Sena and Eknath Shinde are currently not reachable. Efforts are being made to topple the MVA government but BJP has to remember that Maharashtra is very different from Rajasthan or Madhya Pradesh."
Shinde was made the Leader of the Opposition in the Maharashtra Legislative Assembly in 2014 after the Shiv Sena parted ways with the BJP. He was appointed as a cabinet minister in the MVA government. However, reports have suggested that Shinde has been feeling sidelined since the formation of the MVA government. His son Shrikant Shinde represents the Kalyan Lok Sabha seat.
(With ANI Inputs)