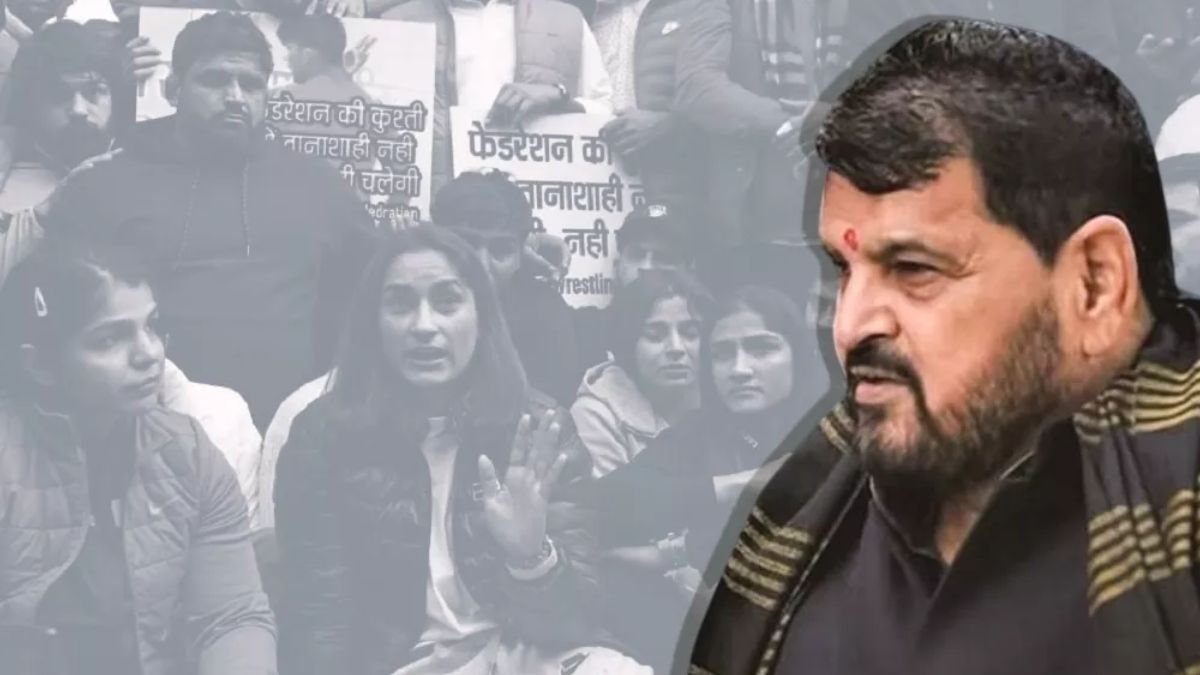 THE INDIAN wrestlers, including Vinesh Phogat, Sakshi Malik, and Bajrang Punia, continued their protest on Thursday, demanding action against the Wrestling Federation of India (WFI) chief Brij Bhushan Sharan Singh and other officials for the alleged sexual exploitation of several athletes. According to a few female wrestlers, the coaches who are favourites of the WFI misbehave with women and harass them. But, amid the ongoing protest and demands by the wrestlers, the Bharatiya Janata Party (BJP) MP from Kaiserganj in Uttar Pradesh is at the centre of the sexual harassment allegations.
Who is Brij Bhushan Sharan Singh?
Brij Bhushan Singh is the President of the Wrestling Federation of India for the last 12 years, having won his third term in 2019. He is also a six-time MP, who represented Gonda, Kaiserganj, and Balrampur constituencies. Presently, he is a MP from Kaiserganj, in Uttar Pradesh. A resident of Gonda, Bhusan fought an election for the first time in 1991 and was elected to the Lok Sabha. After 1991, he was re-elected to the Lok Sabha in 1999, 2004, 2009, 2014, and 2019. He joined the BJP in 2014 and was elected as an MP from the party in 2014 and 2019. In the 2009 Lok Sabha polls, he won the Kaiserganj seat when he was with the Samajwadi Party for a short time.
Bhusan was one of the accused in the Babri demolition case and was acquitted by the court later. He was one of the 40 leaders against whom the charges were framed, including the senior leader of the party, LK Advani. According to IANS, he was charged under TADA for sheltering Dawood Ibrahim henchman Subhash Thakur and Jayendra Thakur and Paresh Desai but was later acquitted.
Why is Bhushan mired in controversy?
The WFI president is at the centre of the alleged sexual harassment allegation. Vinesh Phogat, the Indian wrestler, has alleged that Bhushan has been involved for many years in sexually exploiting women wrestlers and also claimed that several other coaches at the national camp in Lucknow have also exploited women wrestlers.
Meanwhile, Bajrang Punia termed President Bhushan a dictator and also alleged that the WFI has been run in an arbitrary manner. Among the wrestlers staging protests are Sakshi Malik, Sarita Mor, Sangeeta Phogat, Anshu Malik, Sonam Malik, Satyawart Malik, Jitendra Kinha, Amit Dhankar, and Sumit Malik.
Punia has demanded the resignation of WFI President Bhushan. "Our fight is not against the government or the Sports Authority of India (SAI). This is against WFI. 'Yeh ab aar paar ki ladai hai' (It's a fight to the finish). We will continue this protest until WFI President is removed," he said, as quoted by news agency PTI.
WFI President denies allegations.
President Brij Bhushan came out in his defence and has stated that all the allegations are false.
"There is no truth in any of the allegations. Why should I quit? Even if one woman wrestler comes and proves the sexual harassment charge, I am ready to be hanged. There is an industrialist behind it (conspiracy)," Bhushan said at a media interaction, as quoted by Firstpost.
"There can be an investigation by the CBI or police. There is no dictatorship. These same wrestlers had met me a week back and did not say anything."
Vinesh Phogat alleged that she received death threats from multiple people who are close to Bhushan. The WFI President replying to it said, "Why Vinesh did not talk to me or approached the police at that time? Why did she not meet the PM or the Sports Minister? Why is she saying this now?" PTI reported.
Bhushan also claimed that no single wrestler can bring sexual harassment charges against him or other coaches and that some wrestlers were pressured to sit on a dharna.