'Who benefited the most?': Rahul's caustic attack on BJP on Pulwama anniversary; party calls him 'know sympathiser of Lashkar, Jaish'
Updated: Fri, 14 Feb 2020 11:52 AM IST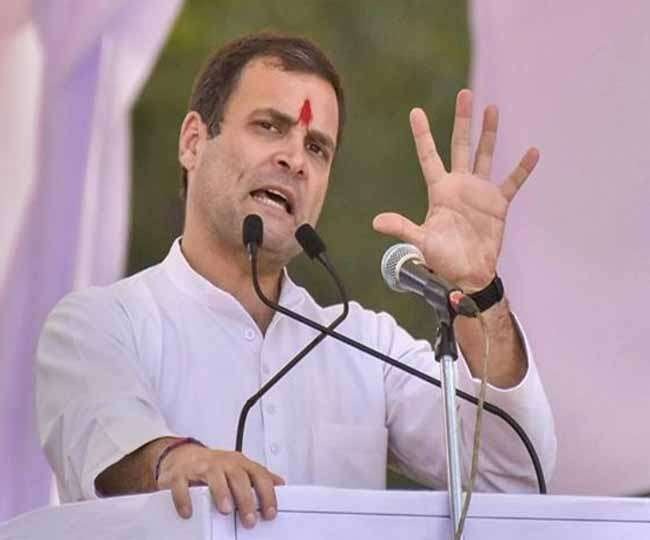 New Delhi | Jagran News Desk: Congress leader Rahul Gandhi on Friday sought to hold the BJP-led government at the Centre responsible for the Pulwama terror attack, which took place on February 14 a year ago, asking who had benefited from the attack.
In a tweet this morning, which is likely to set off a political storm, the former Congress chief asked who had benefited from the attack and what was conclusion of the inquiry launched into the dastardly terror attack. He also asked which BJP leader had been held responsible for the alleged security lapses that had led to the attack.
"Today as we remember our 40 CRPF martyrs in the #PulwamaAttack, let us ask: 1. Who benefitted the most from the attack? 2. What is the outcome of the inquiry into the attack? 3. Who in the BJP Govt has yet been held accountable for the security lapses that allowed the attack?" read the tweet by Gandhi.
Hitting back, the BJP said the remarks were an "insult to martyrs who sacrificed their life for country" adding that such comments help Pakistan counter India on international platforms
"Rahul Gandhi 'known sympathiser' of LeT, Jaish-e-Mohammed; chooses to target not just govt, but security forces as well," the party said.
Rahul Gandhi's questions seem to be in reference to the BJP's nationalistic electoral pitch based on Pulwama attack and the retaliatory air strikes by the Indian Air Force at terror camps in Pakistan's Balakot, which paid dividends in the Lok Sabha polls last year.
On February 14 last year, a suicide bomber associated with Pakistan-based terror group Jaish-e-Mohammed attacked a CRPF convoy of 78 buses carrying around 2,500 soldiers on the Jammu-Srinagar highway. The dastrdly attack claimed lives of 40 CRPF jawans.
Nationwide protests erupted against the dastardly terror attack even as the country bid goodbye to its bravehearts. Leaders across the party lines and civil society condemned the attack and called for an appropriate response.
On February 26, the Indian Air Force carried a counter-terror operation in Balakot in Pakistan's Khyber Pakhtunkhwa province of Pakistan, killing several terrorists and destroying Jaish-e-Mohammed's biggest terror camp. The next day, Pakistan Air Force retaliated and downed a MiG-21 in an aerial combat and captured its pilot, who was handed over to India on March 1.
Posted By: Abhinav Gupta