Web check-in must, only one check-in baggage, Aarogya Setu app: Complete list of guidelines for domestic flights
Updated: Thu, 21 May 2020 12:33 PM IST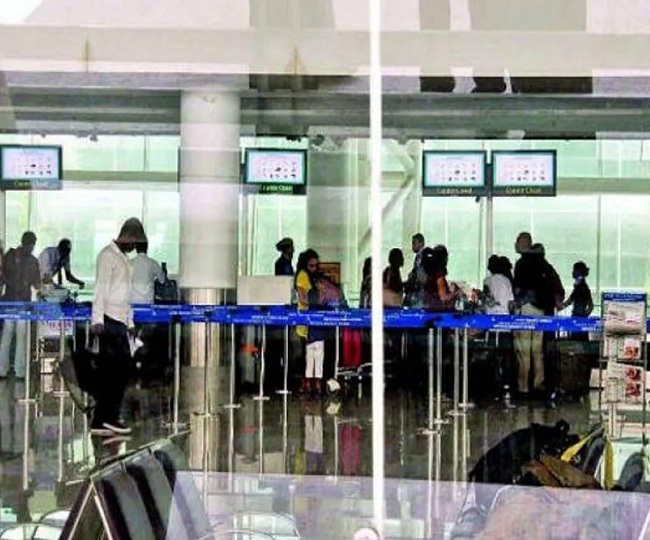 New Delhi | Jagran News Desk: The Airports Authority of India (AAI) issued a standard operating procedure (SOP) to airport operators for recommencement of domestic flights from May 25 onwards. One third of the flight operations will resume after all flights remaining landed for two months in wake of the coronavirus lockdown.
Confirmed web check-in willl be compulsory for the passengers to enter the airport. Only one check-in bag will be allowed per passenger, for whom wearing face mask will be mandatory. Moreover, no meals will be served in the flights.
Among the key guidelines include mandatory use of Aarogya Setu app by passengers, except those below 14 years of age, and sanitisation of passenger's baggage before his or her entry into the terminal building.
The ministry has said vulnerable persons, including the elderly, pregnant women and passengers with health issues should avoid air travel.
Here is the complete list of guidelines that need to be followed at the airports:
Departures:
Departing passengers to compulsorily have Aarogya Setu app on their mobile phones which will be verified by the CISFI Airport staff at the entry gate. Children below 14 years of age have been exempted from this. Those not showing 'green' on the app or not having the app installed in their phone will not be allowed inside the airport premises.
Only passengers who have done web check-in will be allowed to board the flight. No physical check-in will be allowed at airport counters. Moreover, passengers will be allowed to carry only one check-in baggage.
Flight crew will have to wear full protective suits during the flight.
Passengers shall compulsorily walk through screening zone for thermal screening at a designated place in the city side before entering the terminal building.
Departing passengers will have to reach the airport at least two hours before the flight departs. Passengers will be allowed into the terminal building if their flights are within four hours.
Airport operators shall make appropriate arrangement for sanitisation of baggage.
State governments and administrations will have to ensure public transport and private taxis for passengers and airline crew.
Only the personal vehicles or select authorised taxi services /transport services with restricted seating to be permitted for both staff and passengers.
Use of trolleys to be discouraged in departure and arrival area. However, select few passengers, requiring trolley due genuine reasons, to be provided on request basis.
All airport staff handling the flight should be provided with Hand sanitisers and all essential Personal Protective Equipment such as face masks etc. as per guidelines issued by MOHFW.
Passenger seating arrangement inside airports shall be done in such a manner so as to maintain social distancing among passengers using the chairs by blocking those seats that are not to be used, with proper markers/tapes.
Counters with Plexiglas or face shields for staff wherever there is interaction with passengers.
Mats or carpets soaked with bleach will be placed at the entrance to disinfect shoes.
Passengers at boarding gates will be allowed to board in batches as per seating arrangement in the aircraft to avoid crisscrossing.
Open-air ventilation to be used inside airports where ever possible instead of Central air-conditioning.
Arrival:
Passengers shall be disembarked in batches sequentially to ensure social distancing as directed by the ministry.
Markings like circle and square to be provided around the baggage collection carousel for ensuring social distancing.
All bags to be sanitised and then put on conveyer belt before being handed over to passengers.
Hand sanitisers shall be made available by airport operator for passengers and airport staff at various locations.
Airport operator to ensure that cleanliness and sanitisation of every nook & corner of building and public areas including washrooms, chairs, counters, trolleys, railings, doors, lifts, escalator's etc. to be done before arrival of the flight and after last passenger leaves the terminal building.
The AAI manages more than 100 airports across the country. However, major airports like Delhi, Mumbai, Bengaluru and Hyderabad are managed by private companies.
Civil Aviation Minister had announced on Wednesday that domestic flight services would resume from May 25 onwards in a calibrated manner.
Most airports are already functional as cargo flights, those for medical evacuation and special flights to repatriate Indians stranded abroad have been operating during the lockdown.
Posted By: Abhinav Gupta