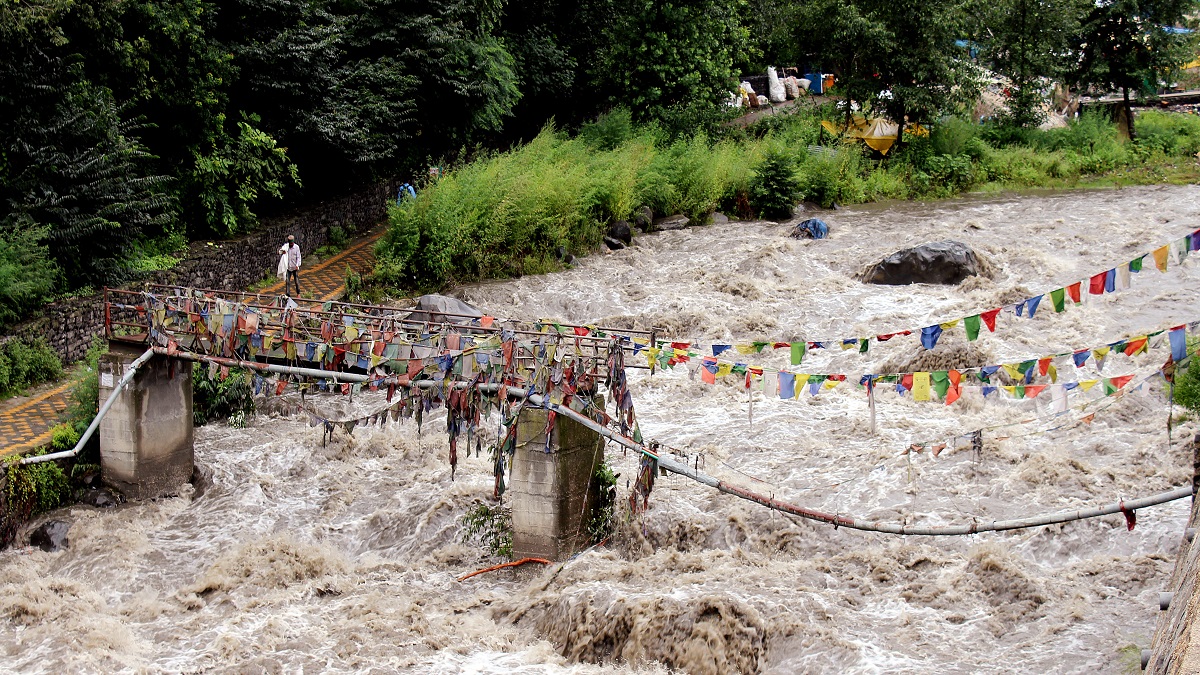 Several people went missing while a bridge across river Parvati was damaged on Wednesday following a cloudburst at Manikaran in Himachal Pradesh's Kullu district.
Speaking to reporters, officials said four to six people went missing after the cloudburst at Chojh village in Challal panchayat of Kullu. They said a search operation has been launched but the rescue team is facing hindrances due to landslides.
"Due to the floods, seven houses have suffered heavy damage while three projects have also been affected. Water from a dam is being released and people have been asked not to go near the river banks," Gurudev Sharma, Superintendent of Police (SP) of Kullu, was quoted as saying by India Today.
Himachal Pradesh, along with other parts of north India, have been witnessing heavy rainfall. Earlier in the day, a girl lost her life in a landslide in Shimla. The girl, officials said, was sleeping on the roadside when the landslide occurred.
"A girl, who was sleeping by the roadside in Shimla's Dhali died due to a landslide following heavy rainfall here. Two others injured and admitted to a hospital," the Himachal Pradesh Police was quoted as saying by news agency ANI.
LANDSLIDES IN UTTARAKHAND
A similar incident was also reported in neighbouring Uttarakhand on Wednesday after a landslide took place at the Badrinath Highway near Rudraprayag. The Kedarnath Highway was also blocked following landslides.
For Uttarakhand, the India Meteorological Department (IMD) has predicted that the hill state will receive heavy rainfall for the next four days. It has also issued an alert for Dehradun, Nainital, and Bageshwar districts.
Rudraprayag, Uttarakhand | Debris & stones are falling continuously from the hill near Kedarnath Highway Madanpur Bhatwari Sain. District Rudraprayag Police states continuous coordination is being established with the border districts of Pauri and Tehri to stop the traffic

— ANI UP/Uttarakhand (@ANINewsUP) July 6, 2022
"Heavy rainfall is likely in Dehradun, Tehri, Pauri, Nainital and Champawat districts on July 5, 6 and 7," the weather department said.
Heavy rain warning has also been issued in Pithoragarh, Bageshwar, Nainital, Dehradun, Tehri, Pauri, Champawat.
The monsoon hit Uttarakhand last week raising concerns over landslides in the hill state. The people have been advised to be alert due to landslides, rock fall, debris on roads, erosion and water flow in river drains through sensitive areas due to heavy rains.