By JE News Desk
Fri, 20 Jan 2023 11:32 AM IST
Minute Read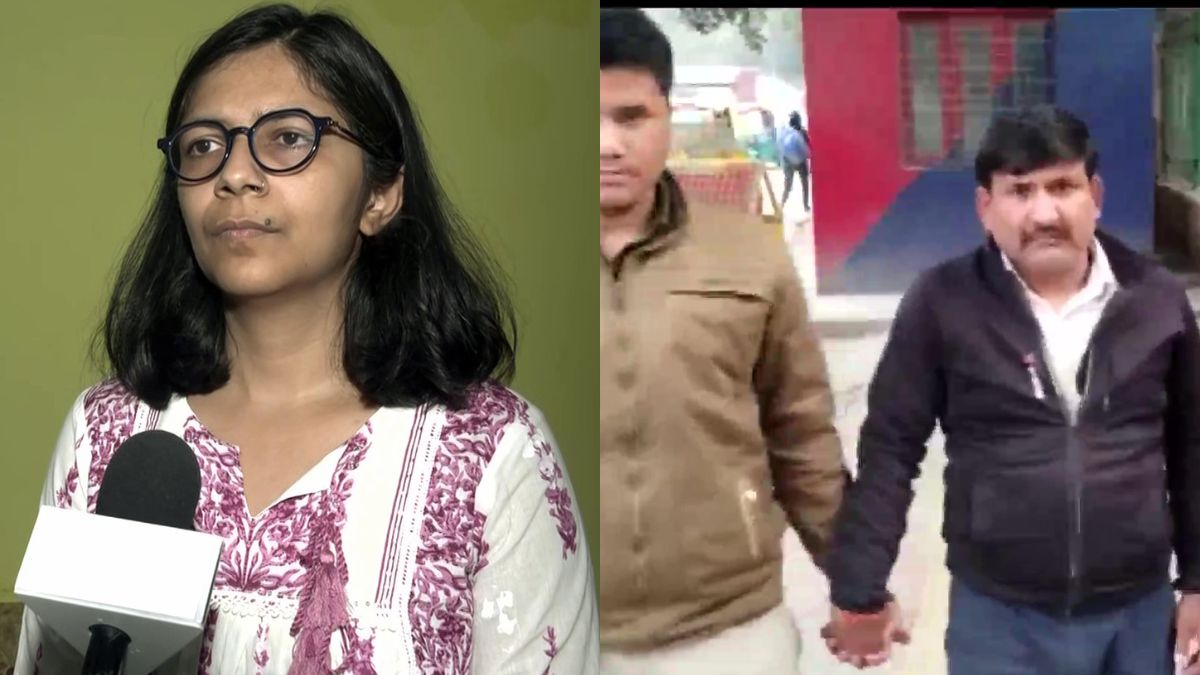 DAY AFTER Delhi Commission Of Women (DCW) chief Swati Maliwal alleged that she was dragged by a drunk car driver near AIIMS in Delhi, a video of the incident is going viral across social media platforms. The video was apparently shot by Maliwal's team, stationed at a distance when she was inspecting the state of women's security in the national capital on Thursday.
In the video, Maliwal was seen standing at a bus stop on the Ring Road opposite AIIMS when the car approached her. The driver rolled down the window and asked her to sit in the car but she refused. The man stared at her for some time and left the spot but again approached her after a while. He again asked her to sit in his car but she again refused. He started making lewd gestures towards her.
Also Watch:
Later in the video, Maliwal approached the driver to reprimand him, but he made a vulgar gesture towards her. When she tried to catch hold of him, he rolled up the window due to which Maliwal's hand got stuck in it. He then pressed the accelerator to drag her for several metres with the car.
Meanwhile, the driver, identified as 47-year-old Harish Chandra, living in south Delhi's Sangam Vihar, has been arrested and was booked under IPC sections 323 (voluntarily causing hurt), 341 (wrongful restraint), 354 (assault or criminal force to woman with intent to outrage her modesty) and 509 (word, gesture or act intended to insult the modesty of a woman) and section 185 of the Motor Vehicles Act.
The DCW chief said she was inspecting the state of women's security in Delhi along with her team, in the wake of the Kanjhawla hit-and-drag incident in which a 20-year-old woman was dragged to death while trapped under a car in the national capital.
"Late last night I was inspecting the situation of women's security in Delhi. A car driver molested me in an inebriated condition and when I caught hold of him, he locked my hand in the car window and dragged me. God saved life. If the Chairperson of the Women's Commission is not safe in Delhi, then imagine the situation," Maliwal tweeted yesterday.
कल देर रात मैं दिल्ली में महिला सुरक्षा के हालात Inspect कर रही थी। एक गाड़ी वाले ने नशे की हालत में मुझसे छेड़छाड़ की और जब मैंने उसे पकड़ा तो गाड़ी के शीशे में मेरा हाथ बंद कर मुझे घसीटा। भगवान ने जान बचाई। यदि दिल्ली में महिला आयोग की अध्यक्ष सुरक्षित नहीं, तो हाल सोच लीजिए।

— Swati Maliwal (@SwatiJaiHind) January 19, 2023
The National Commission for Women (NCW) also took cognisance of the matter and has sought a report from the Delhi Police. "NCW India has taken cognizance of the matter. The Commission is seeking a report from Delhi Police and writing to take strict action against the accused," wrote the commission on its Twitter handle.