Vizag Gas Leak: 11 dead, over 1,000 affected; case filed against LG Polymers, CM announces Rs 1 crore for kin of deceased
Following the leakage, 500 people belonging to 200-250 families living in three km radius were evacuated to the safer places by the officials. (pic credits: PTI)
Publish Date: Thu, 07 May 2020 06:53 PM IST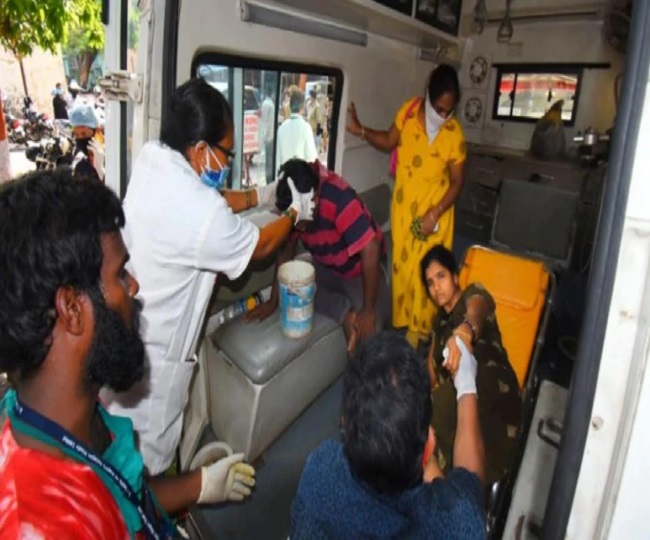 Visakhapatnam | Jagran News Desk: At least 11 people, including a minor, were killed and over 1,000 were reportedly affected after a gas leak at the LG Polymers chemical factory in Andhra Pradesh's Visakhapatnam in the early hours of Thursday.
According to various media reports, around 5,000 people have been fallen sick due to the leak of what is believed to be styrene gas from an LG Polymers facility located near Visakhapatnam.
Following the leakage, 500 people belonging to 200-250 families living in three km radius were evacuated to the safer places by the officials. The gas that leaked from the LG Polymers was styrene, said the officials while adding that the plant was shut for over 40 days due to the nationwide coronavirus lockdown.
The government also released helpline numbers, saying that people can get in touch with deputy director S Prasada Rao on his mobile numbers 7997952301 and 891923934, and another officer R Brahma on 9701197069.
Expressing grief over the incident, Andhra Pradesh Chief Minister Jagan Mohan Reddy ordered a probe into the gas leakage, following which a case was registered against the management of LG Polymers under Sections 337, 338 and 304 of the IPC
The Chief Minister announced a Rs 1 crore compensation for each family of the deceased. He also said that the state government will provide Rs 25,000 to those who received primary care treatment while those who received 2-3 days of treatment will get Rs 1 lakh and those on ventilator support to be given Rs 10 lakh.
Taking stock of the situation, Prime Minister Narendra Modi also chaired a meeting of the National Disaster Management Authority (NDMA) and said that he had spoken to officials of the Ministry of Home Affairs (MHA).
"Spoke to officials of MHA and NDMA regarding the situation in Visakhapatnam, which is being monitored closely. I pray for everyone's safety and well-being in Visakhapatnam," PM Modi said in a tweet.
National Disaster Response Force (NDRF) Director General SN Pradhan said leakage from the factory had been reduced to minimal but NDRF personnel would be at the spot till it is totally plugged.
Meanwhile, NDMA member Kamal Kishore said that the central government is flying in a specialised CBRN (chemical, biological, radiological and nuclear) team of the NDRF from Pune to Vishakhapatnam and they will extend all technical support to the local authorities.
"We are also mobilising specialised technical support to assist the medical practitioners in the area who may not have dealt with this kind of emergency," he said.
When asked if the Centre will issue some guidelines in the wake of similar factories opening after the lockdown, Kishore said there are detailed guidelines on chemical safety and these are very clear and industries need to implement them vigorously like before.
There is no need to issue fresh directives but social distancing measures should be enforced properly in the wake of coronavirus outbreak, he said.
Giving details of the incident, Pradhan said it happened at around 2:30 am. Initially the people were affected by some throat and skin irritation and toxic gas smell, he said.
"We were informed at around 5:30-5:45 am and the NDRF personnel were there in half-an-hour," he said.
The NDRF chief said door-to-door search was done by NDRF personnel to help unconscious and semi-conscious people living in nearby areas.
Meanwhile, LG Chem, which operates the plant, said it is cooperating with Indian authorities to help residents and employees.
"The gas leakage is now under control, but the leaked gas can cause nausea and dizziness, so we are investing every effort to ensure proper treatment is provided swiftly," LG Chem said in a statement.
"We are investigating the extent of damage and the exact cause of the leak and deaths," it added.
Stating that the plant operations were suspended because of coronavirus lockdown, the firm said none of its employees have died in the accident.
The leak was noticed by company staff who were reportedly inspecting machines to restart the factory and raised an alarm. Experts also worked to control and neutralise the styrene vapours with chemicals.
"Officials are using inhibitors to neutralise the vapours. Slowly the vapours are reducing. It was not arrested fully. They are using neutralisers such as TBC (4-tert-Butylcatechol (TBC)," Joint Chief Inspector of Factories, Visakhapatnam, J Siva Sankar Reddy told PTI.
Several political leaders, including Union Home Minister Amit Shah, BJP president J P Nadda, Congress leader Rahul Gandhi and Telangana Chief Minister K Chandrashekar expressed their shock at the incident.
"The incident in Vizag is disturbing. Have spoken to the NDMA officials and concerned authorities. We are continuously and closely monitoring the situation," Shah tweeted.
The grim scenes recalled the Bhopal gas leak, the world's worst industrial disaster in which more than 3,000 people were killed and lakhs affected when methyl isocyanate gas leaked out from a Union Carbide plant on the intervening night of December 2-3, 1984.
(With PTI inputs)
Posted By: Aalok Sensharma