Updated: Thu, 07 May 2020 02:52 PM IST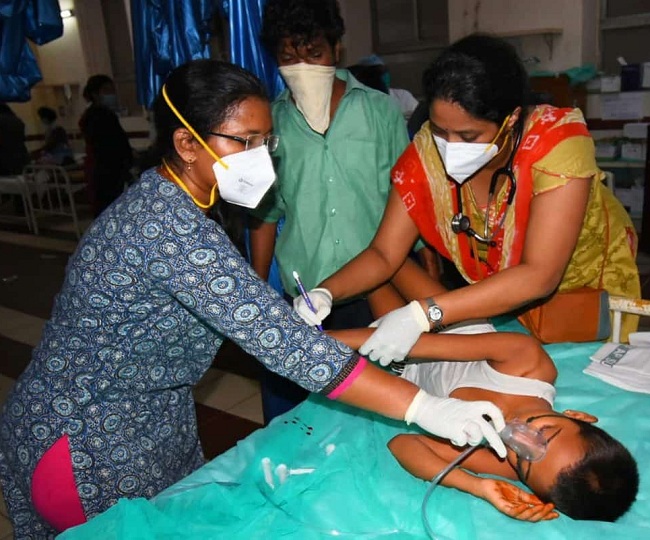 New Delhi | Jagran News Desk: At least 11 people, including a child and two senior citizens, have been reportedly killed while over 800 people hospitalised after a gas leak at a chemical plant in Andhra Pradesh's Visakhapatnam in the wee hours of Thursday.
According to media reports, around 5,000 people have been fallen sick due to the leak of what is believed to be styrene gas from an LG Polymers facility located near Visakhapatnam.
Andhra Pradesh DGP Damodar Goutam Sawang said that the gas leak has been contained and the situation is under control. "Gas leak is an accident. They were strictly following all protocols. Investigation under way. Forensic teams are also being sent to the spot," he said.
Following the incident, state IT and Industries Minister Mekapati Goutham Reddy said that people can get in touch with deputy director S Prasada Rao on his mobile numbers 7997952301 and 891923934, and another officer R Brahma on 9701197069.
The exact cause of the gas leak, which started at around 3 am, is yet to be identified. But, reports suggest that it may have been from large tanks unattended because of the shutdown.
Police officer Swaroop Rani in Visakhapatnam was quoted by AFP as saying the gas leaked out of two 5,000-tonne tanks that had been unattended due to the lockdown in place since late March.
"It was left there because of the lockdown. It led to a chemical reaction and heat was produced inside the tanks, and the gas leaked because of that," the officer told AFP.
Chief Minister Jagan Mohan Reddy held a high-level review meeting on the situation and ordered a probe into the matter.
Following the alleged leak, people in Gopalapatnam area, where the chemical plant is located, complained of irritation in eyes, breathlessness, nausea and rashes on their bodies.
According to DG NDRF S N Pradhan, around 1,000-1,500 people have been evacuated, of which more than 800 people have been taken to various government and private hospitals.
He told that 27 personnel from NDRF are involved in the relief and rescue operations, adding that 80 to 90 per cent evacuation process has been completed.
Meanwhile, the National Human Rights Commission has also issued notices to the Centre and the Andhra Pradesh government over deaths and suffering of people due to gas leakage from a chemical plant in Visakhapatnam district.
Right to life of the victims has been grossly violated. At a time when human lives across the country are at stake due to spread of COVID-19 virus and everyone is forced to stay indoor, the gruesome tragedy has come as a bolt from the blue for the people, the right panel said in a statement.
The gas leak impacted villages within a five kilometer radius of the plant, according to officials. At least three surrounding villages are being evacuated and house-to-house checks are on.
Tragically, two of the victims met with their end after falling into a borewell while fleeing their affected village and their bodies were found later in the day.
People lying on roadside and near ditches in unconscious state narrated the magnitude of the situation, as the government said arresting the leak was the first priority.
Prime Minister Narendra Modi took stock of the situation and assured all possible assistance to state Chief Minister Y S Jagan Mohan Reddy. He also convened a meeting of the National Disaster Management Authority at 11 am in wake of the situation.
The prime minister wrote on Twitter that he spoke with Union Home Ministry officials and National Disaster Management Authority regarding the situation "which is being monitored closely." "I pray for everyone's safety and well-being in Visakhapatnam," he said.
President Ram nath Kovind also expressed grief on the tragic incident and prayed for speedy recovery of the affected people. "Saddened by the news of gas leak in a plant near Visakhapatnam which has claimed several lives. My condolences to the families of the victims. I pray for the recovery of the injured and the safety of all," he tweeted.
The grim scenes recalled the Bhopal gas leak, the world's worst industrial disaster in which more than 3,000 people were killed and lakhs affected when methyl isocyanate gas leaked out from a Union Carbide plant on the intervening night of December 2-3, 1984.
Posted By: abhinav gupta