By Aalok Sensharma
Fri, 10 Apr 2020 12:52 PM IST
Minute Read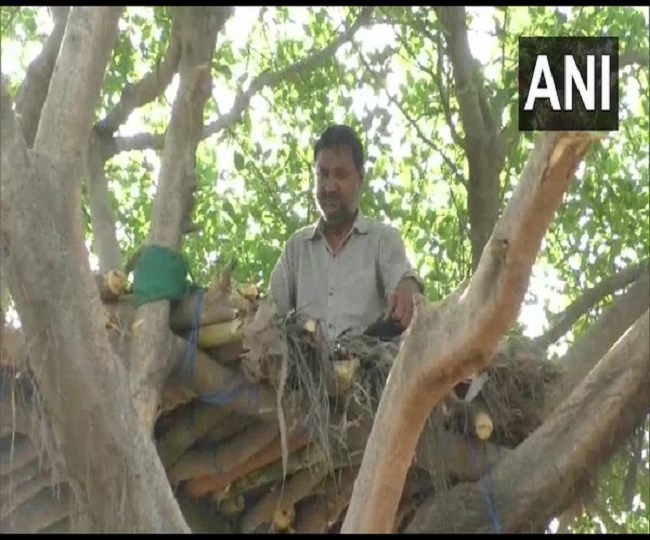 Hapur | Jagran News Desk: The number of cases of the novel coronavirus is surging at an alarming rate. As per the data available at the Ministry of Health and Family Welfare website, the dreadful virus has infected over 6,000 and claimed the lives of 199 people in India so far.
Amid the alarming situation, the government has continuously appealed people to practice 'social distancing', saying it is the only way to break the chain of the virus and it is the key to keep coronavirus at bay.
As the government is appealing people practice to social distancing, a man in Uttar Pradesh's Hapur seems to have taken the decision very seriously as he has built a 'treehouse' to keep himself in isolation.
According to a news agency ANI report, the man – identified as Mukul Tyagi – from the Asodha village has built a treehouse which is made up of old and dried wood logs tied together to make a platform.
Tyagi told ANI that social distancing is the only way to defeat the novel coronavirus and that's why he has decided to live in isolation at the treehouse.
"Keeping the rule of social distancing in mind, we decided to live in solitude. With help from my son, we cut the trees and joined the planks together," ANI quoted Tyagi as saying.
Calling it a 'great experience', Mukul's son told ANI that his father came up with the idea of building the treehouse and they used dried trees and cut them in order to make the planks and then tied those planks together to make the treehouse.
"Living here we feel close to nature and the environment is also very clean here. I am enjoying my experience of living in the wild," he said while adding that food comes from their home.
The novel coronavirus has affected 6,412 and claimed the lives 199 in India so far. In UP, the virus has claimed four lives and affected 410 people so far.