Unlock 2.0 or Lockdown 6.0? How states are making choices amid fears of COVID-19 spread in monsoon
Unlock 2.0 or Lockdown 6.0: Here is a look at how the states are planning to implement lockdown and Unlock strategy to revive the economy while ensuring arrest of virus spread:
Publish Date: Mon, 29 Jun 2020 12:48 PM IST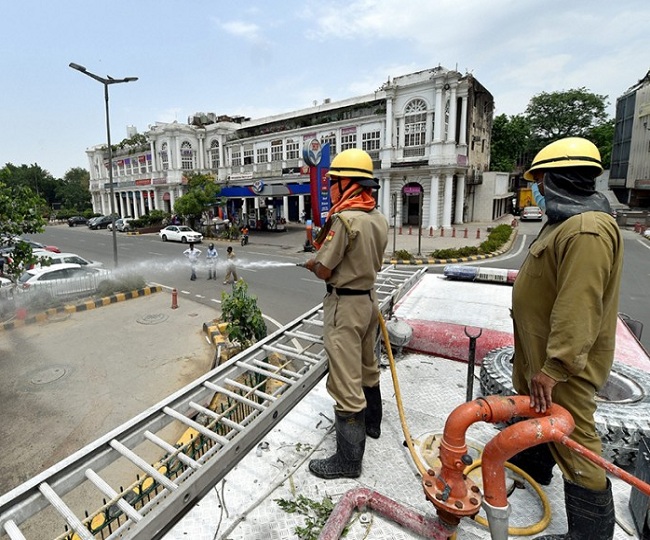 New Delhi | Jagran News Desk: With over 15,000 confirmed COVID-19 cases for six concsecutive days, India's caseload has neared 5.5-lakh mark even as the government's phased exit from lockdown is ready to enter its second stage from July 1.
The fifth phase of lockdown, which was focused with restrictions only in containment zones, is scheduled to end on June 30. Alongside, the first stage of phase exit from lockdown, known as Unlock 1.0, which saw reopening of shopping malls, religious places and uninterrupted intra- and inter-state travel, will also end on June 30.
The Ministry of Home Affairs is expected to issue guidelines for Unlock 2.0 on or before June 30. But, states are in a fix over whether to allow more relaxations or to impose varying degrees of lockdown in an attempt to contain the rise in cases and deaths.
According to reports, not many guidelines are likely to change in Unlock 2.0 as schools and colleges may remain closed amid apprehensions that monsoon mat aggravate the spread of COVID-19.
However, international flights on select routes may resume in July. The Directorate General of Civil Aviation said Friday that even as scheduled flights remain suspended until 15 July, some may be allowed on a "case-to-case" basis.
Air India has already announced more domestic flights in the following routes: Delhi-Ranchi, Mumai-Hyderabad, Hyderabad-Vishakhapatnam, Delhi-Coimbatore, Mumbai-Bhopal, Mumbai-Kolkata, Delhi-Indore, Bangalire-Chandigarh, Delhi-Tirupati, Mumbai-Rajkot, Mumbai-Cochin and Mumbai-Tirupati-Vishakhapatnam.
While states like West Bengal and Jharkhand have extended the lockdown till July 31, several others like Karnataka and Tamil Nadu have imposed lockdown in select cities and area which are worst-hit by the virus.
Here is a look at how the states are planning to implement lockdown and Unlock strategy to revive the economy while ensuring arrest of virus spread:
Delhi
Earlier in June, Chief Minister Arvind Kejriwal had quelled all rumours surrounding lockdown extension in the national capital. The AAP government has already announced that schools and colleges will continue remain closed till July 31.
The city has started conducting a serological survey from June 27. At least 20,000 samples will be collected as a part of a sero survey.
The authorities are implementing a revised strategy after a major surge in cases, under which every house will be screened by July 6. Every house in the containment zones will be screened by June 30.
Uttar Pradesh
The UP government is planning to increase the number of COVID-19 tests to 25,000 per day in the state by June 30.
Uttar Pradesh''s Additional Chief Secretary (Medical and Health) Amit Mohan Prasad said the state will also launch a large-scale campaign from Meerut division in July, where house-to-house survey will be undertaken similar to the pulse polio immunisation.
Maharashtra
Chief Minister Uddhav Thackeray made it clear that the restrictions will continue even after June 30 as the crisis is not yet over.
The unlock process, dubbed Mission Begin Again by the state government, is being gradually implemented to put the economy back on track, Thackeray said.
In the financial capital Mumbai, police urged the city residents not to move beyond the two-km radius of their homes unless it is for attending office or medical emergencies.
With the further easing of coronavirus-induced curbs in the state, some salons opened in the city on Sunday after a gap of three months while many remained closed due to lack of manpower.
Chief Minister Thackeray also said the 'Chase the Virus' initiative that received good results in worst-hit Mumbai will now be expanded to other parts of the state.
As part of the campaign, 15 close contacts of a COVID-19 patient will be compulsorily kept in institutional quarantine. It was launched on May 27.
Madhya Pradesh
The Madhya Pradesh government said it will launch a ''Kill Corona'' campaign from July 1 to control the spread of COVID-19 in the state, where 13,186 cases have been reported so far.
Under the campaign, door-to-door survey will be conducted and tests would also be done on citizens for other diseases as well, Chief Minister Shivraj Singh Chouhan said during a virtual review meeting on the COVID-19 pandemic Chouhan said during the 15-day campaign, 2.5 lakh tests will be carried out and 15,000 to 20,000 samples would be collected daily, according to a press release.
West Bengal
Chief Minister Mamata Banerjee has extended the lockdown in the state till July 31. She has also asked the Centre to stop international repatriation flights and also domestic flights to Kolkata from states with a high Covid-19 infection rate till July 31.
Night curfew in West Bengal has been relaxed by an hour and is now imposed from 10 pm to 5 am. Banerjee had recently indicated resumption of metro services in Kolkata from July 1.
Tamil Nadu
The districts of Chennai, Madurai and parts of Chengelpet, Kancheepuram and Tiruvallur are under lockdown since last Friday till June 30. Only essential services are allowed in these four districts.
Chief minister Palaniswami will decide on the future course based on recommendations of an expert panel and the Centre.
Karnataka
The Karnataka government has imposed total lockdown on Sundays starting July 5 in view of the spike in the number of coronavirus cases in the state. Also, there will be night curfew from 8 pm to 5 am.
All government offices shall remain closed on all Saturdays, along with second and fourth Saturdays with effect from July 10.
Assam
A complete lockdown in Kamrup Metropolitan district, under which Guwahati falls, from 7 pm on Sunday till 6 pm on July 12 came into force with even shops of grocery, meat and all other items downing the shutters. Only pharmacies have been allowed to function.
Manipur
Manipur Chief Minister N Biren Singh on Sunday announced the extension of the lockdown by another 15 days from July 1 to contain the spread of Covid-19.
Posted By: Abhinav Gupta