By JE News Desk
Thu, 19 Jan 2023 02:44 PM IST
Minute Read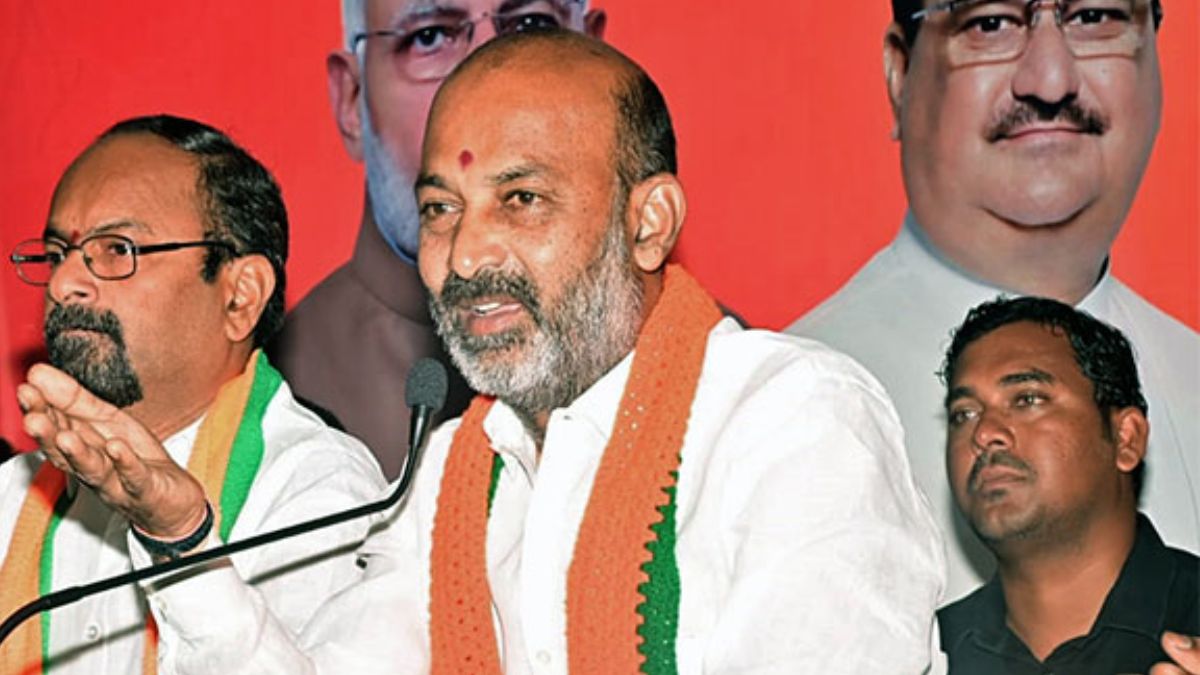 A DAY after a video of Telangana BJP President Bandi Sanjay's son caught on camera assaulting a fellow college student went viral, the party chief has claimed that his son has surrendered to the police. Adding that, the BJP leader said action should be taken against him "if he has done anything wrong".'
A purported video of the incident is doing rounds on the internet in which Bandi Bhagirath Sai, son of the Telangana President BJP can be seen slapping the man repeatedly. A case was registered against Sai based on a complaint filed by Mahindra University, where both study. The Dundigal police have registered a case under sections of 323, 341, 504 and 506 IPC.
Powerful anger?!

In this video full of abuses &physical assault is BJP #Telangana state President #BandiSanjay's son Bhageerath of Mahindra University attacking his classmate Sriram.Bandi Bhageerath's anger clearly seems off the charts hitting another classmate who came in btw! pic.twitter.com/aqFbgrmD9F

— Revathi (@revathitweets) January 17, 2023
"My son has surrendered before the police. If my son has done anything wrong, police should take action against him," Sanjay, as quoted by news agency ANI, said.
The victim was identified as Sriram. In the video which went viral on social media, Sriram can be seen thrashed by five to six other students accompanying Sai. However, soon after the incident, another video was released by the BJP chief Sanjay Bandi Kumar's office in which the victim -- Sriram -- could be seen confessing to misbehaving with the sister of Bhagirath Sai's friend.
Minutes after this video came to light, victim Sriram released a video saying that #BandiSanjaySon attacked him because he troubled a girl. Quite a confession from the victim himself. BUT how is it right to hit anyone? How is the BJP president's son judge, jury & executioner? pic.twitter.com/0AoxDYPiEl

— Revathi (@revathitweets) January 17, 2023
Sriram, in the video, said that he had sent an objectional text to the girl. He further claimed that the video of his assault was an old one and the men have even reached a compromise since then.
Earlier, Bandi Sanjay claimed that the video was leaked by Bharat Rashtra Samithi (BRS) government at the direction of Chief Minister K Chandrashekhar Rao in an effort to settle political scores.
"The IT cell of BRS Party has leaked it on social media purely for political gains and with the sole intention to tarnish my image. The cowardly Chief Minister of Telangana KCR and his prodigal son is unable to face me politically and resort to cheap politics. KCR is stooping too low and he is dragging my son with the intention of spoiling his career," Sanjay said.
He claimed that the video was two months old. "My son's batch mate harassed a girl by texting her messages late in the night and forced her to love him. The Girl considers my son an elder brother and she has shared the incident and shown the messages sent by his batch mate. Later, my son found that his batch mate took the number of the girl from his mobile without his knowledge," Sanjay said.