Updated: Fri, 06 May 2022 06:36 PM IST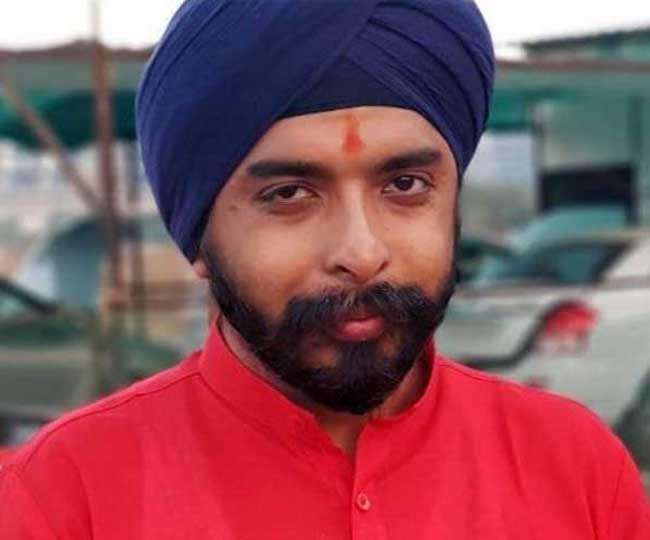 New Delhi | Jagran News Desk: The hearing over BJP leader Tajinder Singh Bagga's arrest will be held on Saturday at 10 am, said ASG Satya Pal Jain, representing Delhi police. He informed that Bagga's arrest was done without informing the Delhi police. The police will take further action, however, as of now nobody from the Punjab police has been arrested or detained.
An FIR was filed at Janakpuri police station under sections 452, 365, 342, 392, 295 34, on the complaint of Tajinder Singh Bagga's father, Preet Pal Singh Bagga, seeking urgent action into events before his son's arrest. FIR states that a group of men, some of them carrying weapons barged into their house. It also alleges that the police slapped Bagga's father and thrashed his family. In the FIR, Preet Pal has stated that he suspects that his son may be killed and requested that his life be saved.
Meanwhile, the BJP workers and leaders who were protesting outside the Aam Aadmi Party office over Tajinder Singh Bagga's arrest have been detained.
BJP workers & leaders protesting outside Aam Aadmi Party's office detained by Delhi Police pic.twitter.com/EFR4WDfIpE

— ANI (@ANI) May 6, 2022
The Delhi police on Friday brought Tajinder Singh Bagga back to Delhi from Thanesar Sadar Police Station in Haryana's Kurukshetra, where the Haryana police stopped vehicles of Punjab police taking Bagga to Mohali after arresting him from his home in Delhi's Janakpuri.
#WATCH | Team of Delhi Police leaves with BJP leader Tajinder Pal Singh Bagga from Thanesar Sadar Police station in Haryana's Kurukshetra

Bagga was arrested by Punjab Police today from Delhi. pic.twitter.com/rAn21Z24p5

— ANI (@ANI) May 6, 2022
The Delhi police reached Kurukshetra after the Punjab police team taking Bagga to Mohali was stopped in Kurukshetra by Haryana police creating a tense situation. Tajinder Bagga was on Friday morning arrested by the Punjab police from his residence in Delhi over charges of communal inflammatory statements, promoting religious enmity, and criminal intimidation.
In his letter to SSP Kurukshetra, SSP SAS Nagar (Punjab) has said that the stopping of police vehicles tantamounts to illegal detention and interference in the administration of the criminal justice system. The Punjab police officials claimed that they had sent Bagga five notices to join the investigation but he "deliberately" chose not to do so.
"Today morning following due process of law, Tajinder Pal Singh Bagga was arrested from his home in Janakpuri, New Delhi. He is being brought here (Sahibzada Ajit Singh Nagar, Punjab) and will be produced in court," Punjab Police said, adding, "The accused was served five notices to come and join the investigation. The notices were duly served upon. In spite of that, the accused deliberately did not join the probe,".
"It is submitted that the police party along with the arrested accused may be released so that he may be produced before the court in Mohali well with in time as per law", the letter stated.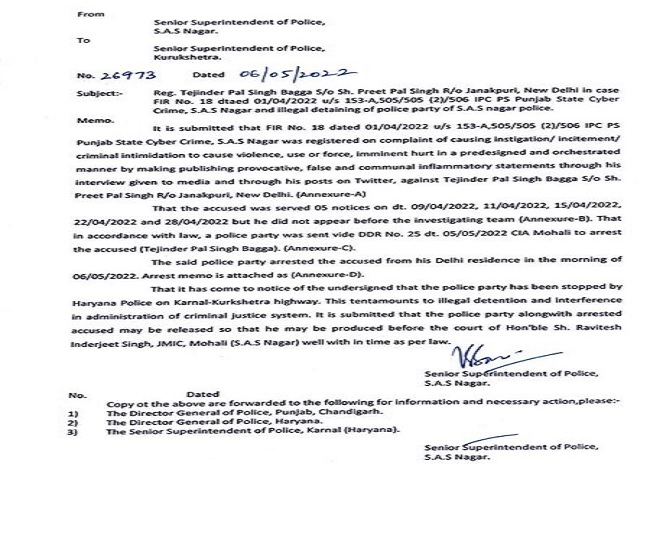 Meanwhile, Haryana cops informed that they received information that Tajinder Bagga had been "forcibly" picked up from his residence and said, "We have to verify and crosscheck these things".
2 cases lodged against the Punjab police:
The Delhi Police on Friday lodged two separate cases against Punjab Police in connection with the arrest of BJP spokesperson Tajinder Pal Singh Bagga from his West Delhi residence, lawyer representing Punjab Police said.
R.K. Rathore, the lawyer representing Punjab Police, as quoted by IANS, said, "The first case was lodged under sections of kidnapping, while the second was lodged under section of assault. The second case was lodged on the complaint of Bagga's father. Delhi police has detained four Punjab Police personnel and taken them to Janakpuri police station".
"Punched me, didn't allow my son to wear his turban', claims Tajinder Bagga's father:
Bagga's father Preetpal Singh, meanwhile, alleged that Punjab Police personnel punched him in the face and did not even allow his son to wear a turban while they were arresting him. Preetpal Singh, who said a group of 10-15 Punjab Police personnel broke into their Janakpuri home, was accompanied by Delhi BJP president Adesh Gupta when he went to file an FIR.
"We offered them tea and they behaved and talked calmly and Tajinder was sitting there. A few minutes later, 10-15 Punjab Police personnel broke in. They dragged Tajinder out and did not allow him to cover his head. When I tried to make a video of the incident, my mobile phone was snatched and I was punched in the face and forced to sit down," he said.
BJP and AAP trade charges at each other:
Following Bagga's arrest, the BJP accused Punjab Police of "abducting" him and alleged that Arvind Kejriwal is pursuing vendetta through the state police. BJP IT department head Amit Malviya took to Twitter to say that every worker of the party will ensure that Kejriwal "learns how to handle power the hard way".
"Arvind Kejriwal's brazen misuse of Punjab Police to target political opponents is not unexpected. He had been raging for this. But this won't go down well. We will fight to secure every single karyakarta of ours and ensure that Kejriwal learns how to handle power the hard way..." he tweeted.
BJP's National General Secretary (Organisation) BL Santhosh also condemned the arrest, and said, "Punjab Police is being used as personal mafia of Arvind Kejriwal. We condemn the arrest of Tajinder Bagga and assault on his father by police at the insistence of Aam Aadmi Party. Soon Karma will catch you."
Delhi BJP President Adesh Gupta said that the "Hitler-like act will cost Kejriwal". "Tajinder Bagga has been illegally detained by the Punjab Police. They didn't allow him to even wear his turban. Complaint filed over manhandling of Tajindar Bagga by his father," he said. "Kejriwal's Hitler-like act will cost him. Punjab Police acting on directions of Kejriwal," he added.
Why Tajinder Bagga has been arrested?
Tajinderpal Singh Bagga has been arrested from his residence in Delhi in connection with a case registered in Punjab. Punjab Police had booked Bagga last month on charges of making provocative statements, promoting enmity and criminal intimidation. The case was registered on a complaint from AAP leader Sunny Ahluwalia, a resident of Mohali.
The FIR referred to Bagga's remarks on March 30, when he was part of a BJP youth wing protest outside Kejriwal's residence in Delhi. He had come under fire from AAP, which is ruling both Delhi and Punjab, for his tweet against the Delhi chief minister over the movie "The Kashmir Files".
Posted By: Talibuddin Khan