Taj Mahal, other Agra monuments to not reopen from today as city sees surge in COVID-19 cases
The Agra administration said there is a threat of coronavirus spread as tourists will come to these places if they are opened.
Updated: Mon, 06 Jul 2020 08:24 AM IST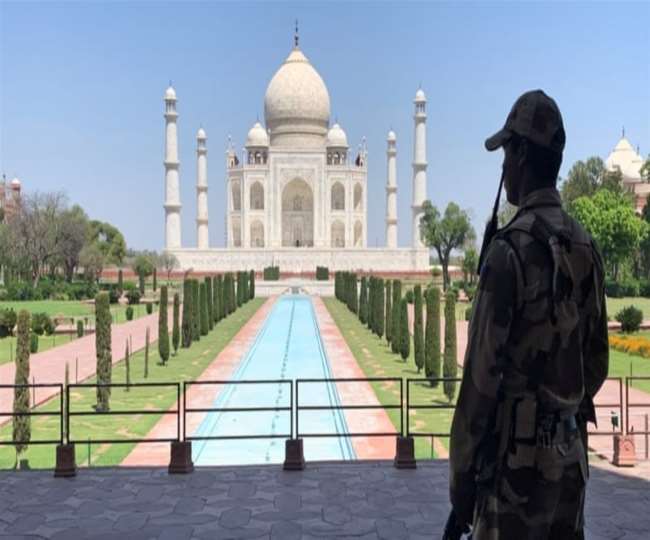 Agra | Jagran News Desk: The Agra administration has decided not to reopen historical monuments like Taj Mahal, Agra Fort, Akbar tomb and others until further orders as they fall in 'buffer zone' areas. The order by District Magistrate of Agra, Prabhu N Singh comes in wake of the alarming spike in COVID-19 cases in the city.
The District Magistrate said that 55 new cases reported in past four days and there are 71 containment zones. He added that there is a threat of coronavirus spread as tourists will come to these places if they are opened.
Earlier, Union Minister of Tourism and Culture Prahlad Singh Patel announced that all monuments can be reopened with complete precautions from July 6 onwards, amid relaxations in the COVID-19 lockdown.
The ASI officials had clarified that entry would be allowed with a set of restrictions listed in the SOPs which will need to be strictly followed by the tourists.
To give a momentum to tourism, which had been badly hit due to the Covid-19 scourge, local hoteliers have demanded resumption of flights to Agra, starting international flights and connecting Agra with important destinations within the country.
The tourist season generally starts in the last week of September. Right now, all big hotels are carrying out maintenance and repair work.
On the recommendation of the Dr. S. Vardarajan Committee, the Supreme Court allowed the Taj Mahal to enjoy a weekly holiday on Friday. The 100-day respite, has healed the scars and wounds inflicted on the fragile monument by air pollution.
The Archaeological Survey of India (ASI) had decided to allow only 5,000 visitors daily, 2,500 in the morning shift and 2,500 post-lunch. Face covers and social distancing would be compulsory. Group photography will not be permitted. Monuments in the containment zones will remain closed.
The Taj Mahal, India's most visited monument, was closed in the last week of March, due to surge in Covid-19 cases. This was the first time in the monument's almost 375 year old history that the doors were shut to visitors, for over 100 days. During the 1971 war with Pakistan, the Taj was closed for 15 days. In 1978, visitors were not allowed for almost a week due to flood in Yamuna.
(With inputs from agencies)
Posted By: Abhinav Gupta