'How can it stop when they sleep on railway tracks': SC dismisses petition on migrants killed in Aurangabad
Updated: Fri, 15 May 2020 12:51 PM IST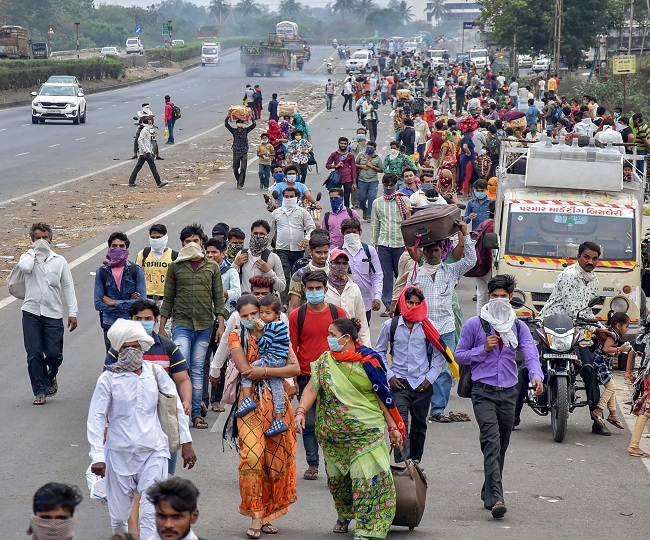 New Delhi | Jagran News Desk: The Supreme Court on Friday refused to entertain a petition seeking direction to the state to identify migrants walking on the roads and provide them food and shelter, saying that it was impossible for anyone to stop them from walking back to their homes.
"It is impossible for this court to monitor who is walking," said a bench headed by Justice L Mageshwara Rao.
The petition filed by lawyer Alakh Alok Srivastava had also referred to a recent incident in Maharashtra, where 16 migrants sleeping on railway tracks were run over by a cargo train.
Responding to the petition, the bench asked: "How can we stop them from walking? How can anyone stop this when they sleep on railway tracks?"
The top court dismissed the petition after the Centre told that the states were already providing interstate transport to moving migrant workers, but it could do nothing if people start walking on foot.
"The states are providing interstate transport. But if people get angry and start on foot instead of waiting for the transport to be provided nothing can be done. We can only request that people should not walk. Using force to stop them would be counterproductive," said Solicitor General Tushaer Mehta.
The court berated the advocate, saying his petition was "totally based" on newspaper clippings. It further asked states to decide on the matter.
"Every advocate read incidents in the paper and become knowledgeable about every subject. Your knowledge is totally based on newspaper clippings and then you want this court to decide. Let the state decide. Why should this court decide or hear? We will give you special pass. Can you go and implement government orders?," said Justice Kaul.
Lakhs of migrant workers have been moving across states walking on foot, cycling and hitching rides in desperation to reach their hometowns ever since the government announced the nationwide lockdown, leaving them jobless. The Centre started running special Shramik trains earlier this month to ferry them home. The Railways says over a million have been sent back so far.
Posted By: Abhinav Gupta