SC verdict leaves Karnataka govt hanging by a thread as HDK faces trust vote tomorrow
Publish Date: Wed, 17 Jul 2019 03:14 PM IST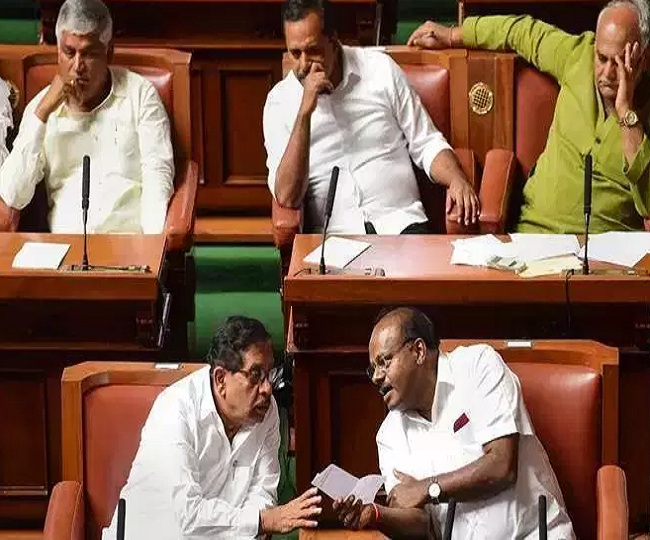 New Delhi/Bengaluru | Jagran News Desk: The rebel lawmakers, whose resignations have raised question on the longevity of the 14-month-old Congress-JD(S) government, on Wednesday welcomed the Supreme Court order directing that they cannot be compelled to attend the Assembly.
"We honour the Supreme Court's verdict. We are all together. We stand by our decision. There is no question of going to the Assembly," said 12 of the 15 rebel lawmakers who approached the top court against Speaker Ramesh Kumar.
In a big setback to the Kumaraswamy government, the Supreme Court on Wednesday directed that the 15 rebel Congress and JD(S) MLAs "ought not" to be compelled to take part in the proceedings of the Karnataka Assembly, which is slated to decide the confidence motion moved by the H D Kumaraswamy-led state government on Thursday.
A bench headed by Chief Justice Ranjan Gogoi further said Karnataka Assembly Speaker K R Ramesh Kumar was free to decide on the resignations of the rebel legislators within such time-frame as deemed appropriate by him.
The court also said the speaker's decision be put before it.
The bench, also comprising justices Deepak Gupta and Aniruddha Bose, said the speaker's discretion in taking a decision on the resignation of the 15 MLAs should not be fettered by the court's directions or observations and he should be free to decide the issue.
Welcoming the top court order, state BJP chief B S Yeddyurappa said that the end of Kumaraswamy government was certain. "The government will not last because they do not have the numbers. Karnataka CM has lost his mandate and he must resign tomorrow. I welcome the Supreme Court's decision; it's the victory of Constitution and democracy and a moral victory for rebel MLAs," he said after the top court order.
In the 224-member House, the 13-month-old coalition is precariously placed if the rebels keep out of the Assembly during the vote tomorrow. Without the support of the rebels, the coalition enjoys the support of around 100 members as against the support of 105 being claimed by the Opposition BJP.
Posted By: Abhinav Gupta