'Rs 65,000 crore needed to help poor': Raghuram Rajan to Rahul Gandhi on coronavirus crisis
During the interaction, Rajan laid stress on the need to restart the economy while taking precautions, to prevent the spread of the pandemic, and said that Rs 65,000 crore is required to help the poor affected by the lockdown
Updated: Thu, 30 Apr 2020 12:59 PM IST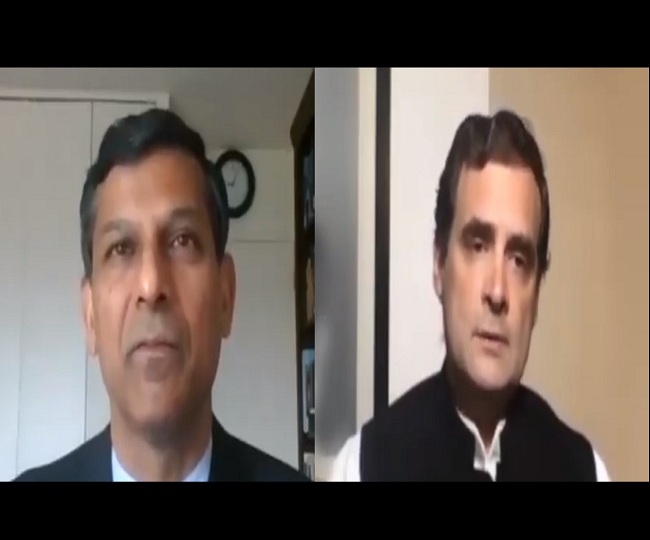 New Delhi | Jagran News Desk: Former Reserve Bank of India (RBI) Governor Raghuram Rajan on Thursday interacted with Congress leader Rahul Gandhi, via video conference, and discussed the economic crisis looming over the country due to the coronavirus pandemic, which has afflicted more than 33,000 people across the nation.
During the interaction, Rajan laid stress on the need to restart the economy while taking precautions, to prevent the spread of the pandemic, and said that Rs 65,000 crore is required to help the poor affected by the coronavirus-induced lockdown.
Responding to Rahul Gandhi's question about how much money is needed to help the poor, Rajan said, "Approximately 65,000 crores. Our GDP is 200 lakh crores, and out of that 65,000 crore is not a huge amount. So, we can do it. If this is for the poor and to save their lives and livelihood, we must do it."
Speaking on opening up the economy, Rajan said, "We have to start thinking about restarting people's livelihood. It has to be sequencing, first at places where you can maintain distancing at workplace and the transportation. A lot of work needs to be done both on creating the structure as ensuring that workplace is relatively safe as well. If there are fresh cases, how do you isolate quickly without having to go to a second lockdown or third lockdown those will be devastating if we have to go there."
"I don't think we have to move for a 100 per cent, i.e., zero cases when we open up. That's unachievable. What we have to do is manage the reopening. So, when there are cases we isolate them," he said.
"We need to open up in a measured way but as fast as possible so that people start having jobs. We don't have the capacity to support people across the spectrum for too long. Being a relatively poor country, people start out with significantly lower reserves," Rajan said.
Posing a question on the impact of coronavirus on the economy, Rahul Gandhi asked, "How do you make the balance between fighting virus now and fighting consequences four months later?"
Rajan said that there has to be prioritization as India's capacity and resources are limited. "Our fiscal resources are more limited than the West. We need to decide how we keep the economy together so that when we re-open it's itself able to walk off the sick bed and not be impaired at that point. Most immediately, I think keep people well and alive. Food is extremely important. Amartya Sen, Abhijit Banerjee and I talked about temporary ration cards for people who don't have access. You have to treat this pandemic as a situation that is unprecedented. We have to break norms in order to tackle what is needed," he said.
Rajan said that pandemics like COVID-19 rarely have positive effects for any country but there are ways countries like India can take advantage of the situation.
"This kind of incident rarely have a positive effect for any country. But there are ways, countries can take advantage. There has to be a re-thinking of everything in the global economy once we are out of this. If there is an opportunity for India, it is in shaping the dialogue in being more of a leader in that dialogue. It is a big enough country to hear its voice heard in the global economy," he said.
"In this situation, India can find opportunities for its industries, supply chains...But most importantly, it can try and mould the dialogue towards one which has a greater place for more countries in the multipolar global order rather than a single or bipolar order," he added.
(With ANI Inputs)
Posted By: Talib Khan