Sushant Rajput Case: Rhea Chakraborty arrested by NCB, sent to 14-day judicial custody; bail plea rejected
The NCB has arrested Rhea Chakraborty on the basis electronic evidence gathered from WhatsApp chats, text messages and other devices.
Updated: Tue, 08 Sep 2020 10:45 PM IST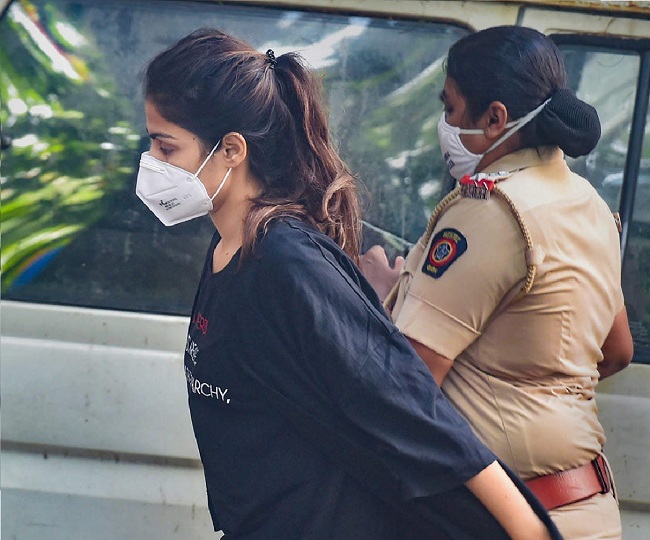 New Delhi | Jagran News Desk: Actor Rhea Chakraborty has been sent to judicial custody till September 21 in connection with a drug case that came to light during investigation into circumstances that led to the death of actor Sushant Singh Rajput. Her bail plea was also rejected by the Additional Chief Metropolitan Magistrate, who asked her to approach the sessions court with her bail plea.
According to reports, a makeshift lockup has been made in the NCB office for female prisoners where the actress might be kept on Tuesday night. She will be sent to jail on Wednesday. Meanwhile, her lawyer is expectec to file baikl petition in the sessions court on Wednesday.
During the hearing, the anti-drugs agency told the court that Rhea's brother Showik Chakraborty revealed that he used to facilitate the delivery of drugs through peddlers. It further claimed that every payment was made with the knowledge of Rhea Chakraborty.
Earlier today, Rhea was arrested by the NCB under various sections 27 A, 21, 22, 29 and 28 of Narcotic Drugs and Psychotropic Substances Act in the drugs case linked to the death of actor Sushant Singh Rajput.
NCB's remand copy stated that Rhea is an active member of drug syndicate, she procured drugs for consumption and was involved in financial deals.
The NCB had said that the agency would not seek her custody but will ask for judicial remand.
The sections of the NDPS (Narcotic Drugs and Psychotropic Substances) Act invoked against her include 8(c) (sale, possession or manufacture of banned drugs), 20(b) (ii) (possession or use of small quantity of banned drugs), as per her lawyers.
"Rhea Chakraborty will be produced before magistrate shortly. We don't need her custody remand so we'll seek judicial custody. We aren't asking for her custody remand as whatever we wanted to cross with her, we've done already. We will oppose bail to her. We are only seeking judicial custody but we don't support the bail," said Mutha Ashok Jain, Deputy DG, South-Western Region, NCB.
The probe agency, however, said that the statement given to them by the actress was "sufficient for the arrest". "Rhea was sent for a routine medical check-up. She tested negative for COVID-19. Whatever she told was sufficient for the arrest. We have arrested her, it means we had enough. I have told you, we did not recover any contraband," Jain said.
The NCB will be seeking Rhea's custodial interrogation, citing the requirement of breaking the drug cartel. Soon after the arrest, she was taken for medical examination at Sion Hospital where she tested negative for COVID-19.
As per reports, the Narcotics Bureau has arrested Sushant's girlfriend and live-in partner on the basis electronic evidence gathered from WhatsApp chats, text messages and other devices. The reports further claimed that she will be produced before the court via video conferencing today.
After the news of Rhea Chakraborty's arrest emerged online, Shweta Singh Kirti, sister of late actor Sushant Singh Rajput took to Twitter and wrote, "God is with us".
🙏🔱🙏 #GodIsWithUs

— shweta singh kirti (@shwetasinghkirt) September 8, 2020
Meanwhile, Rhea's lawyer Satish Maneshinde said that the actress was being hounded by three central agencies for being "in love with a drug addict".
"Travesty of Justice. 3 Central Agencies hounding a single Woman, just because she was in love with a Drug Addict and was suffering from Mental Health issues for several years under the care of 5 Leading Psychiatrists in Mumbai, who ended up committing suicide due to the consumption of Illegally Administered Medicines and used drugs," he said.
Responding to the development, Bihar DGP Gupteshwar Pandey said: "Rhea is totally exposed in the sense that she had connection with drug peddlers. This has been established, that is why she has been arrested. NCB must have found evidence against her."
With Rhea, the NCB has so far arrested 10 people in the drugs case, including the actress' brother Showik Chakraborty, Sushant's house manager Samuel Miranda (33) and his house staffer Dipesh Sawant.
The NCB said it obtained mobile phone chat records and other electronic data that suggested some banned drugs were allegedly procured by these people.
Rhea, who has been named as an accused in the CBI probe in Sushant's death, had denied consuming drugs. She had, however, claimed that Rajput used to consume marijuana.
The arrest comes on the third of questioning of the actress by the NCB in the drugs case. Earlier, she was questioned by the NCB for about eight hours on Monday and six hours on Sunday.
The NCB probe began after the ED shared with it a report following the cloning of two mobile phones of Rhea Chakraborty that suggested talks about procurement, transaction and consumption of banned drugs.
Posted By: Abhinav Gupta