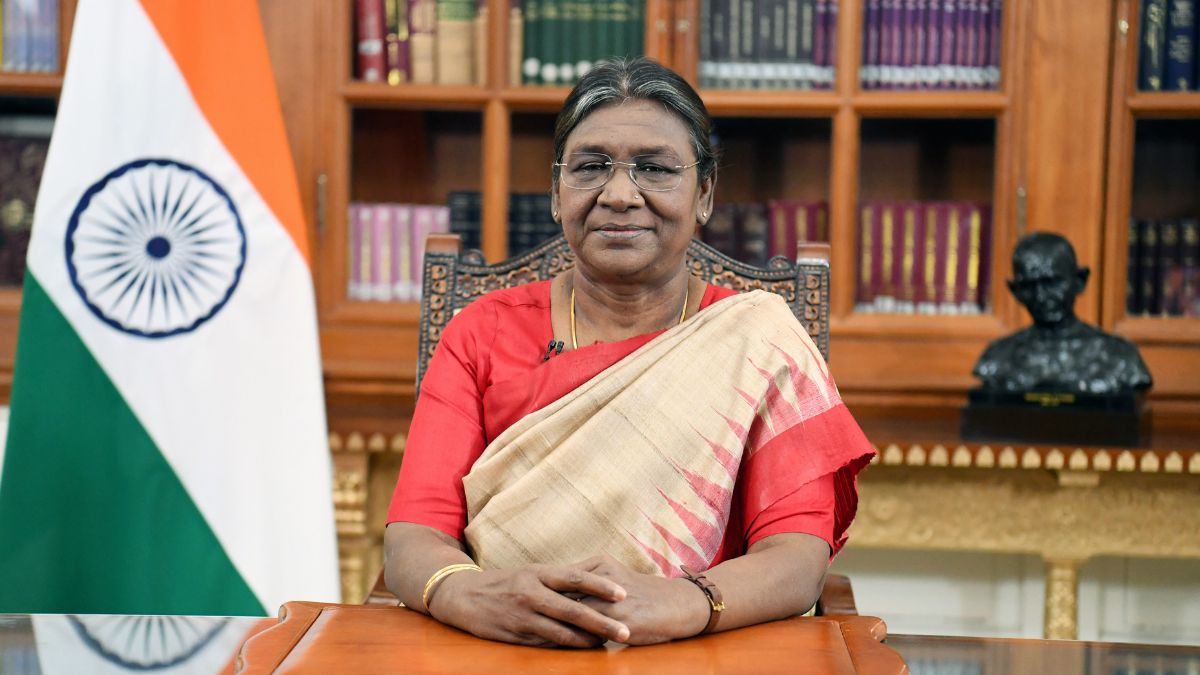 AS THE country celebrates the 74th year of India giving itself the constitution on Republic Day, several political leaders have wished and greeted all Indians. India is a union of states, each of which will be celebrating the occasion and Chief Ministers, Governors, elected representatives, and officials will be participating in events in their own states.
This year's Republic Day celebrations will be special as it will witness many first time events in India's independent history. Below are some of the wishes and greetings on the special occasion by important personalities.
Also Watch:
PRIME MINISTER MODI
While wishing all Indians on Republic Day, the Prime Minister also reminded them that this year's celebration will be special because it is coinciding with the 75th year of India's independence from colonial rule. This year India will celebrate Azadi Ka Amrit Mahotsav to mark the 75th year as a sovereign nation.
He also said that he wishes that all citizens move together in unison to make the vision of our founding fathers a reality.
गणतंत्र दिवस की ढेर सारी शुभकामनाएं। इस बार का यह अवसर इसलिए भी विशेष है, क्योंकि इसे हम आजादी के अमृत महोत्सव के दौरान मना रहे हैं। देश के महान स्वतंत्रता सेनानियों के सपनों को साकार करने के लिए हम एकजुट होकर आगे बढ़ें, यही कामना है।

Happy Republic Day to all fellow Indians!

— Narendra Modi (@narendramodi) January 26, 2023
PRESIDENT DROUPADI MURMU
Indian President, in her address to the nation, on the occasion of Republic Day said that from the day India's Constitution was adopted to now, the journey has been "amazing". She extended her wishes not only to Indians in the country but also those who are currently living abroad. She added that when we celebrate the Republic Day, we celebrate all the things Indian have achieved, together.
BJP NATIONAL PRESIDENT JP NADDA
Nadda, while wishing citizens on Republic Day, said that he wishes that a progressing and maturing Indian democracy will infuse in each Indian a feeling of responsibility, opportunity, and equality. He added that he bows down to all the great personalities who strive for India's unity, integrity, and sovereignity.
सभी देशवासियों को 74वें गणतंत्र दिवस की हार्दिक शुभकामनाएं।

प्रगतिशील व परिपक्व होता हमारा लोकतंत्र भारत के प्रत्येक व्यक्ति के हृदय में कर्तव्य, अवसर व समानता की भावना का सृजन करे।

हमारी एकता, अखंडता व सम्प्रभुता के लिए समर्पित सभी महान विभूतियों को श्रद्धापूर्वक नमन करता हूँ।

— Jagat Prakash Nadda (@JPNadda) January 26, 2023
HARDEEP SINGH PURI
Union Minister for Petroleum and Natural Gas Hardeep Singh Puri also took to Twitter to convey his wishes to citizens. He sought to highlight the "defense preparedness" and "civilisational values" that will propel India's "confident journey into the future", saying all Indians are coming together to celebrate its "diversity and unity".
India comes together to celebrate the unity & diversity of civilisational values & defence preparedness which power our confident journey into the future.
Greetings on the occasion of India's 74th Republic Day.#74thRepublicDay #RepublicDay #RepublicDay2023 #26January2023 pic.twitter.com/I46MJdJjfE

— Hardeep Singh Puri (@HardeepSPuri) January 26, 2023
INDIAN NATIONAL CONGRESS
Taking to the micro-blogging site Twitter the grand old party - which was at the forefront of the freedom struggle - informed that its ongoing Bharat Jodo Yatra, being led by its MP Rahul Gandhi, will be taking a break on the occasion of Republic Day. The Yatra will resume its journey from the next day.
The Congress also claimed that the march will be resumed with a renewed "pledge to defend our cherished democracy".
On the grand occasion of India's 74th Republic Day, the #BharatJodoYatra will observe a rest day. Nearing our destination, the yatra will resume on January 27th with a renewed pledge to defend our cherished democracy. pic.twitter.com/ODCMYNtsIz

— Congress (@INCIndia) January 26, 2023
RAJASTHAN CHIEF MINISTER ASHOK GEHLOT
Chief Minister and senior Congress leader Ashok Gehlot, on Thursday, unfurled the National Tricolor from the Chief Minister's Residence in Jaipur's Civil Lines area. He also greeted all Indian citizens on the occasion of Republic Day.
He encouraged citizens to practice our basic duties and walk on the path of Gandhian values like - truth, non-violence, and peace - taking the country forward.
Unfurled the national flag on the occasion of Republic Day at residence. #74thRepublicDay pic.twitter.com/g3nvqo9HcD

— Ashok Gehlot (@ashokgehlot51) January 26, 2023
TEJASVI YADAV
Deputy Chief Minister of Bihar Tejasvi Yadav, on Thursday, uploaded a video of him wishing all citizens of his state and the nation on the occasion of Republic Day. He also wished the citizens on Basant Panchami or Saraswati Puja.
सभी देशवासियों को #गणतंत्र_दिवस एवं #बसंतपंचमी की हार्दिक शुभकामनाएँ!@TejashwiOffice pic.twitter.com/YEX19xboIs

— Rashtriya Janata Dal (@RJDforIndia) January 26, 2023
ARVIND KEJRIWAL
Delhi Chief Minister Arvind Kejriwal tweeted and conveyed his best wishes to all the citiznes on Republic Day. He said that in a republic, the rule of the people is the most important thing adding that freedom fighters have given sacrificed a lot for the establishment of republic in India. Now it is the responsibility of all Indians to strengthen our republic.
सभी देशवासियों को गणतंत्र दिवस की बहुत-बहुत बधाई एवं शुभकामनाएँ।

एक गणराज्य में जनता और जनता का शासन सबसे महत्वपूर्ण होता है। भारत में गणतंत्र की स्थापना के लिए हमारे स्वतंत्रता सेनानियों ने बहुत क़ुर्बानियाँ दी हैं। अब अपने गणतंत्र को मज़बूत करने की ज़िम्मेदारी हम सबकी है। 🇮🇳

— Arvind Kejriwal (@ArvindKejriwal) January 26, 2023
AMIT SHAH
Home Minister Amit Shah has congratulated Indians on the occasion of 74th Republic Day, with a tweet. He gave his heartiest congratulations to all the countrymen on this occasion. He saluted all freedom fighters, constitution makers, and brave soldiers who dedicated their lives to liberate, strengthen, and protect India.
समस्त देशवासियों को 74वें गणतंत्र दिवस की हार्दिक शुभकामनाएं।

आज उन सभी स्वतंत्रता सेनानियों, संविधान निर्माताओं व वीर जवानों को नमन करता हूँ जिन्होंने देश को आजाद कराने, मजबूत बनाने व इसकी रक्षा के लिए अपना जीवन समर्पित किया है। pic.twitter.com/lKZuvpdffF

— Amit Shah (@AmitShah) January 26, 2023