By JE News Desk
Updated: Fri, 20 Jan 2023 04:30 PM IST
Minute Read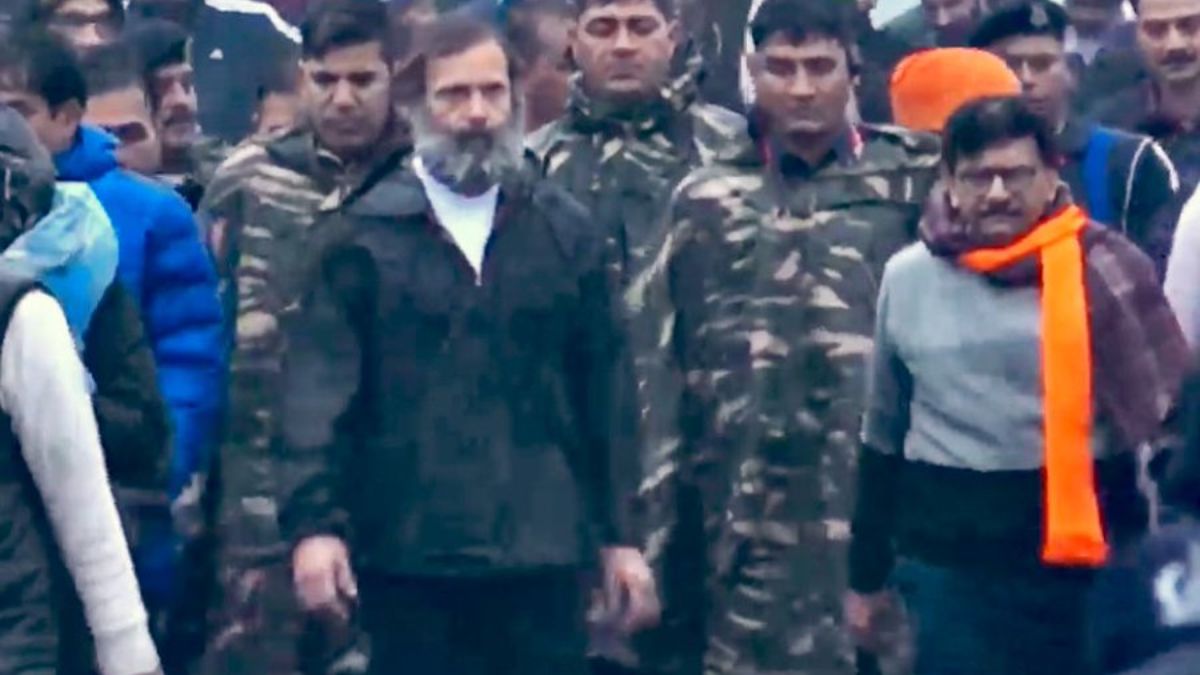 RAHUL Gandhi's trademark white t-shirt, which he is wearing during the Bharat Jodo Yatra, made more headlines than the mega marathon march itself. Since the start of the winter, Rahul Gandhi walking in a white t-shirt prompted people to wonder whether he feels cold or not. But now, as the Bharat Jodo Yatra entered Jammu and Kashmir yesterday, Rahul Gandhi on Friday morning was seen wearing a black jacket. This was the first time when Gandhi was seen wearing something over his t-shirt.
However, Congress was quick to clarify that the black clothing "was not a jacket but a raincoat", in an apparent bid to show that Gandhi does not need a jacket. Rahul Gandhi walked in the Yatra wearing just a plain white T-shirt during some of the coldest days in North India. Finally, it took light rain in severe cold weather for him to put on a raincoat, however, he removed it later when the rain stopped and continued to walk in his t-shirt.
#WATCH | Bharat Jodo Yatra resumes from Kathua in Jammu & Kashmir on the 125th day of its journey; sees the participation of Shiv Sena (Uddhav Thackeray) leader Sanjay Raut today pic.twitter.com/Ve81omvQ5m

— ANI (@ANI) January 20, 2023
Also Watch:
The Gandhi family scion had claimed recently that he would wear warm clothes if he feels the need for them. His clothing during the Yatra has drawn reactions from several quarters including scorn from critics and admiration from supporters.
Meanwhile, Rahul Gandhi expressed his happiness after reaching Jammu and Kashmir and said that he is feeling elated as he is returning to his roots. "It is a great pleasure to reach Jammu and Kashmir as I go back to my home, where my ancestors had their roots. I am learning about and understanding more of me, every state, my country," he tweeted.
Rahul Gandhi was accorded a grand welcome in Jammu yesterday. The Yatra was halted in Kathua's Lakahnpur for the night following the flag handover ceremony which was attended by a galaxy of prominent leaders including National Conference president Farooq Abdullah.
A tight security ring, comprising of police and CRPF personnel, was thrown around Gandhi as he started walking along with his supporters despite the rains which lashed wide parts of Jammu and Kashmir since early on Friday morning.
Many Congress activists and supporters carrying tricolours turned up a couple of hours before the start of the yatra which will cover 25 km before halting at Chadwal in the Kathua district for the night. There will be no march on Saturday. Youngsters carrying placards and garlands were seen waiting at different places along the Jammu-Pathankot National highway where the yatra is scheduled to pass.
In Banihal, Ramban district of Jammu and Kashmir, Rahul Gandhi is scheduled to hoist the national flag on January 25. His march will enter Srinagar via Anantnag two days after that on January 27. So far the journey has taken 125 days to travel close to 3,400 KM across several states of India. The Yatra will end in Kashmir on January 30, with a grand program for which several top political leaders of various friendly parties have been invited.