Positive India: 'Sehat Suraksha Chakra' app by NIT Raipur can prevent COVID-19 spread by identifying different stages of cough
Publish Date: Tue, 12 May 2020 02:36 PM IST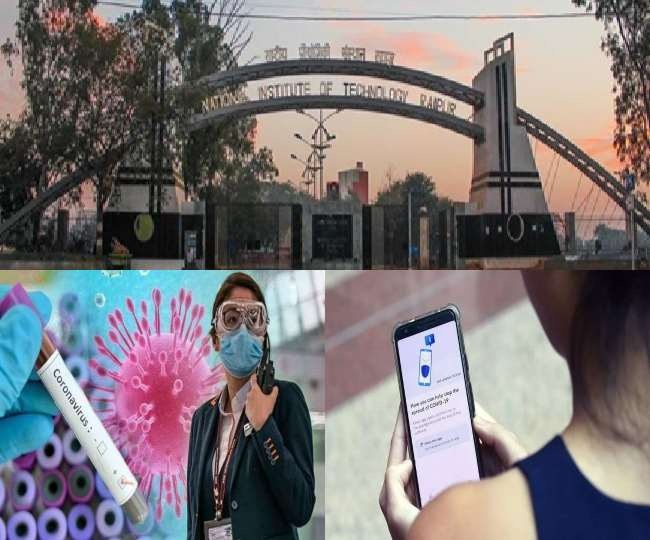 New Delhi | Anurag Mishra: Battle against the coronavirus continues across the country. New experiments are being carried out in the field of research across the country in different educational institutions to aid the battle against this deadly pathogen, which has so far afflicted more than 70,000 people in the country.
In view of this, NIT Raipur has developed an app which will provide information about the different stages of cough as well as give information about social distancing. Apart from this, it will also provide tele health support in the coming time.
The Health Safety Chakra App was created by seven students - Shashi Kumar, Animesh Kumar Soni, Neil Kant Nevra, Durgesh Kumar, Shikhar Chepe, NP Guhan Sheshadri, Resham Raj Shivvanshi under the leadership of Dr. Saurabh Gupta, Assistant Professor, Department of Biomedical Engineering, NIT Raipur.
The researcher associated with the app said that the whole world is in the grip of global crisis and over time the side effects arising from this disease are also increasing. In such a situation, our team has found an effective way to fight the problem. Under this, we have created a mobile application, which will tell people how their health is, and if they have any possibility of getting the coronavirus.
A primary health assessment test has also been given in this application to identify coronavirus, in which some health related questions are asked from the mobile users. On this basis, they are told what they need to do at this time.
In this app, we have also given a new option of cough recognition system. It will be started for users soon. A real time machine learning algorithm is being used in this cough recognition system, which will be able to tell how likely a user is to have the coronavirus.
Monitoring the user's activity and data related to psychology can also be done through this app. For this, the user has to wear it in ring, wristbands or any other form.
Useful even after lockdown
This device will also inform the user that there is no diseased person around him. With the help of this device, people will be protected from getting infected after lockdown. It can be worn in the hand and the size of this device will also be small.
Hopefully its price will also be lower. This device is being built in such a way that it will be able to directly connect the users of such devices around them, identify their health status and warn the healthy user. With the help of a system, doctors will also be able to directly connect with such people, who may have to face any kind of health problems.
Oblizer makes everyday things infection free
The Oblizer is a WiFi enabled app control UV sterilizer. With its help, you can sterilize everyday items. With this smartphone, watch, face mask, wallet, door handle, elevator button to furniture can be made transmission free.
Sarthak Sethi, an electronics engineering student from BITS Pilani's Dubai Campus, said that everything can be transmission-free through UVC radiations. With the help of this technique, things can be free of infection without using any liquid (bleach, acid etc.).
Sethi said that it is very effective in sanitizing electronic items. He told that we wash our hands several times a day to disinfect, but do not sanitize the things we touch. On average, smartphones have 10 times more germs than a toilet. In such a situation, this device is quite useful for sanitizing things.
Posted By: Talib Khan